India shall be gripped with another round of heatwaves as the nation recorded its highest February temperature, with some parts of the country touching 40 degrees. On February 21st, the national capital Delhi recorded its third hottest day for February, with temperature handling (33.6° C) in a month. It is considered Winter technically throughout the Indian Subcontinent. Higher than average has also been seen in Northern and Western India, including Rajasthan and Gujrat, which are not so surprisingly areas of dry climate but with unusual heat at this time of the year.
Even in areas considered cooler states within the country, like Uttarakhand and Himachal Pradesh, unusually warmer weather ranges from 10 to 11 degrees above average in some regions of those states.
In the annual Lancet Countdown report published on Tuesday – which looked at 103 countries – researchers found that the heatwave which hit India and Pakistan between March and April was 30 times more likely to have happened because of climate change (Explained _ IMD Is Already Sensing Heat Waves, n.d.) it remains to be how this wave would be damaging as, according to a study by the Lancet, India saw a 55% rise in deaths due to extreme heat between 2000-2004 and 2017-2021. Exposure to heat also caused a loss of 167.2 billion potential labour hours among Indians in 2021, the study noted (Explained _ IMD Is Already Sensing Heat Waves, n.d.).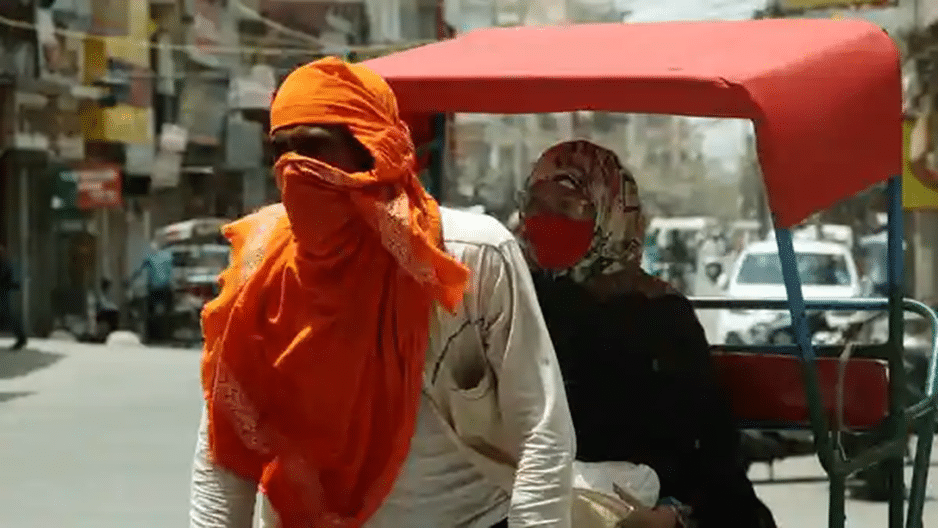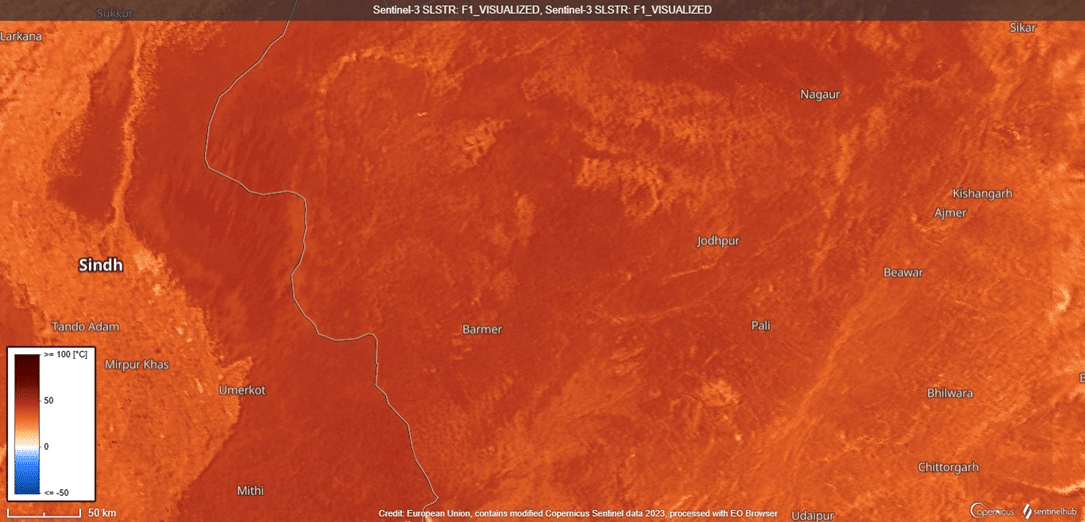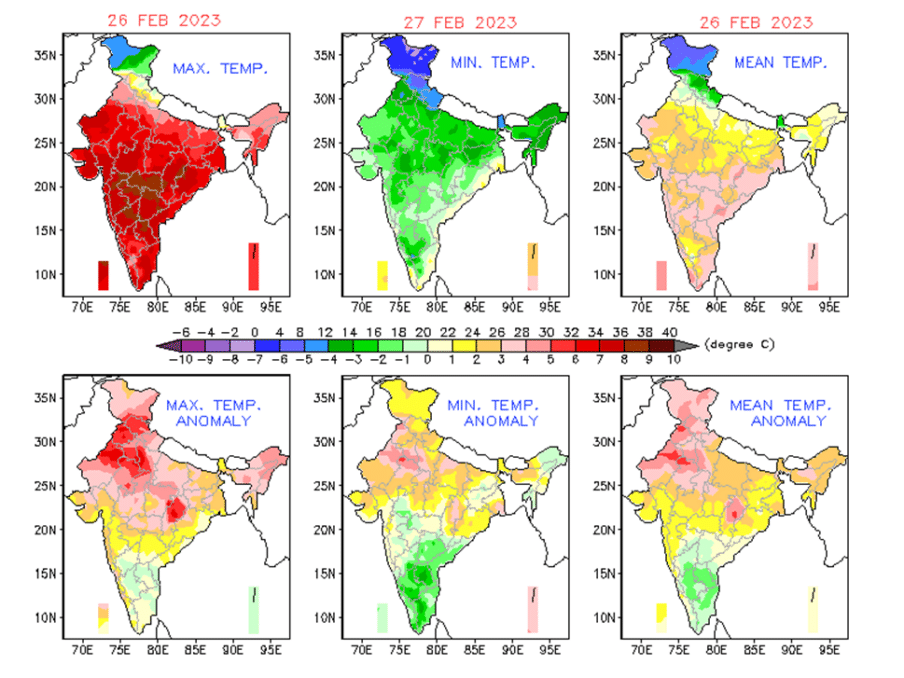 What are Heatwaves and how it applies to India?
A Heat Wave is a period of abnormally high temperatures, more than the average maximum temperature, that occurs during the summer in the North-Western parts of India. Heat Waves typically occur between March and June and sometimes extend till July. The extreme temperatures and resultant atmospheric conditions adversely affect people living in these regions as they cause physiological stress, sometimes resulting in death (Explained _ IMD Is Already Sensing Heat Waves, n.d.).
The Indian Meteorological Department has given specific criteria to be met for the heat wave to take place:
Heat Waves need not be considered till the maximum temperature of a station reaches at least 40°C for Plains and at least 30°C for Hilly regions.
When the average maximum temperature of a station is less than or equal to 40°C Heat Wave Departure from normal is 5°C to 6°C Severe Heat Wave Departure from normal is 7°C or more.
When the normal maximum temperature of a station is more than 40°C Heat Wave Departure from normal is 4°C to 5°C Severe Heat Wave Departure from normal is 6°C or more
Heat waves should be declared when the maximum temperature remains 45°C or more, irrespective of the normal maximum temperature. Higher daily peak temperatures and longer, more intense heat waves are becoming increasingly frequent globally due to climate change. India, too, is feeling the impact of climate change in terms of increased instances of heat waves which are more intense with each passing year and have a devastating impact on human health, thereby increasing the number of heat wave casualties (Explained _ IMD Is Already Sensing Heat Waves, n.d.).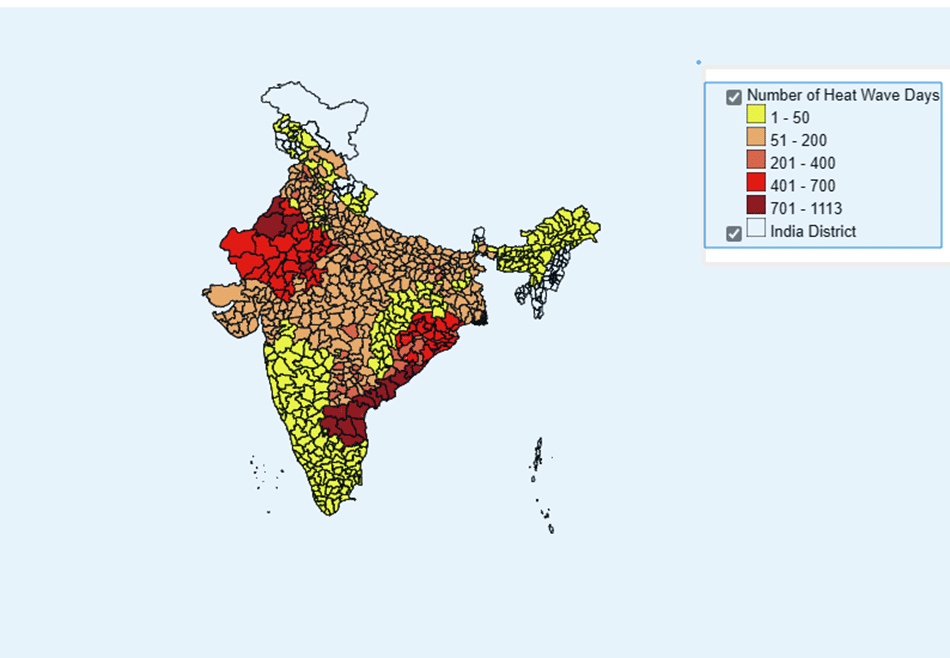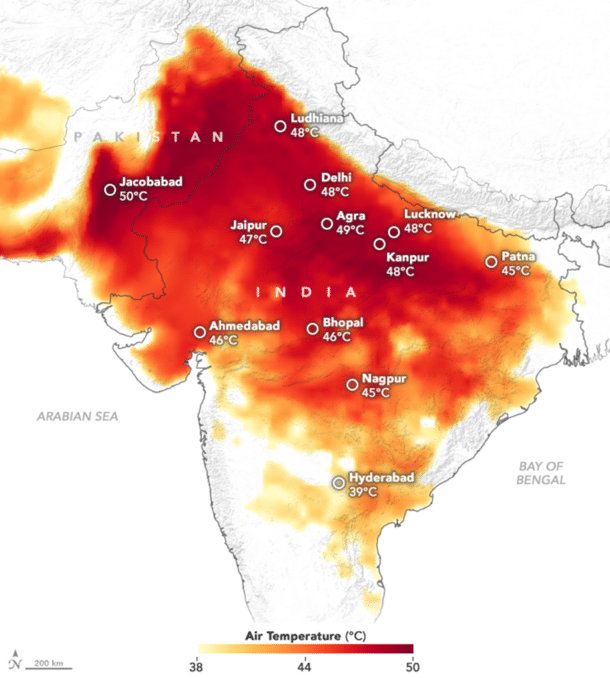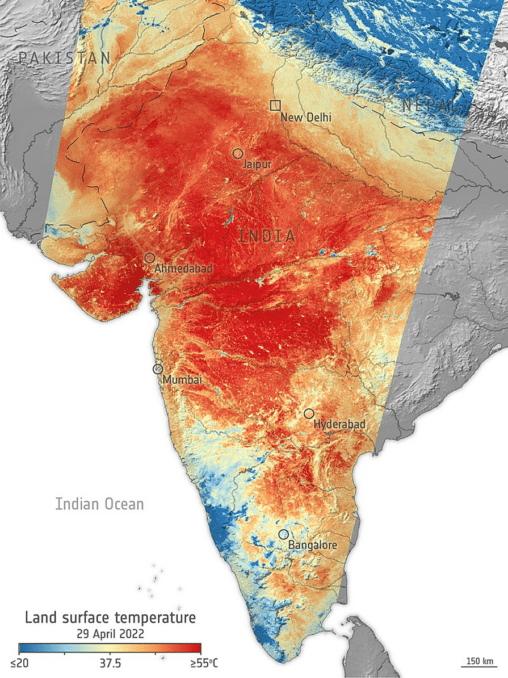 Heatwaves due to La Nina and El Nino Effect and its Effects on the Global Climatic Environment
'La Nina'
'La Niña' or "the girl" is the term adopted for the opposite side of the fluctuation, which sees episodes of cooler than average sea surface temperature in the equatorial Pacific. The conditions for declaring 'La Niña' differ between agencies, but sea temperatures can often fall 3-5 °C below average during an event. Cooler, drier than average weather is experienced in the tropical eastern Pacific.
There are also neutral phases of the cycle when conditions are closer to the long-term average (within +/- 0.5 °C). These may be within a period of warming or cooling in the cycle. Approximately half of all years are described as neutral (MET, n.d.)
It is part of a climate phenomenon called the El Niño Southern Oscillation (ENSO) system.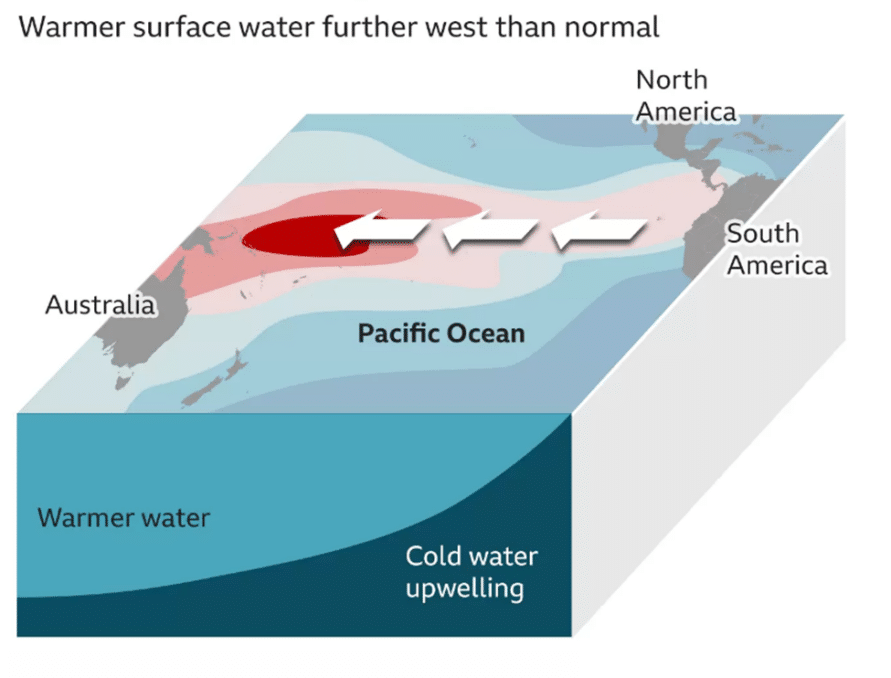 In meteorology, there are two types of wind belts Trade and Anti Trade winds. What we see here is trade winds along the equator above the Pacific Ocean from South America in the East towards Asia in the west are stronger than normal these trade winds pile up; these "trade winds" piled warm water off the coast of Asia, raising the sea surface level. In the east, near the Americas, cold water flowed to the surface. (What Are El Niño and La Niña, and How Do They Change the Weather_ – BBC News, n.d.).
EL Nino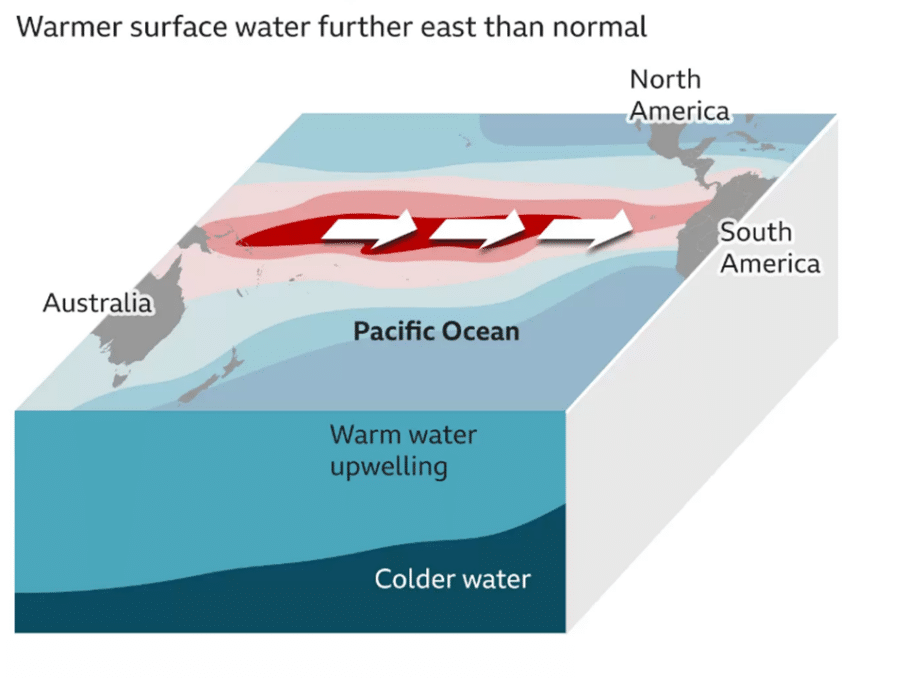 In the El Nino Cycle, Complete Opposite occurs. Weaker trade winds mean warmer water spreads backwards to the Americas, and cold water rises to the surface.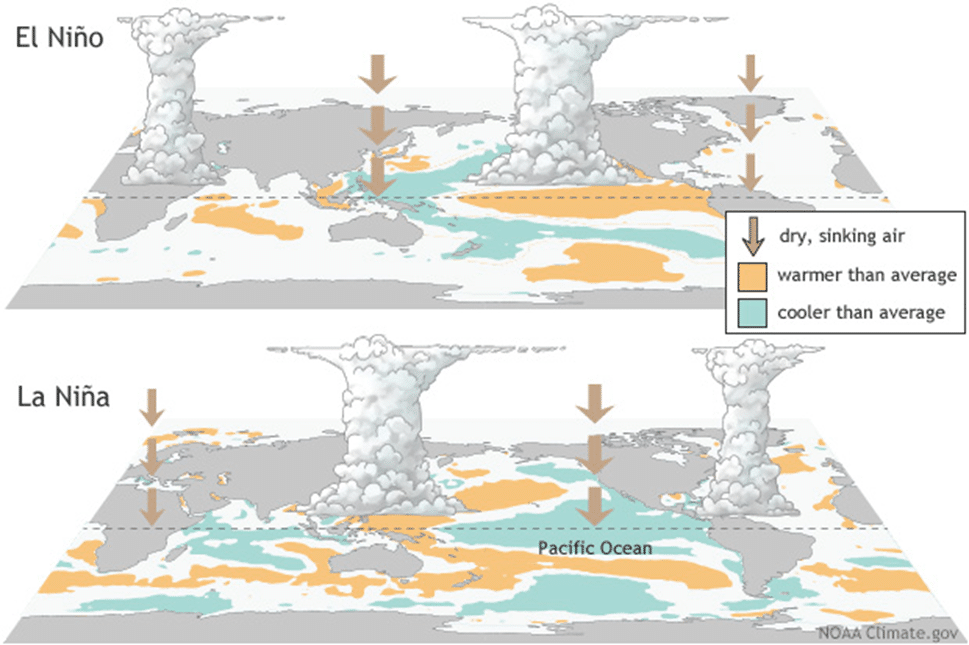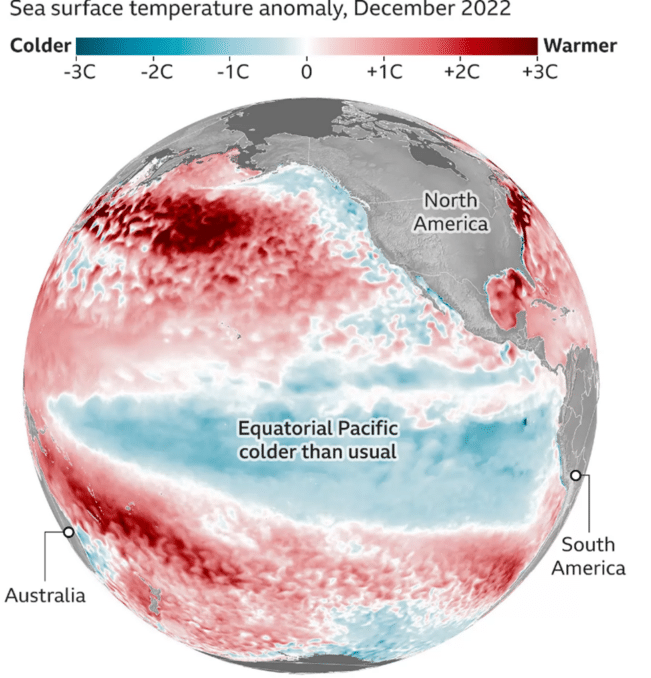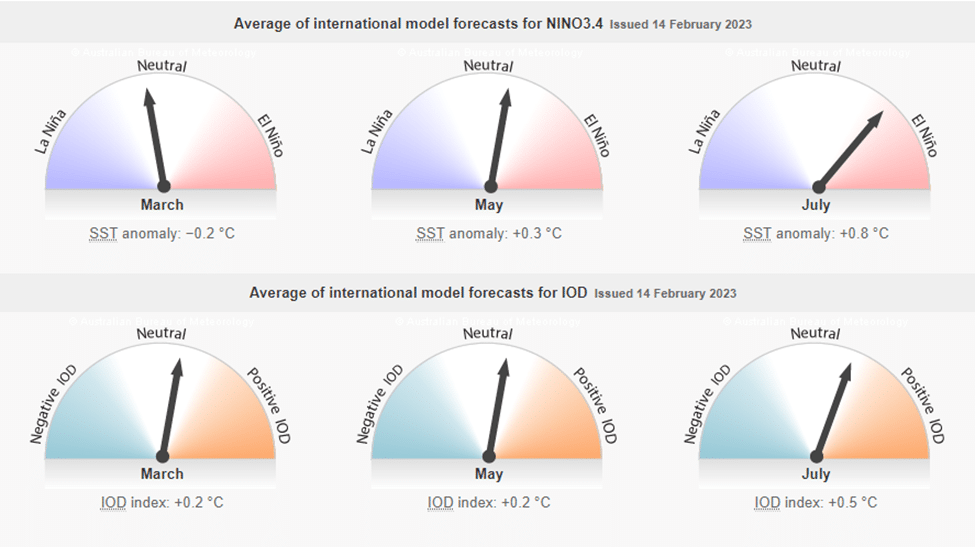 A similar problem is also there in the Indian Ocean called the Indian Ocean Dipole.
How India stands to be affected and the Health Impacts of Heatwaves
One of the main reasons why India shall be affected is due to El Nino, which may follow La Nina, according to Raghu Murtugudde, a visiting professor at IIT Mumbai. In spring, India typically has air flowing in from the west-northwest. This direction is bad news for India for several reasons. In the context of climate change, the Middle East is warming faster than other regions in latitudes similarly close to the equator and serves as a source of the warm air that blows into India (Explained _ IMD Is Already Sensing Heat Waves, n.d.)
The Symptoms of a heatwave, according to the National Disaster Management Agency, are as follows,
Heat Cramps: Ederna (swelling) and Syncope (Fainting) are generally accompanied by fever below 39°C i.e., 102°F.Heat Exhaustion: Fatigue, weakness, dizziness, headache, nausea, vomiting, muscle cramps and sweating. Heat Stoke: Body temperatures of 40°C i.e., 104°F or more, along with delirium, seizures, or coma. This is a potentially fatal condition. (NDMA, 2022).