Delhi experiences the coldest day today as the temperature fall shivers the city. This is the lowest temperature in this month since last year.
Delhi-NCR has been affected by the harsh cold. The capital's minimum temperature is getting close to zero. On Sunday morning, Safdarjung base station's lowest temperature was 1.9 degrees Celsius. It is five degrees cooler than usual. In the previous two years, Safdarjung has experienced its lowest temperature.
Here, the minimum temperature was 2.2 degrees Celsius on Saturday. Delhi Ridge experienced a minimum temperature of 2.2 degrees. The ridge recorded a minimum temperature of 1.5 degrees Celsius on Saturday, a day earlier. Since two years ago, this was the lowest.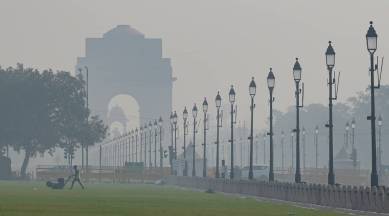 Transport problem and state alert
On Sunday morning, Delhi and the surrounding areas were shrouded in a heavy layer of fog that reduced visibility. Conditions are still extremely cold and foggy in the nation's capital and the adjacent regions.
At 3.50 a.m., the Delhi Airport released an alert informing passengers that flights that are not CAT III A compliant are likely to be affected. Some domestic flights due to arrive in Delhi on Sunday were delayed.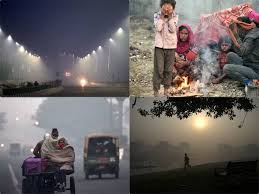 With dense fog and cold wave conditions, IMD issued an orange notice for the city on Sunday, which is a warning to 'be prepared'.At Delhi Airport, about 20 flights had delays. Northern Railway reports that 42 trains are late in its zone. 36 trains were delayed by one to seven hours, according to a Railways representative, because of the gloomy conditions. At 8:30 in the morning, 100% humidity was measured.
Other states get a drop-down in temperature
Aside from Delhi, the meteorological service has revealed the minimum temperature, departure, and forecast for other states such as Punjab, Haryana, Rajasthan, Uttar Pradesh, Madhya Pradesh, and Bihar.
The authorities decided to take action and close the district's schools after the Bikaner district in Rajasthan experienced a temperature of 0 degrees Celsius on Friday. Yesterday's minimum temperature in the Bikaner district's Churu division was 1 degree Celsius. It was reported that the lowest temperature was 0.5 degrees Celsius in Madhya Pradesh's Nowgong region and 0 degrees Celsius in Rajasthan's Churu.In other parts of the NCR, such as Noida, Ghaziabad, and Gurgaon, the situation mostly stayed the same. The India Meteorological Department (IMD) reports that a severe cold wave is now affecting numerous areas of Delhi and Haryana on Sunday.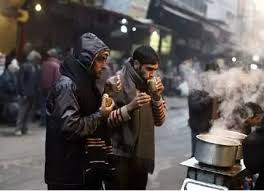 The weather office classifies fog as "extremely dense" when visibility is between 0 and 50 metres, "dense" when visibility is between 51 and 200 metres, "moderate" when visibility is between 201 and 500 metres, and "shallow" when visibility is between 501 and 1,000 metres.
Delhi's base station recorded a minimum temperature of 2.2 degrees Celsius, which was colder than Chamba (5.8 degrees), Dalhousie (8.3 degrees), Dharamshala (9.2 degrees), Shimla (7.8 degrees), Hamirpur (3.9 degrees), Manali (4 degrees), Kangra (5.6 degrees), Solan (3 degrees), Dehradun (6 degrees), Mussoorie (8.1 degrees), and Nainital (5.8 (IMD). The cold wave is also affecting regions of North Rajasthan, East Madhya Pradesh, East Uttar Pradesh, West Madhya Pradesh, and Bihar. Himachal Pradesh is also experiencing a cold spell.
Update on temperature by IMD
According to the IMD, dense to very dense fog is very likely to persist in some/many locations during the night and morning hours over Punjab, Haryana, Chandigarh, Delhi, and Uttar Pradesh during the next two days until Monday and in isolated pockets subsequently for the following three days over the region. According to the weather office, very ground frost conditions will prevail on January 8 and 9 in a few isolated locations of north Rajasthan and Madhya Pradesh. Very Dense Fog is Very Likely Over Uttarakhand, North Rajasthan, Bihar, Sub-Himalayan West Bengal, Sikkim, Assam, and Tripura.