Thom Browne, who was inspired by The Little Prince, urges us to abandon our repetitive routines and embrace a sense of childish delight.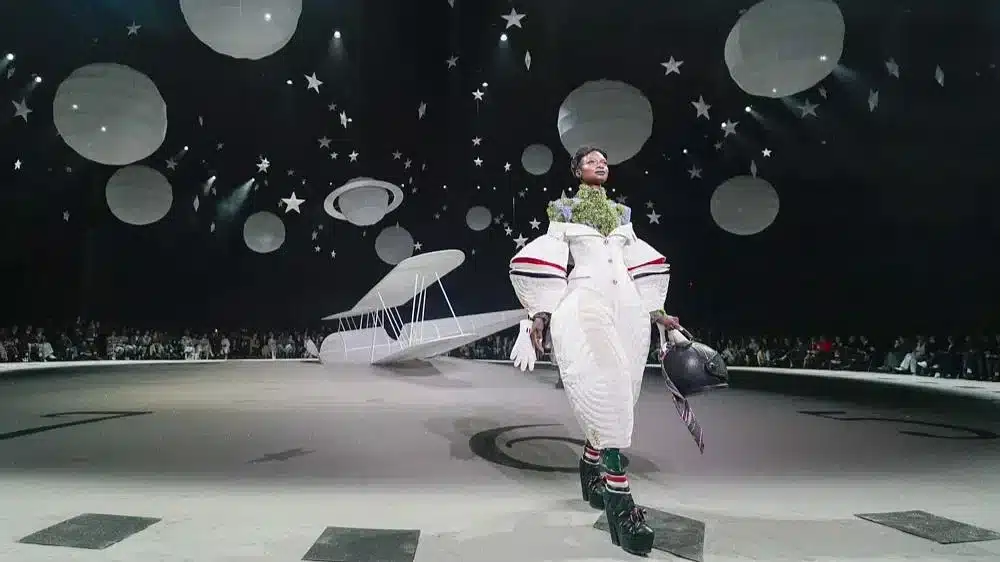 Table of Contents
According to the well-known story "The Little Prince," we can only see properly with our hearts since what is truly important is invisible to the naked eye. All right. But Thom Browne couldn't help but dazzle the eye in a fashion show that was inspired by the well-known 1943 story.
Those who are fortunate enough to score a seat at a Browne runway show are well aware of what to expect, which is virtually anything but a standard runway presentation. Instead, Thom Browne's performances are intricate, protracted theatrical works that are completely realized, complete with backstories, narration, music, and clothes made with constantly imaginative workmanship.
The Dawn
Thom Browne's most recent performance began with the sound of tick tock, tick tock in a setting that resembled an analogue clock. A circle of reference numbers encircled a wrecked airliner that was slightly off-center and hanging above a solar system. The narrator began as two models walked down the runway, "Two lost travelers meet on planet Earth." We are informed that one is not from this world. Starting to appear are a number of celestial creatures dressed in long, form-fitting turtleneck dresses that are the same color as the sand desert floor below them. These generally subdued clothing was adorned with vibrant, youthful graphics with a variety of subjects, from natural components to the cosmos itself.
The Conceptual Designing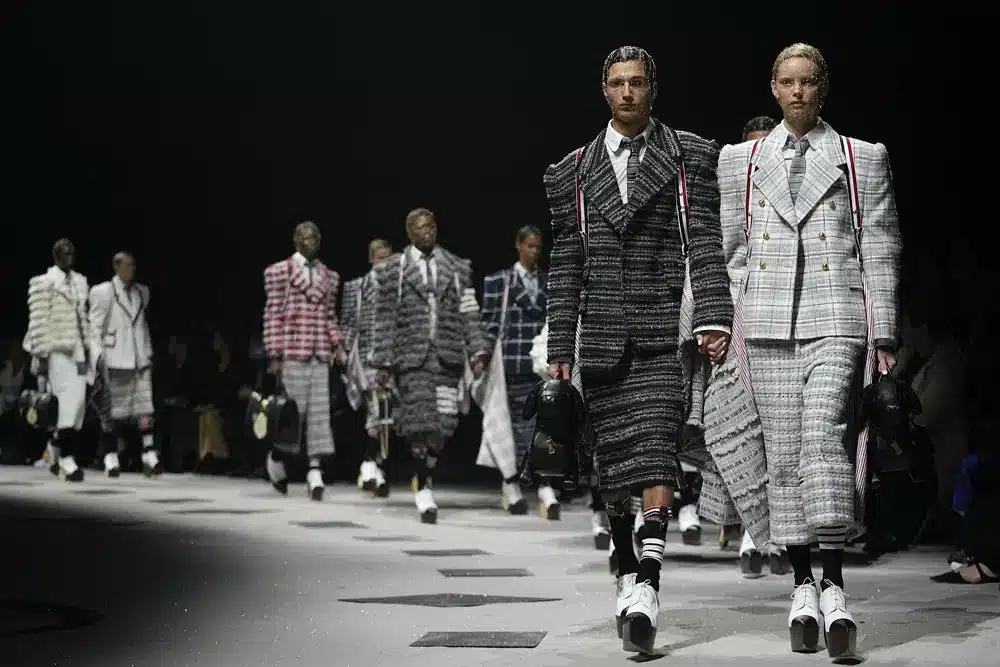 These inventive outfits, which served as mini-stories, stood in sharp contrast to the mature suit layers that followed. Adults "always need to be taught what to do," the narrator claimed. They only take in what is directly in front of them. When paired with the models' clumsily robotic gaits, which are reminiscent of executives on a lunch break, the bulky padding on the shoulders, three-dimensional textiles, and hard tweeds appears constricting. As usual, the pieces are expertly tailored, yet there is a feeling of deflated inevitability. Meanwhile, we see models carrying bags of mutual imagery while wearing pointy platform shoes suspended by clocks as if to suggest that adults are physically burdened by time.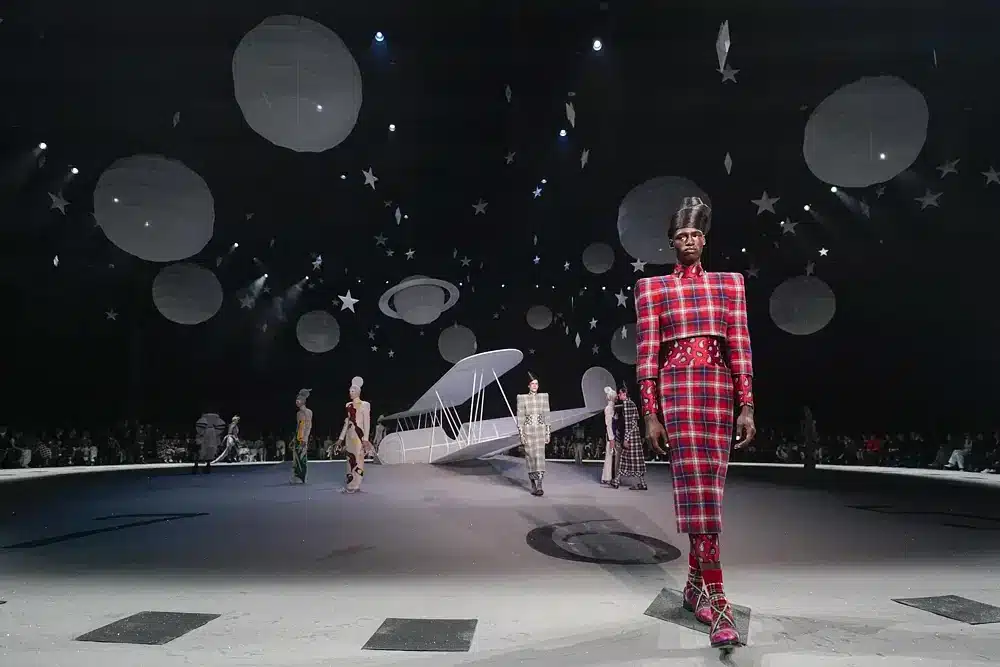 A later generation used intricately patterned waistbands and bustles in the rear, as well as unique prints and plaid combinations. And then there was still another bunch, appearing to be children, dressed in suits that had been disassembled and stitched together, with shoulders dropping off the waists and sleeves sticking out in all directions. They had elaborate gold headpieces that belonged to a pope.
A diverse group of celebrities, including musicians Erykah Badu, Queen Latifah, and Lil Nas X, TV host Whoopi Goldberg, and actors Christine Baranski, Rebecca Hall, and Jesse Williams, watched as the show took an emotional turn at the conclusion with the models returning in couples, hand in hand in a message of togetherness, accompanied by the music of the Uptown Funk Orchestra.
Later the inclusion of embroidered planetary motifs later looks incorporated a whimsical, childlike quality. The professional clothing, we previously saw has been disassembled and is now tumbling into a lovely jumble. Some blazers aren't even on shoulders; they're hanging awkwardly.
Previously impeccable ties are now thrown over one arm in a loose or diagonal fashion. Silver and cool-toned greys have taken the place of the collection's previous colour scheme of red, navy, light grey, cream, and grey. Off-the-shoulder tops with outrageously enormous puff sleeves and long, sweeping trains are worn with turtlenecks. Although traditional components like contrast piping, strong shoulders, and graceful lines continue to be present, there is a playful quality to their elegantly undone mess. In short, it looks like Wall Street met its inner child.