A journalism student in Chennai filed a case against an Uber driver who molested the student. The victim tweeted that she was sexually assaulted by the Uber driver when she got out of the auto.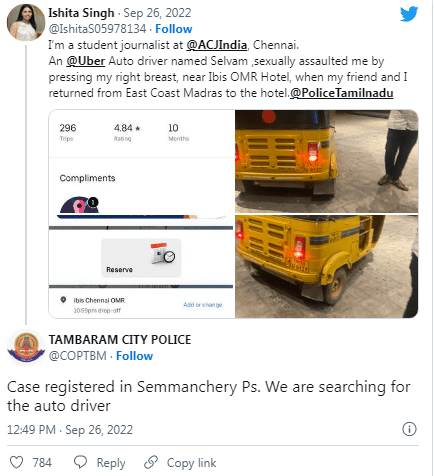 The incident was reported on Sunday night when the victim and her friends turned back to the hotel. The Uber driver, named Selvam, sexually assaulted the student when she got out.
Claim Against the Response of Police
As the incident occurred, the victim tried to contact the emergency line (100). However, there was no response from the department. Later, a policeman arrived at the hotel after being contacted by someone else.
The student claims that she was not allowed inside the police station as there were no female police officers on duty. She also pathetically asked a question: why are women not allowed in the police station during the night?  
This question has led to controversy and many social media tweets have gone viral regarding the statement made by the victim.
Since there was no female police officer in the station, the victim had to stand outside the police station and write a complaint on a plain piece of paper.
Response from the Police Department
The Deputy Commissioner of police responded to the question raised by the victim. He replied that, for safety precautions, women are not allowed inside the police station during the night, and that applies to female police officers as well.
Also, an FIR has been filed against the Uber driver. However, the driver doesn't seem to feel guilty. When he attempted to retrieve his phone, he claimed that the student was drunk and that the incident was an accident.
Nevertheless, the police acknowledged the complaint from the victim and filed an FIR against him.
In recent times, plenty of cases have been filed against Uber drivers, which is a bad sign for the Uber company. Later in this incident, Uber retweeted the student asking for the details of the driver.
Uber should look into this issue of increased complaints against their drivers. A complete background check should be done before partnering with the drivers.
People assess Uber for commuting, and if that doesn't come with safety, then the company will lose public trust.
---
Read more: Tamil Nadu News Archives – Asiana Times
---