Ukraine advisor to the Ukrainian President Mykhailo Podolyak delivers refusal remarks in a telegram to a veteran US diplomat Henry Kissinger's suggestion to step up for peace.
The article by Kissinger
On December 17 the veteran diplomat Henry Kissinger published an article titled "How to Avoid Another World War" in a weekly magazine, The Spectator. In his article, he states that a lot of vision and courage are necessary for a road toward diplomacy. He writes "Ukraine has become a major state in Central Europe for the first time in modern history". Responding to Henry's suggestions the presidential advisor to Ukraine Mykhailo says"Mr. Kissinger still has not understood anything neither the nature of this war nor its impact on the world order" insisting that the veteran diplomat was unaware of the recent situation and its future repercussions.
Ukraine advisor's response
Mykhailo tries to break down the statements made by Kissinger into simple terms explaining that the former diplomat wanted Ukraine to give up its territories in the hands of Russia in order to avoid any warfare. According to sources, Mykhailo says, "The prescription that the ex-Secretary of State calls for, but is afraid to say out loud, is simple: appease the aggressor by sacrificing parts of Ukraine with guarantees of non-aggression against the other states of Eastern Europe".
Mykhailo gives comments on Telegram explaining that the option of giving up its territory would be a bad example for the rest of the world as it would set an example for other autocrats like Vladimir Putin for a way to a successful invasion. He says, "All supporters of simple solutions should remember the obvious: any agreement with the devil — a bad peace at the expense of Ukrainian territories — will be a victory for Putin and a recipe for success for autocrats around the world".
Kissinger's proposal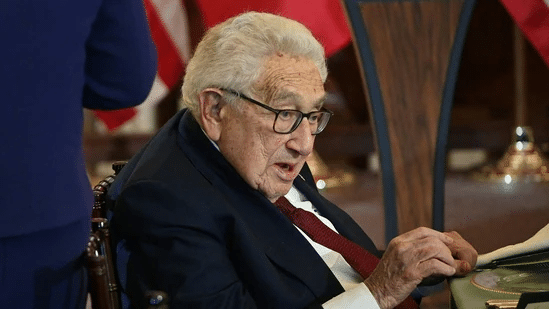 Henry had written in his article, "The time is approaching to build on the strategic changes which have already been accomplished and to integrate them into a new structure towards achieving peace through negotiation". Through his article, Kissinger seeks to propose a ceasefire as the first step to a peace plan with the withdrawal of Russian troops from Crimea.
Henry Kissinger speaking at a World Economic Forum in Davos, Switzerland earlier this year in May made a similar proposal saying "Negotiations need to begin in the next two months before it creates upheavals and tensions that will not be easily overcome. Ideally, the dividing line should be a return to the status quo ante. Pursuing the war beyond that point would not be about the freedom of Ukraine, but a new war against Russia itself".