Assembly Elections of UP continue despite a huge rise in Omicron Case
Amid rising Covid-19 cases, the Election commission of India (ECI) is ready to organise Uttar Pradesh Assembly elections, disregarding the third wave's apprehensions.
Every Party & every political leader works for the welfare of the general public, or at least that is what they say or what they pretend to do. But when it comes to power, they all have a unanimous opinion. Here is why? In an hour-long press meeting held in the second half of December 2021,
Chief Election Commissioner(CEC) Shushil Chandra said,
"All political parties kept a demand to conduct election timely with proper Covid Protocol."
Well, we all have an example of proper covid protocols,i.e., UP Gram Panchayat Elections 2021, where around 1600 teachers died of COVID-19 infections.
Some people will say that rallies are banned until January 15th in Uttar Pradesh. But we have to understand that protests are not solely responsible for significant outbreaks. Mismanagement of crowd& protocols is equally accountable for these sudden outbreaks.
We have to learn from our past mistakes, be it Assembly Elections of Bengal which resulted in the second wave across the nation or Gram Panchayat Elections of Bengal, which resulted in the death of more than a thousand deaths and a half teachers.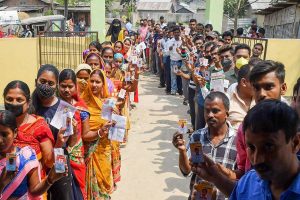 The lesson of 2021 we forgot
According to the latest daily reports, more than 100,000 cases of Covid-19 are being reported in the country. Along with the current worsening scenario, we (Authorities, Political Parties & General Public) are as carefree & confident (after suffering two significant outbreaks) as we were in the year 2021.
Another factor contributing to this worsening situation is that the new variant of Covid-19 probably spreads faster than previous mutations, including delta. Keeping all the above-discussed facts on the table, the Postponement of the Assembly election could have been a much logical & cheaper choice.
But keeping aside logic & putting the hunger for power on par with the well being of people, the decision has been taken. West Bengal has 294 Seats, elections were conducted in 8 Phases & All of us are aware of its consequences.
On the other hand, Uttar Pradesh has 403 seats & the Elections are announced to be conducted in 7 Phases. The Election Commission of India (ECI) has defied logic.
This decision proves that we as a country are slow learners & our authorities are ready to pay the price of our lives as compensation for being slow learners, just like they did in 2021. The second wave of 2021 was not an unexpected event in any way.
We were well aware that the outbreak was not over yet, but both people & authorities ignored it. We cannot talk about political parties here because the lives of ordinary people hardly matter to them.
The Second wave of last year resulted from ignorance & carelessness from both sides (authorities & people). To a large extent, the current situation resembles the case of last year, when Bengal Assembly Election rallies were being organised.