kanishtha agarwal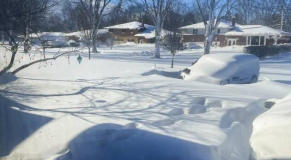 The usa has been reported to be worst hit by winter and storms. The temperature
has reached -39 degrees Celsius, freezing the whole nation. On Saturday, cities like
the Mexican border and Buffalo in New York were the worst hit by a bomb
cyclone. Reportedly, more than 39 died in this storm and more than 7 lakh people
are trapped inside their houses without a power supply. There are many accident-
related deaths reported due to this storm
What is a Bomb Cyclone?
Extreme cold conditions have been caused by a phenomenon called a bomb
cyclone. According to the National Oceanic and Atmospheric Administration, this
event occurs when there is a collision between warm and cold air masses. This hit
the USA on Saturday at 7 A.M almost blanketing 43 inches of snow leaving more
than 39 dead till Sunday. The storm's effect can be felt from the Great lakes near
the Canadian border to Rio Granade, near the Mexican border.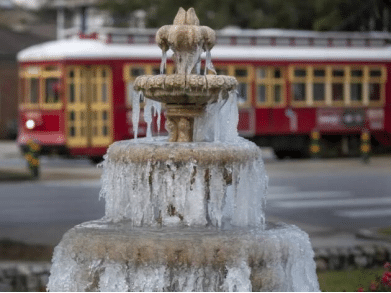 Increase in death rates
In New York, about 500 motorists were stranded in their vehicles with the National
Guard called in to help with rescues. Officials reported that two motorists were
killed, and others injured in a 50-vehicle pileup that shut down the Ohio Turnpike
in both directions near Toledo. Two persons died in Cheektowaga town of New
York state after emergency teams could not reach them on time to treat their
medical conditions. Meanwhile, 10 persons died including six in the city of
Buffalo. Twelve deaths were confirmed in Erie County, with some victims found
dead in cars or snow banks.
USA worst hit by temperatures
The National Weather Service has said that temperatures forecast on Saturday were
just 7 degrees Fahrenheit (-13 degree Celsius) in Pittsburgh, surpassing the city's
previous all-time high in 1983. The western state of Montana was the worst-hit
state in terms of temperatures, as the mercury dropped to -50 degrees Fahrenheit,
or -45 degrees Celsius In Canada, the provinces of Ontario and Quebec were the
region's worst-hit by the winter storm. South Florida's temperatures dropped so
low, that iguanas froze and fell from trees. The western US state of Montana is the
worst hit by the cold, with temperatures dropping to -50F (-45C).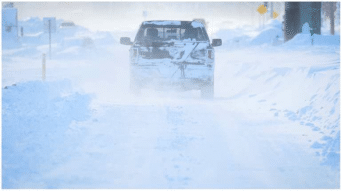 USA New York City, Buffalo worst hit by the storm
In Buffalo, 16% of residents had no electricity on Christmas, Reuters reported. The
storm unleashed fully on the city of Buffalo, with hurricane-force winds and snow
causing whiteout conditions. New York Governor Kathy Hochul said, "On
Saturday, nearly every fire truck in Buffalo was stranded due to snow and low
visibility." At the Buffalo Niagara International Airport, 43 inches (109
centimeters) of snow was reported in the morning. A native of Buffalo said, "This
will go down in history as Buffalo's most devastating storm."
NWS reports on the USA condition
At the Buffalo Niagara International Airport, 43 inches of snow was reported at 7
am on Sunday. Around 60% of the country's population faced winter weather
advisories or warnings. Temperatures significantly below normal were reported
from the Rocky Mountains in the western part of the United States to the
Appalachian Mountains to the northeast. The city's airport will also be closed till
Tuesday morning; according to National Weather Service.
Changes in the travel plans for USA
People are advised to stay at home and run their businesses with the advent of this
huge storm from Dec 23 to Jan 2. A total of 1,707 domestic, as well as
international flights, were canceled on Sunday due to the storm. The cyclone has
disrupted travel plans for millions of Americans, leaving travelers facing delays
and cancellations during one of the busiest times of the year. With total delays of
more than 6,400 more than 5,000 flights were canceled on Friday, 2700 flights on
Thursday, and 2700 again on Saturday; just before Christmas.