Robie Colstrone who played the role of 'Hagrid' in Harry Potter died at the age of 72, yesterday in a hospital in Scotland. Robie Colstrone was a Scottish actor who was famous for his half-giant look in Harry Potter who often hit punchlines that brought laughter and smiles among the viewers. Harry Potter is a movie series adapted from J. K. Rowling's famous fantasy novel series "Harry Potter".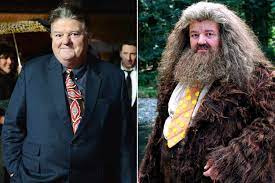 Soon after his death was confirmed by his agent, Belinda Wright, the internet was outpouring with tributes to the actor. Daniel Radcliffe aka Harry Potter and Emma Watson aka Hermione were among the first few who mentioned the sad demise of the actor. "Robbie Coltrane, Scottish entertainment legend – you will be hugely missed" said Scotland's First Minister, Nicola Sturgeon.
Daniel Radcliffe said "Robbie was one of the funniest people I've met and used to keep us laughing constantly as kids on the set. I've especially fond memories of him keeping our spirits up on Prisoner of Azkaban, when we were all hiding from the torrential rain for hours in Hagrid's hut and he was telling stories and cracking jokes to keep morale up. I feel incredibly lucky that I got to meet and work with him and very sad that he's passed. He was an incredible actor and a lovely man."
Robie Coltrane first appeared in a TV series named Cracker for which he won British Academy Television Awards (BAFTA) for three consecutive years. He played roles in other big films such as Golden Eye, one of the James Bond films in the year 1995, The World Is Not Enough in 1999, From Hell in 2001. He was last seen in the 20th Anniversary of Harry Potter. In 2011, he was honored for his "outstanding contribution" to film at the British Academy Scotland Awards (BAFTA Awards). Though he played many roles in television, dramas and series, he was most loved as Rubeus Hagrid in his funny-loving role.
The cause of death is yet to come. Though his agent Brenda gave a statement on his death, "as well as being a wonderful actor, he was forensically intelligent, brilliantly witty and after 40 years of being proud to be called his agent, I shall miss him." She also said that Robie is survived by his sister, ex-wife and two children, Spencer and Alice.