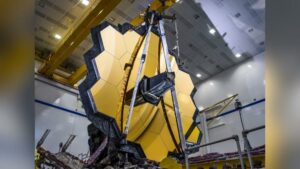 Image Source – Google 
Bill Nelson, NASA administrator stated on Wednesday that the agency will reveal the deepest image of our universe that has ever been taken on 12th July.
The credit goes to the newly operational James Webb Space Telescope. He further added that this is farther than humanity has ever noticed.
He said this during a press briefing at the Space Telescope Science Institute in Baltimore. The operation center observatory for $10 billion in December last year that was launched is now orbiting the Sun a million miles away from Earth.
Webb Telescope: NASA to reveal the deepest image ever taken of the universe Also, it is going to explore the objects in the solar system and the atmosphere of exoplanets that are orbiting around stars. This will help us in giving us a clue as to whether their atmosphere is possibly similar to our own or not.
Webb's infrared ability allows it to see deeper which happened 13.8 billion years ago. Because the universe is increasing in size, light from the earliest stars moves from the ultraviolet and visible wavelengths it was released, into longer infrared wavelengths which Webb is prepared to detect at a resolution that is extraordinary.
READ MORE- Nasa's Hubble Telescope Clicks Crisp Image Of A Sparkling Galaxy