The potential of extraterrestrial life has sparked global interest this week. On a faraway exoplanet, the James Webb Space Telescope discovered carbon dioxide, methane, and other possible "life signatures." In addition, a "UFOlogist" testified before the Mexican Congress, showing what he claimed to be 1,800-year-old alien corpses. Meanwhile, NASA released the findings of its UFO investigation.
Alien corpses in Mexico
Journalist and self-described UFOlogist Jaime Maussan spoke before Mexican lawmakers on Tuesday, showing them what he claimed to be two ancient "non-human" alien bodies. He informed the Congress of Mexico that they were found in Cusco, Peru, and that radiocarbon dating determined their age to be 1,800 years.
These specimens are not a result of our world's evolution. They weren't found in a UFO wreck. In a diatom moss mine, they were discovered fossilised. We need to face the reality that we are not alone in the huge cosmos, stated Maussan while testifying under oath, according to Euro News. Former US military pilot Ryan Graves and Harvard University astrophysics professor Avi Loeb were said to have joined Maussan for the meeting.
It's interesting to note that Graves was present when David Grusch appeared before the US Congress, claiming that the government was hiding a long-running programme to recover and reverse engineer UFOs and was in possession of biological material from "non-human" species. Loeb, on the other hand, recently made dubious claims that he had discovered objects with an interplanetary origin in the sea.
Maussan's "corpses" appeared to have little bodies, elongated heads, and three fingers.
It's crucial to remember that Maussan has a history of making ludicrous claims about extraterrestrials that were later refuted by scientists. His latest "revelations" may simply be another shoddy effort to demonstrate evidence of extraterrestrial life.
NASA's UFO team report and new director
The National Aeronautics and Space Administration (NASA) announced the results of a third-party investigation into unidentified anomalous phenomena (UAP), the term it currently uses to refer to UFOs and other anomalous occurrences, on Thursday. Bill Nelson, the administrator of the space agency, added that a new director for UAP research will be appointed along with the results.
No proof that any of the UAP data could be connected to extraterrestrial life was discovered by the study itself. The space agency, however, is now attempting to de-stigmatise UAPs and crowdsource more data from the general public as well as commercial and military pilots, so it represents a significant step forward. NASA and other US government organisations will utilise machine learning and artificial intelligence to evaluate video and other data pertaining to UAP events after obtaining additional high quality data.
Studying UAP is crucial for the nation's national security and air safety in addition to the remote chance of finding evidence of intelligent alien life.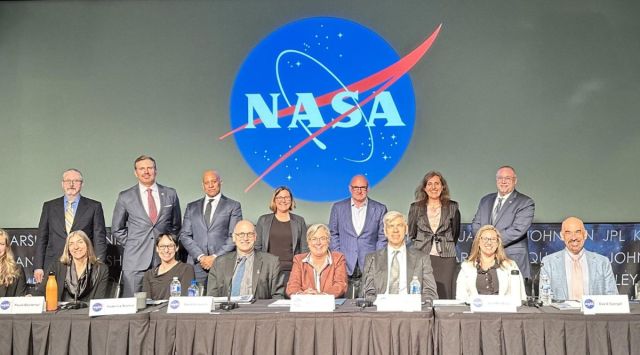 Webb finds methane, carbon dioxide and other components
Interestingly, the James Webb Space Telescope was the source of the most compelling evidence for the existence of extraterrestrial life. The exoplanet K2-18b was examined by scientists using Webb, and it was proven that carbon-bearing compounds like methane and carbon dioxide exist on the planet, which may be an ocean world.
The study also made a suggestion that the planet may contain a chemical known as dimethyl sulphide. Only life on Earth is capable of producing this chemical. Phytoplankton in the oceans emit the vast majority of dimethyl sulphide on our planet.
But more evidence is needed to completely support that observation. More Webb observations are required, according to the study's authors, in order to determine whether the chemical is present on K2-18b in any appreciable quantities.
Elon Musk's response
The owner of X (previously Twitter) and the richest man in the world has now spoken out, stating they are actually "cake." He responded to a video that was uploaded to the microblogging website and showed one of the aliens being cut in half, exposing what looked like sponge cake underneath.
Spoof text that read: "Breaking news: 'Alien' revealed as cake" was also included in the parody video. The presumed alien corpse is actually a cake.
Mr. Musk responded to the video by saying, "It was cake all along." One of the early commenters on the post was another X user who said: "I knew it, but didn't want to ruin the surprise." Another user said, "It looks more convincing than the other ones."
Millions of people have been perplexed by the strange-looking beings in the images and videos.
According to Mr. Maussan, the samples were investigated at the Autonomous National University of Mexico (UNAM), and researchers used radiocarbon dating to examine the DNA evidence.
It was found that one of them, whom Maussan identified as a female, was carrying eggs. Clara and Mauricio are the specimens' names, according to the man.
In the interim, the American space agency NASA stated that such samples had to be made available for examination by the global scientific community.