The meta-owned messenger app WhatsApp has now unveiled the new Whatsapp communities feature. It is now available in android, ios and for web users.
After the announcement of a new community feature in whatsapp by Mark Zukerberg, it is finally made available in the app. It is basically an enhanced version of the pre-existing feature of the whatsapp groups. They introduce a number of new features to the messaging platform that are intended to help organisations, clubs, schools, and other private groups to stay organised and improve communication. These features include admin controls, support for sub-groups and announcement groups, 32-person voice and video calls, larger-file sharing, emoji reactions, and polls. Though some of the features like emoji reactions are already made available in the app before the launch of whatsapp communities feature.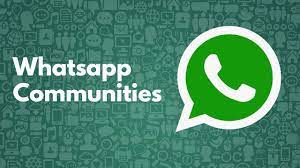 They are similar to the facebook communities but is claimed to be more personal and private as it requires a phone number to be added to the community. Therefore the members would have some familiarity with one another, as they may have exchanged phone numbers unlike in facebook as they are used by strangers. However, the phone numbers will be hidden from the wider community and only made visible to admins and others in the same sub-groups. The communities cannot be also discovered by searching. We would need to get an invite to join the community.
---
---
WhatsApp Communities vs groups
Though WhatsApp communities have many similarities with WhatsApp groups, it is a more feature rich replacement for the larger WhatsApp group chats. Unlike groups which can only add maximum of 256 participants, communities can add 1000+ participants. While groups have regular basic features, communities have additional tools for its admin and members. Some of them are
It is able to bring several groups sharing a common interest under one umbrella.
We can share files upto 2GB in size.
Admins have the power to make announcement messages to all community members.
Admins have special powers to delete anyone's message in the community chats, if he finds it inappropriate.
We can exit a group but still be a part of the community and its announcement channel. In this manner, we would not belong to any groups but still be a member of the Community and have access to the Announcement channel.
How to create a Whatsapp Community ?
Here is a step-by-step guide on how to create a community on WhatsApp.
Step 1- Tap on communities tab on the top left corner on android devices and however for ios users, it shows directly next to the conversations and settings options.
Step 2- Then click on Get Started.
Step 3- Enter the community name, description, and profile photo. (Community name limit should be 24 characters). Add a description which should provide the members an idea of what the community is about and add a community icon.
Step 4- Now, add existing groups or create a new group.
Step 5- Once you are done including groups, click the green check mark icon.
Other things to note
A community announcement group will be automatically created when we create a whatsapp community. This will be a space where community admins can post messages which will be broadcasted to all the community members in the announcement group. This is applicable to all other documents and media files.
Admins can share the link of the community to anyone they want but they cannot join the groups unless they are invited manually.
Like that of groups admin can make more people as admin to execute works in a disciplined and organized manner.