For a while now, relations between China and Canada have been sour. Justin Trudeau reacted to Xi by declaring, "We believe in free, open, and frank discussion."
Chinese President Xi Jinping called it "inappropriate" and charged Canadian Prime Minister Justin Trudeau for leaking their G20 summit discussions to the media. "Everything we discussed has been leaked to the paper; that's not right," Xi is heard saying to Trudeau through an interpreter in a video of their meeting during the G20 summit, which was held on the Indonesian island of Bali and wrapped on Wednesday.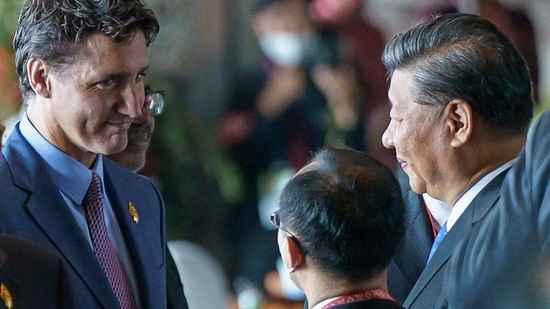 "The conversation wasn't conducted in that way. If there is sincerity on your end..," Xi continued, when Trudeau interrupted to emphasize Canada's commitment to free and open conversation.
"We believe in free, open, and honest dialogue, and we will continue to have it." There will be a few areas we disagree on, but we'll keep trying to work productively together", added Trudeau.
"If you are sincere, we should respectfully communicate with each other; otherwise, it will be difficult to predict the outcome," Xi finished, as Trudeau nodded and awaited a translation. "Let us first create the conditions," Xi said before shaking Trudeau's hand and walking away.
Following their brief talk, the two can be seen shaking hands in the footage, which was released by CTV National News journalist Annie Bergeron-Oliver.
In his first discussion with Xi in more than three years on Tuesday, Trudeau expressed "serious worries" about alleged political meddling by China, a Canadian government source told Reuters and The Globe.
The "meddling" may allude to a Canadian media article from earlier this month that quoted intelligence sources who claimed they suspected China of interfering in the 2019 election. Moreover, on Monday, authorities charged and arrested an employee at the country's top electricity generator on the grounds of trying to steal sensitive information for China.
Along with North Korea's nuclear program and the necessity of the Montreal summit in December "to conserve nature and fight climate change," Trudeau and Xi also spoke about Russia's invasion of Ukraine, the source added. They also discussed "the value of continued dialogue,"," the source claimed.
The two leaders last spoke in 2019 in Osaka, Japan, outside the G20 conference. Additionally, they met twice on official sojourns to Beijing in 2016 and 2017, as well as once in Turkey for the G20 in 2015.
Meanwhile, during the G20 summit, Xi met with US Vice President Joe Biden for three and a half hours behind closed doors.
China and Canada's relationship has been strained for years. Especially after Canadian authorities apprehended a Huawei Technologies executive in 2018. China then jailed two Canadians on account of spying.
Watch the video for more!

READ MORE||https://www.hindustantimes.com/videos/world-news/xi-jinping-fights-with-trudeau-on-cam-heated-exchange-at-g20-goes-viral-watch-101668624783709.html