Deaths happened only in Rajasthan, 30 lakh till now. The disease has spread in 22 states.
1.5 lakh cattle killed by lumpy virus: 50%
This year, more than 1 lakh 55 thousand cattle have died due to lumpy virus in the country. Out of this, 50% i.e. about 75 thousand deaths have happened only in Rajasthan. The disease has spread in a total of 22 states and union territories. The Animal Husbandry and Dairying Department presented these figures in the Rajya Sabha on Friday.
What is lumpy skin disease?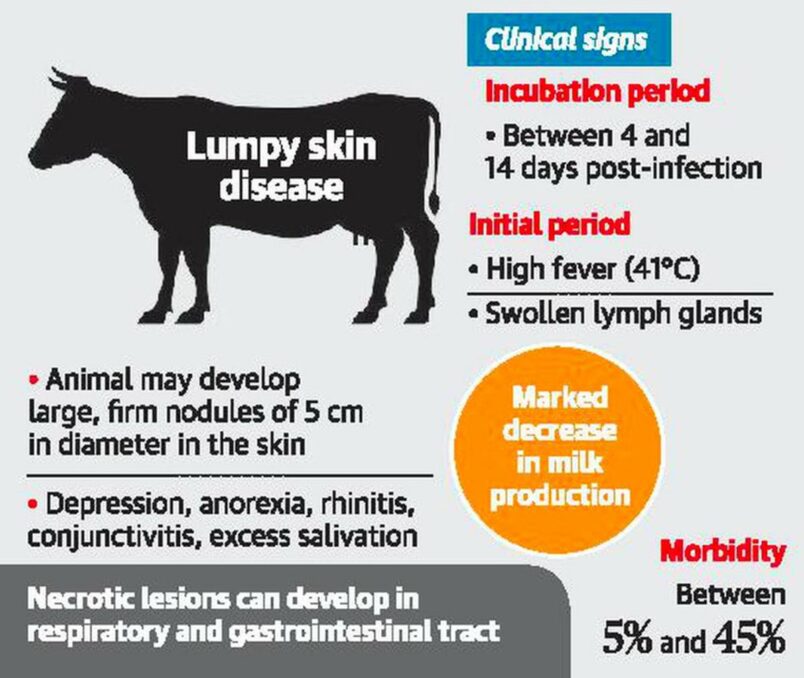 Lumpy Skin Disease (LSD) is a disease caused by a virus called capripox in cattle like cows and buffaloes. It spreads very fast from one animal to another. This virus is similar to the virus responsible for diseases such as goat pox in goats and sheep pox in sheep. Capripox comes from the same virus family that causes smallpox and monkeypox. Due to this disease cattle get fever and lumps in the body.
Disease spread in 30 lakh cattle
According to government figures, 29 lakh 45 thousand cattle have been infected with the lumpy virus so far. At the same time, more than 25 lakh 5 thousand animals were also cured of the disease. Maharashtra (24,430), Punjab (17,932), Karnataka (12,244), and Himachal Pradesh (10,681) reported the most deaths from LSD, followed by Rajasthan. The number of infected animals is more in Gujarat, but the number of deaths there remained at only about 6 thousand. The first case of the lumpy virus came in Odisha in 2019.
6 crore animals were vaccinated
It has been said by the government that the lumpy virus which is spreading like an epidemic is currently under control. So far 6 crores 28 lakh animals have been vaccinated against this disease. It is being implemented under the Livestock Health and Disease Control Program of India. Antibiotics are available to control the symptoms of the disease, but no specific antiviral drugs are available to cure the disease.
---
READ MORE:iNCOVACC, intranasal COVID-19 vaccine by Bharat Biotech world  got cleared as heterologous booster