More than 1200 cattle died in Gujarat and Rajasthan due to a disease called Lumpy Skin Disease. 
As a direct result of the Skin Disease, the deaths of over 3,000 cattle have been recorded in the states of Rajasthan and Gujarat.  
The viral infection was confirmed in nine districts in Rajasthan, with approximately 2,500 cow deaths recorded from Barmer, Jalore, Jodhpur, Bikaner, Pali, Ganganagar, Nagaur, Sirohi, and Jaisalmer.  
Gujarat's Agriculture Minister stated 977 cattle died from Lumpy Skin Disease last month. A total of 14 districts were affected by the virus's spread, including all districts in the Saurashtra region, Kutch, and now Banaskantha.  
In relation to the Lumpy Skin Disease, the states of Rajasthan and Gujarat have both issued a high level of alert. 
Pointers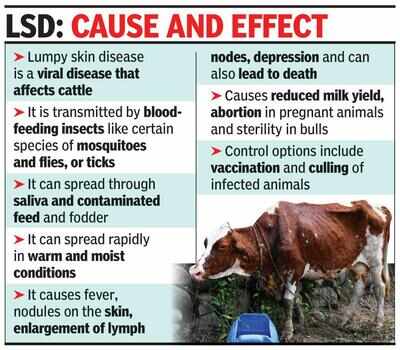 Over 2,500 cattle heads have died from a disease called "lumpy skin" in nine districts of Rajasthan. This has caused panic all over the desert state.

 

A senior government official in the department of animal husbandry said, 

 
"While over 2,500 cattle heads have died due to the viral disease, around 50,000 more have been infected. The viral infection has already spread to nine districts, mostly adjoining Gujarat which has become the epicenter of the disease."  
The virus has already spread to nine districts, most of which are near Gujarat, which is now where the disease is worst.

 

This week, a group of scientists and veterinarians from the Centre went to Rajasthan's Jodhpur and Nagaur to take a look at the situation.

 

Due to the wake of an increase in the number of cattle deaths caused by the Lump Skin Disease.

 
Lumpy Skin Disease – Overview
Lumpy skin disease is an infectious, eruptive, and sometimes deadly illness of cattle. It's more common in the summer, but it can occur in winter.  
It is most common near waterways and in low areas. 50% of sensitive cattle have a fever, lacrimation, nasal discharge, and hypersalivation, followed by skin and body eruptions. The incubation period is between 4 and 14 days.  
Morbidity is between 5% and 50%, and death rates are typically low. Reduced milk supply, condition, and hidden rejection or value are the biggest impacts.  
Attenuated vaccinations may reduce dissemination. Antibiotics and good nursing care are recommended to stop secondary infections, but a large number of sick animals in a herd may make treatment impossible.