Goshalas and Cattle raring share a deep historical links to native to Indian tradition since ancient times, in the modern era, Raja Rao Yudhishter Singh Yadav was one of the prime personalities to establish Large scale Goshalas in India as early as the 19th century.
At present, there are 1800 registered Goshalas all over India. These Goshalas works as a shelter house to rescue stray cattle, and disabled/derelict cattle and groom them.
Concerns of Cattle in India
India ranks first in global milk production contributing to 23% of the global milk industry. The race to sustain the position certainly forces the local dairy industries to saddle the milk-producing cattle.
Over-exploitation of female cattle for dairy products
Mammals produce milk for their infants for a certain period after birth. Therefore female cattle need to bear pregnancy to get milk, this is a natural process.
But, to meet up the huge demand for milk these animals are artificially inseminated and are forced to bear successive pregnancies with artificial supplements.
There is stark evidence of unscientific and unhygienic methods used for this in several rural areas, mainly to meet the cost range of poor farmers who cannot afford lab facilities for this purpose.
As a result, the cattle undergo deep suffering affecting their health, and finally when it wares out its milk-bearing capacity, the leather and beef industries find their feed!
Khalbacchas: the devilish practice
This is a kind of cruel practice where the cattle rearers prefer to eliminate the male calves to avoid feeding them but preserve their dead body by stuffing them with hay musk to decoy the mother cattle to produce milk!
This is an extremely inculpable offense, yet practiced unabashedly.
The non-yielding stray cattle
These are the group of cattle that cannot bare milk and are unreliable for physical labor, old female cattle, and male cattle which are severely injured with a permanent disability or aged with ailing diseases fall into this category.
Unfortunately in recent times, with the availability of power-driven plowing machines and affordable logistic transport, there is a drop in demand for sturdy male cattle. Thus making the caretakers unprefer even the young male calves.
For God's sake when the caretakers of these cattle take pale mercy, instead of striking a deal with the butchers these cattle are left abandoned in the forest, on highways, in urban areas, etc.
Thousands of such innocent cows are left on the street without a home. Many of these are just aged, injured, or abandoned.
Unfortunately, some of them will be victimized by the city hunting butchers while others (meet fatal injuries) and starve to death. Hence the life of these cattle become miserable.
Stray cattle and the train clashes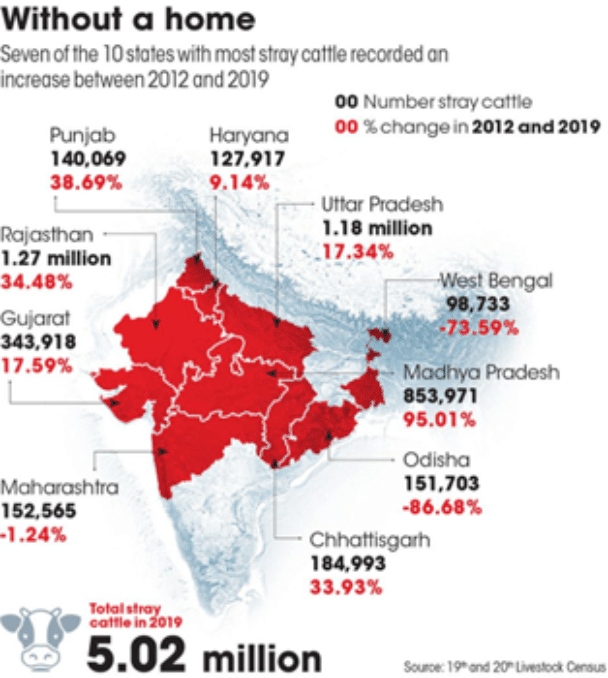 Recently a Vandae Bharath Train traveling from Maharashtra to Gujarat met with a cattle accident and has issued warning to the local panchayats to keep the stray cattle away from the tracks.
The issue is very similar in the case of urban accidents, the stray cattle contribute a part of urban road accidents.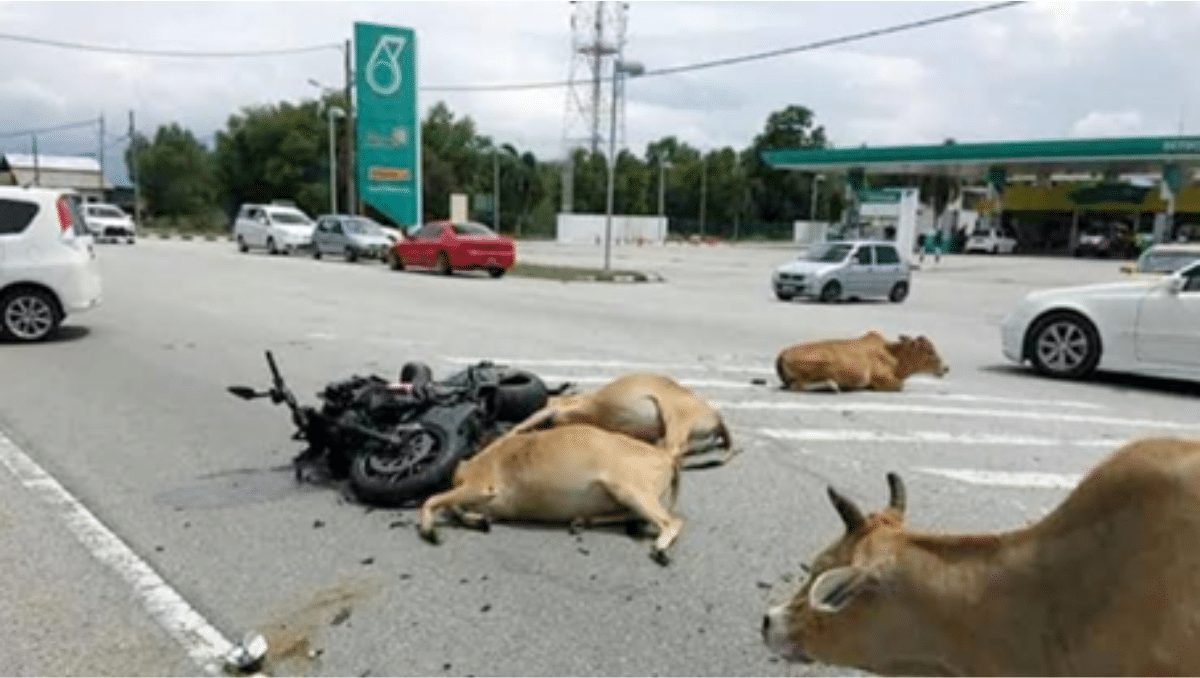 Challenges to government action and possible solutions
The Rashtriya Gokul Mission of 2014 aims at promoting the scientific cultivation of cattle by providing adequate administrative and technical facilities.
The Union Government had sanctioned ₹ 197.67 Crores for establishing 21 Gokul grams (Cattle Centers) all over India.
But many states have not taken any endeavor for carrying out the program, which manifests their disinterest in the Mission.
Because livestock maintenance is a "state subject" (entry 15 of List – II, under the seventh schedule of the Indian Constitution), hence each state government has its discretion in terms of laws related to the maintenance of cattle.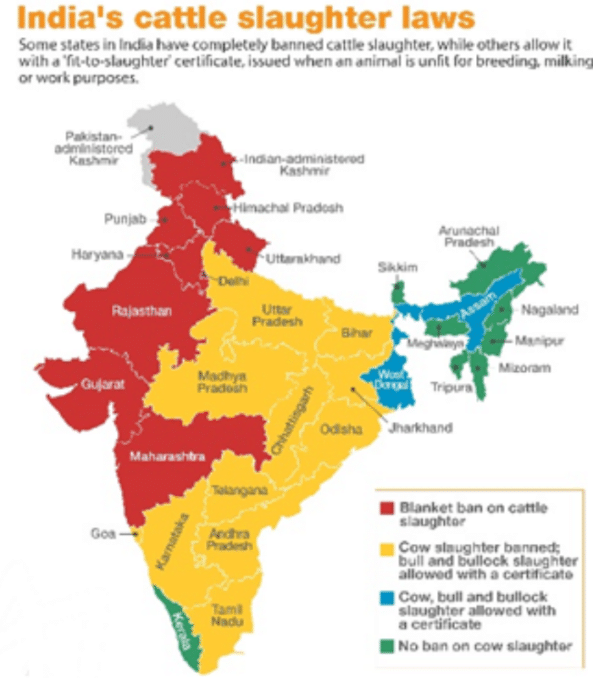 This is the reason why there is a wide variation of laws related to cattle slaughtering all across India.
Alternative Dairy products: A future Solution
In view of the environment, it is found that the Dairy industry accounts for 75% of global Methane emissions.
Apart from this beef cultivation consumes a large quantity of water, land, and fodder compared to the plant equivalent of the same nutrition.
Example:- 1 kg of beef cultivation needs around 15,415 liters of water, while 1 kg of green gram needs less than 1,000 liters of water, on the nutrition scale beef just has 6% protein more than green grams of the same quantity which can be met by increasing the quantity of intake.
Similarly, there are other equivalents of milk that contain better nutritional supplements than cattle's milk, this can avoid humans from feeding on animal milk which essentially is meant for their respective infants.
Promoting Goshalas
Goshalas apart from taking care of the abandoned cattle, harness other useful products for commercial purposes:-
Cattle urine (of indigenous varieties):- can be utilized in agriculture as a bio-pesticide, yield enhancer, and soil rejuvenator, besides curing diseases, controlling mosquitoes, disinfection, and fish food.
Cattle dung:- is used in energy production through fermentation and gasification processes. Cow dung ash has been used in construction as a partial replacement for conventional material and as an adsorbent.
The Goshalas earn a part of their revenue from marketing these products.
This is also an innovative idea for the startups, as herbal pesticides and insecticides are in huge demand the scientifically proven cattle urine can be used for this purpose very lucratively.
Further, Haryana government has announced incentivizing the farmers (₹ 1500 / acre) for supplying the stubbles for the Goshalas.
There by apart from the Goshalas, even common farmers can profit from this business.
---
Read More –
Allahabad HC Grants Bail on Condition of Serving Cows for One Month 
Agriculture techniques and Green food favorable to address Global warming