Upcycling is not as difficult as it seems, and learning how to live more sustainably can be a fun and rewarding experience. No sewing machine is required (though seasoned sewers make excellent upcyclers), and neither is a significant financial outlay of cash. It's conceivable that upcycling will help you save a lot of money.
Old clothes and some imagination are all that is required. In little time, you'll have a one-of-a-kind creation that doesn't harm the planet.
Creative reuse, or upcycling, is the process of transforming a previously used item into a new one. To "upcycle" an item of clothing implies giving an old item that has seen better days a second chance at being worn or utilised.
Upcycling, in its most basic form, entails repurposing an item that would otherwise be thrown away.
In reality, upcycling clothing is currently trending due in no little part to the fact that Gen Z consumers value sustainability above and beyond. More than 427 million videos have been seen with the hashtag #upcycledfashion on TikTok.
Benefits of Upcycling
When you upcycle anything, you are essentially extending its useful life and decreasing the likelihood that it will end up in a landfill. Instead of just tossing it out, you've decided to give it one last go around.
"It gives a new life to something that would typically be thrown away, keeping waste out of landfills. Aside from reducing waste, it also minimizes the use of new materials needed to produce new products, as well as reduces the carbon emissions from mass manufacturing."

explains Laura Wittig, CEO and founder of sustainable online platform Brightly
Almost every article of clothing may be upcycled, however, certain fabrics are more difficult to deal with than others.
You might not want to upcycle more expensive clothes. Instead, consider selling vintage or brand-name items on a secondhand marketplace such as Poshmark, Mercari, ThredUp, or even Etsy. Although these clothing can technically be upcycled, you'll likely find greater value simply reselling them if you no longer desire them.
All right, let's jump right in! Here are 5 ways to upcycle your clothes that don't require expertise in sewing:
1. Turn into a tote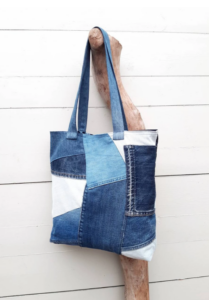 Tote bags are the new hot girl shit. Instead of buying them, you can upcycle your old denims and t-shirts. Make your own eco-friendly tote bags instead of using disposable plastic (or paper) bags. You may use them for whatever purpose you would put a regular cotton bag to, including carrying groceries, shoes, and other items as you shop.
2. Make it a scrunchie
Scrunchies are cute and trendy and can be seen all over TikTok all thanks to Lara Jean. One option is to take the fabric from an old T-shirt to make a hair ribbon; another is to just sew a piece of cloth together to use as a hair tie. If you find this to be fun, making scrunchies upcycling your old clothes is a good idea to start your small business.
3. Patch it
To patch up holes or tears, you don't have to be a sewing machine expert. Attach a patch with a needle and thread (or a sewing machine), or try glueing it on. Patches may be ironed on and do not always need to be sewn.
4. Use it as a gift wrap
Gifts can be "wrapped" with fabric wrapping techniques instead of wasteful single-use wrapping paper. Wrap the present in the cloth by folding the edges over, gathering them, and pulling them upward into a knot. Very simple!
5. Dye it to save it from dying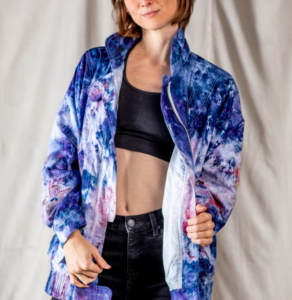 Dye is a great way to breathe fresh life into anything that has been worn before but is now stained or worn out, such as a wine-stained shirt or a worn-out dress. You may either buy some fabric-safe colours or utilise household waste, such as onion skins or avocado pits, to create your own.