A smile is the chosen vehicle for all ambiguities. It always works to avoid uncertainty. Detecting a false smile is hard but not impossible if you're close enough to that person.
Overview:
In this world, everybody is dealing with some sort of thing or other. They have worn a mask to hide all their emotions because they are left with no other option.
Some people wear this smile mask to hide their insecurities, fears, or individuality, while others wear it to cope with the loss of someone they care about.
Many songs have tried to highlight this; for instance, 'Tum Itna Jo Muskura Rahe ho, Kya Gham Hai Jisko Chupa Rahe Ho..', At times, they are in so much intense pain that they try to hide it behind a smile. They wear this mask covering their real emotions for an ample number of reasons-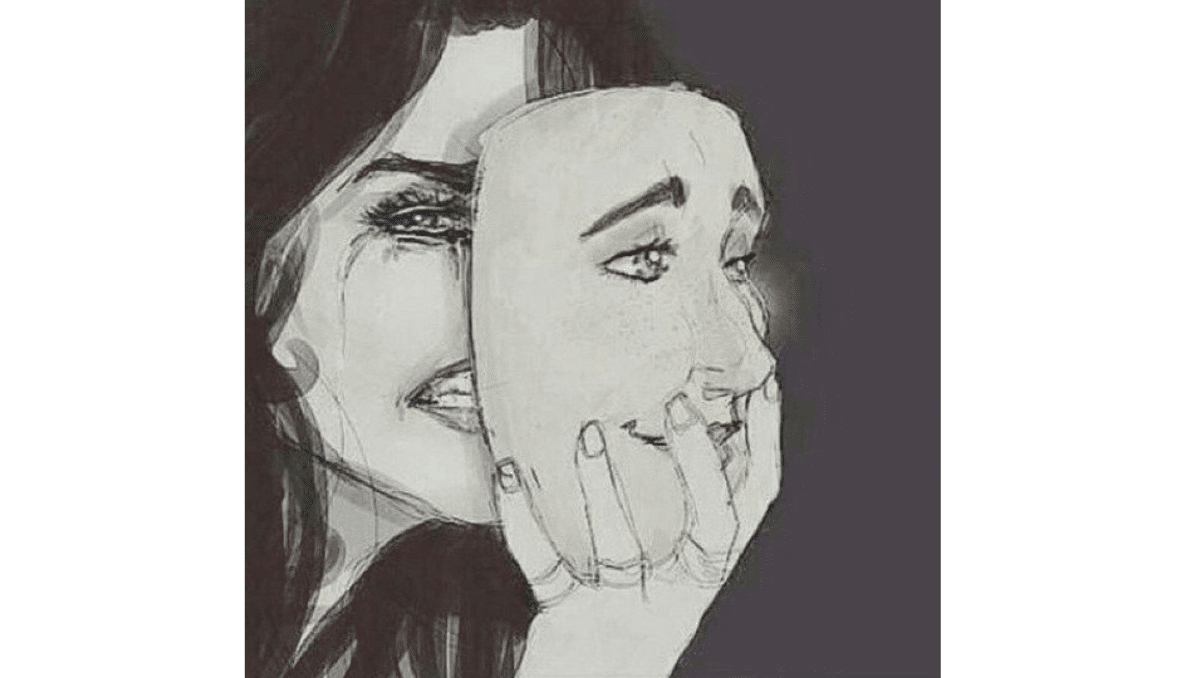 To live in this virtual world of social media

–
People's Instagram lives appear to be a dream, but are they really having that much fun or are they happy that they show on Instagram?
If that was the case, they wouldn't have cared to upload a picture asking for people's reviews and waiting for their likes and comments, but instead would enjoy the moment rather than uploading it on social media platforms. Sadly, they are living a double-standard life and have accepted this illusion to be real.
To not feel left out or outcast from society-
Humans are social beings. No matter how much they try to live alone, they will always need people around them who accept them. This happens because of the fear of being left out alone or being banished from society.
Why are we even hiding ourselves from one another? What are we afraid to show? We're all humans and we go through all human problems.
Concern about being judged-
Not everybody understands the pain of others. Fear of being judged for expressing one's true self leads one to hide behind a mask rather than portray one's true self.
They feel protected by hiding under covers. These masks are worn by everyone in very different ways. This also promotes the spiral of silence to avoid isolation.
Loss of a loved one-
Everybody goes through this pain in life. But not everybody understands others' as they are so occupied by their own. With time, pain heals, but the void it creates cannot be filled by any other person in life.
People have no choice but to move forward because time is the most powerful thing that waits for no one, and death is the final destination that is in no one's control.
Emotional trauma or mental illness-
Even after spreading awareness, people still don't understand or take emotional problems seriously, which often degrade a person's life. Even after talking about such traumas they hide their own. Empathy and understanding towards each other can make this world a better place to live in.
Way Forward—
Hiding pain behind a smile isn't good for mental as well as physical health. It becomes important to understand each other, provide people with empathy and try to get into their shoes before judging them for anything.
Only then will this world be a great place to live in. Only then would there be real individuals. Only then would the living standards of people improve.
And only then, the pain wouldn't vanish but be taken care of. We have got just one life. Why not be the reason behind others' smiles, the smile that comes from the heart and isn't fake?
Readmore- The Power of Smile – A Free Therapy 🙂