A cephalopod is any member of the molluscan family such as squid, octopus, or cuttlefish. They are regarded as the most intelligent of the invertebrates. Scientists have long wondered why such a complex nervous system was developed in only molluscs.
Professor Nikolaus Rajewsky, paper's last author, says that this is what connects us with octopuses, further explaining that these findings confirmed that miRNA's play an important role in the development of complex brains.
Back in 2019, Rajwesky read a publication about data analyses where scientists have discovered that RNA editing occurs in cephalopods, which means that there are certain enzymes in them that can recode their RNA. Later he experimented and to his surprise there was a lot of editing going on but not on the areas that he was interested in. A dramatic expansion of mRNA genes, microRNA and a  total 42 microRNA were found. These genes were conserved during the evolution of cephalopods and showed that they were important to these animals.
Why octopus?
Octopuses are unique if we look from an evolutionary perspective in invertebrates. It has a central brain and peripheral nervous system, and the reason why octopuses have developed such a complex nervous system is because it uses it tentacle very purposefully.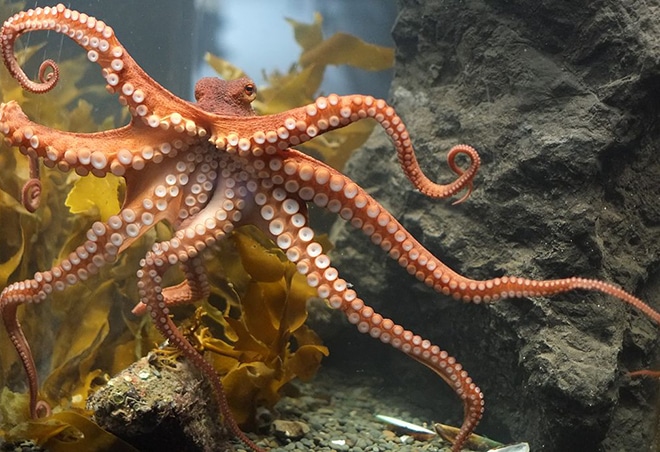 Novel miRNAs are specifically expressed in neural tissues and during development in cephalopods
Novel miRNAs were seen primarily expressed in the nervous tissues of these animals. Out of the 43 miRNAs of coleoid origin, 34 have their maximum of expression in one or more neural tissues. In these tissues, they are expressed, on average, at 13 times higher levels than in non-neuronal tissues.
According to Rajewsky since octopuses are not an ideal model for experimentation, their molecular-biological tools are limited, and they still don't know which type of cells actually expresses the new miRNA. But Rajewsky's team are planning to apply a technique which will make the cells in octopus tissue visible at molecular level.