Yash Raj Films are the roots of all our unrealistic Bollywood fantasies. From the classic Dilwale Dulhania Le Jayenge to the modern blockbuster Pathaan, YRF never fails to leave its mark.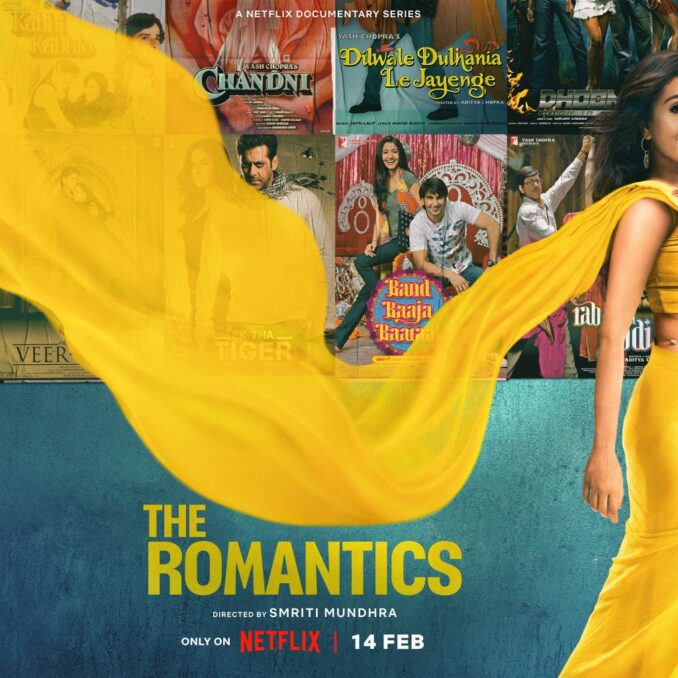 Table of Contents
On February 14, 2023, a documentary series called 'The Romantics' was released on Netflix to honour the contribution of YRF films to the Bollywood industry. 'The Romantics' was appreciated globally. Soon as it was dropped on Netflix, within 48 hours it was trending at number 1. In the acclaimed series, 35 leading actors from Bollywood came together and talked about their roles in Yash Chopra's films.
Actors' Gratitude to YRF Films
Some renowned faces of Bollywood like Bhumi Pednekar, Anushka Sharma, and Ranveer Singh shared their experience of working with YRF films. They talked about the YRF being a supporter of outsiders and how it has groomed them to show their talent to the world.

Ranveer Singh, known for his roles as 'Khilji' in Padmavat and 'Bajirao' in Bajirao Mastani, made his debut in the YRF hit Band Baaja Baaraat, which turned him into an overnight sensation. In the documentary series, he talked about his fascination for Bollywood movies as a kid and how he got his first break in the industry of his dreams.
He said he has always aspired to be an actor since childhood, and he has always been a fan of Bollywood movies; nothing else fascinates him more. You can imagine a slightly overweight kid sitting before the television screen. When other kids used to play outside, he used to be engrossed in some movies. Further, he added, "If we talk about the 2000s, we observed that everyone is the descendant of someone, and it makes me question if I can get a chance in these millions. Also, it was never easy to get a debut in Bollywood."

The actor also revealed how he felt when he got the chance to debut with YRF films. He said that he was in the seventh sky when he got the news. He just couldn't believe it happened to him since YRF had never launched a new male face till then.
Actress Anushka Sharma got her break in Bollywood with "Rab Ne Bana Di Jodi," directed by Aditya Chopra. She also shared her experience of working with YRF films. She said that she comes from a non-film background, and when she entered the industry, she didn't know anyone who had worked in cinema either. The actress added, "One day I got a call from Adi, and he said he is going to launch me."
Bhumi Pednekar was also launched by YRF Films. Her first film was "Dum Laga Ke Haisha," which was a massive hit. Her performance was appreciated by the audience as a debutant. She revealed that she hails from a middle-class family, and though her family is very creative, she is not someone who comes from a film family.
The actress said, "I always aspired to be an actor, but it was like a deep secret for me." Further, she added, "My debut was the character of an overweight woman. Such a concept is quite rare in India. Though I entered the industry as an overweight actress, I was very confident, and that's one thing in common between me and other YRF actresses."