Ajit Doval, the National Security Adviser of India, assured Afghanistan that India will never turn its back on the country, especially when it is going through hard times.
5th Multilateral Meeting
Ajit Doval participated in the 5th multilateral meeting of Secretaries of Security Councils/ National Security Advisers on Afghanistan in Moscow. He clearly mentioned that Afghan territory should not be used for exporting terrorism and radicalisation. No country should be allowed to do something that could cause more damage to the Afghan people.
National security advisers from Russia, Iran, Kazakhstan, Kyrgyzstan, China, Tajikistan, Turkmenistan, and Uzbekistan attended the meeting. Pakistan didn't attend the meeting.
Terrorism a Major Concern
Ajit Doval's major concern is terrorism and its threat in the region. Ajit Doval added that dealing with Daesh and major terror groups like Lashkar-e-Taiba (LeT) and Jaish-e-Muhammad (JeM) does require intensified intelligence and security cooperation between states and their respective agencies.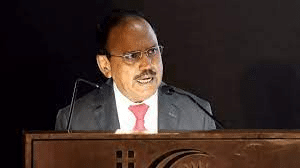 According to some sources, major issues connected to Afghanistan, like the security situation and humanitarian challenges, were discussed. It is also claimed that the NSA upholds the importance of UNSCR 2593 (United Nations Security Council Resolutions), which provides information for terror organizations, including those charged under UNSCR 1267, not to provide sanctuary in the region. Ajit Doval made it clear that no other countries will be allowed to use Afghan territory to export terrorism and radicalisation.
India: A Close Partner
India has a special and close historical relationship with Afghanistan, and hence, during hard times, India will support the country. The first and foremost priority of India is to maintain the well-being and humanitarian needs of the people in Afghanistan. Ajit Doval also gave the assurance that India would never abandon the Afghans in their time of need.
Doval added that India is doing its part in the crisis. Some 40000 MT of wheat, 60 tonnes of medicine, 5 lakh COVID vaccines, winter clothing, and 28 tonnes of disaster relief items have been delivered to Afghanistan. India has also given fresh scholarships to 2,260 Afghan students, including 300 Afghan girls, in the span of two years. Food security and medical facilities are well taken care of during this period.
India and Afghanistan's Special Relationship
India has a special relationship with Afghanistan, built on centuries of cultural, religious, and economic ties. India has been providing development and humanitarian assistance to Afghanistan since the fall of the Taliban regime in 2001. India has invested in infrastructure projects, including the construction of roads, power plants, and hospitals, as well as in human resources through education and training programs. India has also been working with Afghanistan on security issues, providing training and equipment to Afghan security forces, and supporting the peace process.
Additionally, India and Afghanistan share a close relationship in terms of culture and religion. Afghanistan has a significant Hindu and Sikh population, and India is home to one of the largest Afghan diaspora communities in the world. India's special relationship with Afghanistan is also rooted in its strategic interests, as Afghanistan is seen as a gateway to Central Asia and as a means of countering the influence of Pakistan and China in the region.
Well-being of People
Ajit Doval also stated that the natural resources of the country should be used first for the well-being of the Afghans. Further, he added, India as a whole will always stand by the people, support the country, and take important steps to bring prosperity back and make Afghanistan a vibrant nation again. The meeting was hosted by Russia's NSA, Nikolai Patrushev. In the meeting, Doval said that India has and will always have a significant stake in Afghanistan.