9th seed Andrey Rublev defeated 19th seed Denis Shapovalov 6-4, 2-6, 6-7(3), 6-4, 7-6(10-7) in the 3rd round at the US Open. The marathon match had everything from the beginning to the end including two high-quality tiebreakers. However, in the end, it was the Russian who came on top in the decider.
WHAT. A. MATCH.@AndreyRublev97 comes out on top of an incredible battle against Denis Shapovalov in 5️⃣ 👉 6-2 2-6 6-7 6-4 7-6 🔥

Instant classic?@usopen | #USOpen pic.twitter.com/sjQhcZqaPn

— ATP Tour (@atptour) September 3, 2022
First set
Andrey Rublev started the match on high as he broke Shapovalov to command control. Shapovalov only landed 39% of his first serves, which made things a lot easier for the Russian. Rublev closed the set with a comfortable 6-4 score. Denis, however, was unfazed.
Second set
The Canadian quickly asserted control in the second set breaking Rublev a couple of times to maintain distance. Denis was able to bring his first serve % above 50 in the second set and that made things positive for him. Apart from his fast and accurate serves, Denis kept finding good angles to smash winners. Rublev could not do much all set. Denis held his serve to comfortably close the set 6-2.
Third set
The all-important 3rd set featured a classic tug of war between the two players as they kept searching for a break. Denis Shapovalov brought his winning momentum from the 2nd set and was much more comfortable in rallies and finding winners. He made things challenging for Rublev every him the Russian came to serve.
Denis, however, could not convert any break point opportunities in the whole set and Rublev kept getting out of tough positions. Rublev finally managed to get hold of Denis's serve to obtain 2 break points in the 12th game. Shapovalov kept his cool and made two ferocious first serves to take the 3rd set to a tiebreaker.
Shapovalov quickly asserted control with a mini-break in the tiebreaker. He then kept finding winners and good angles to not allow Rublev to get back in it. He closed the set with a fierce ace on the set point followed by a big roar.
Fourth set
Andrey Rublev, inspired to make a comeback, battled through intense moments and denied any opportunities Denis had managed to find. Shapovalov dropped in energy after the 3rd set and it allowed Rublev to calm things down on his serve. He broke Shapovalov to go ahead in the set. Rublev then fought through a 10-minute service game to close out the set.
Andrey Rublev hitting them angles 👏@Heineken Serve of the Day | #USOpen pic.twitter.com/2lHdWgwdhO

— US Open Tennis (@usopen) September 4, 2022
The decider (Fifth set)
The replay of the 3rd set tug of war as both Rublev and Shapovalov made things tougher for one another. Shapovalov managed to get hold of his game after losing the 4th set. He got a total of 17 break point opportunities in the whole match, of which he could only convert 4. Perhaps it was Rublev's fighting spirit to get out of difficult positions which won him in the end.
Andrey Rublev wasted 3 match points on serve at 5-4. Denis saved match points and leveled the set to send it to a tiebreaker. Rublev did not repeat the mistakes he committed during the 3rd set tiebreak. A 17-point tiebreak eventually ended when Rublev converted his fifth match point to win a classic match.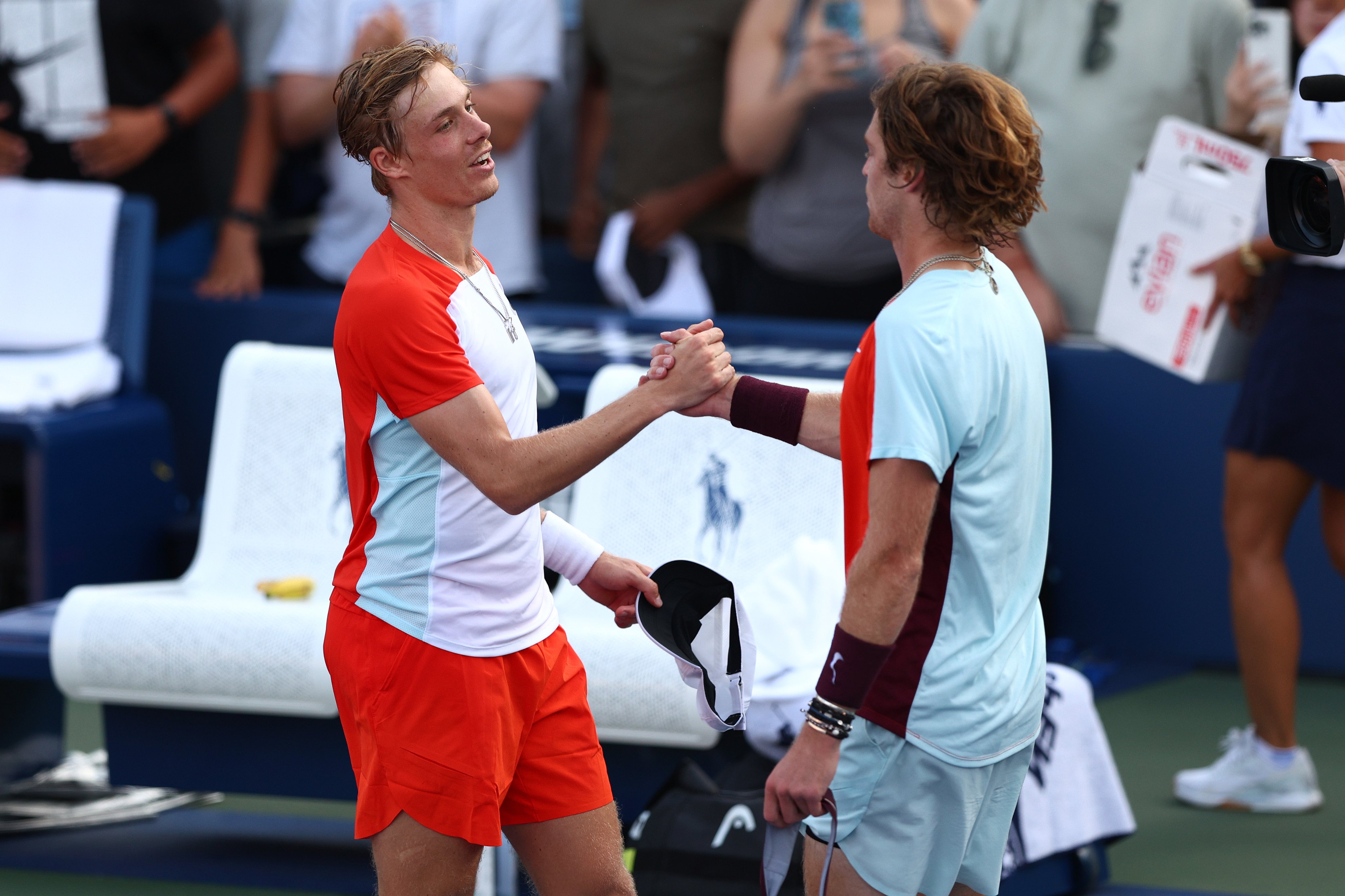 Rublev collapsed to the ground in happiness. He came back to his feat to share a warm hug with Denis Shapovalov after their 4 hours and 10-minute battle. Andrey Rublev acknowledged the crowd which was on their feet to applaud the players.
Reactions from Andrey Rublev after the match
Andrey Rublev thanked the fans for their support for both the players during the match. He said they both played a wonderful match and deserved the victory. He hopes to up his level for the next round match.
The #USOpen men's singles Round of 16 is set:

Medvedev vs 🇦🇺 Kyrgios
🇪🇸 Carreno Busta vs Khachanov
🇪🇸 Davidovich Fokina vs 🇮🇹 Berrettini
🇫🇷 Moutet vs 🇳🇴 Ruud
Ivashka vs 🇮🇹 Sinner
🇭🇷 Cilic vs 🇪🇸 Alcaraz
🇬🇧 Norrie vs Rublev
🇺🇸 Tiafoe vs 🇪🇸 Nadal

— US Open Tennis (@usopen) September 4, 2022
Andrey Rublev will face Britain's Cameron Norrie, who defeated Holger Rune 7-5, 6-4, 6-1 in the Round of 16.
---
Read More – Serena Williams beats World No. 2 in Round 2 at US Open
---