The world stunner game, the finale of FIFA 2022 Worldcup, Argentia versus France has broken almost all the records created so far. Lionel Messi and Team Argentina have proved themselves that they are strong enough even to break the age-old 'Drake Curse'.
This Greatest-Of-All-Time game, as the fans call it, has been on Twitter Trends with various hashtags and created a new record with Google itself. The CEO Sundar Pichai announced in his official page that Google had never faced such traffic for about twenty-five years.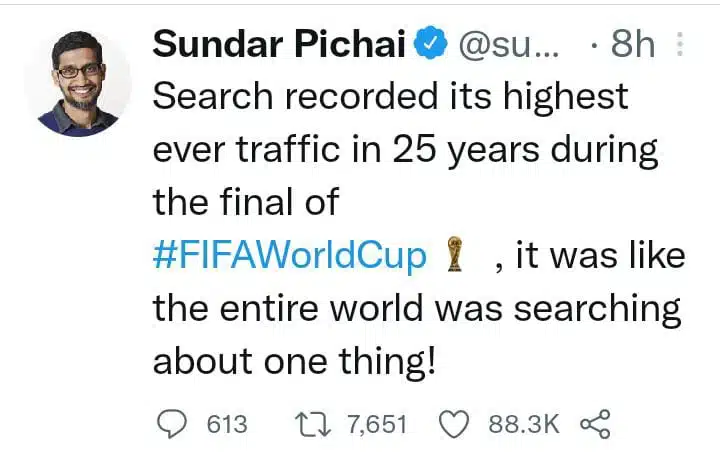 The 'God's Plan' rapper, Drake's name was also one of the trending topics of FIFA 2022 World Cup on all social media platforms, especially on Twitter and the reason is, though being highly irrational, his predictions and support for team Argentina to win the trophy.
According to a survey, conducted in 2021, two-thirds of 2,400 people who watch sports and attend sporting events regularly believe in superstitions, be it wearing the same jersey whenever their favorite team plays & leave the jersey unwashed for the whole season or sitting in the same spot on their couch whenever there was a telecast, Sports lovers admit, don't want to take a chance.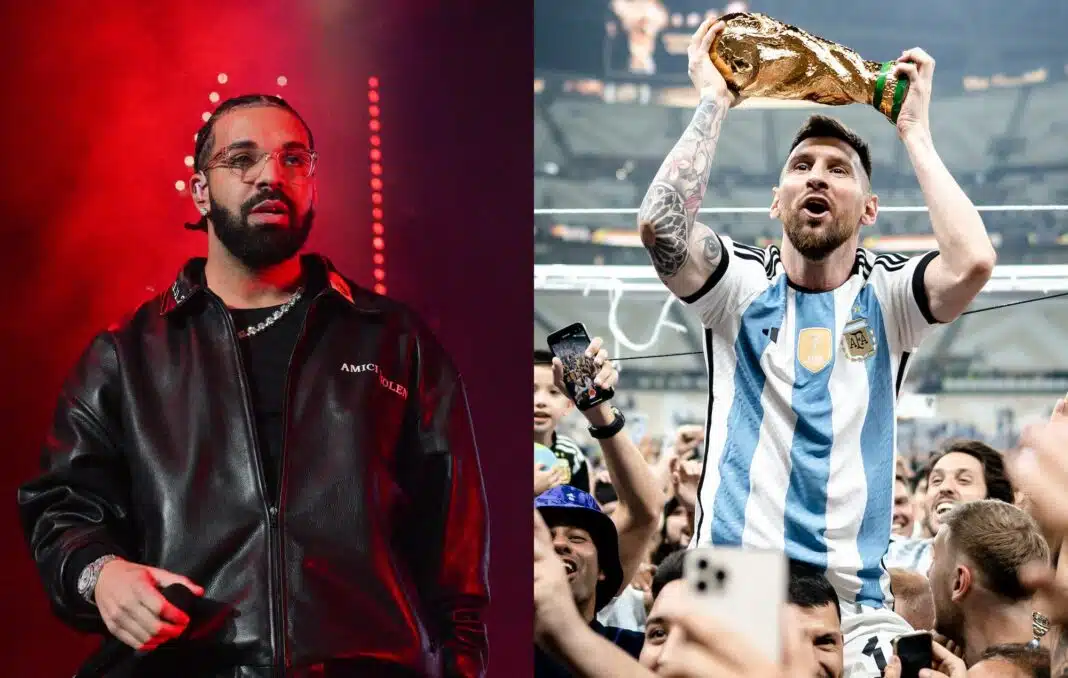 Some of them even admit that they would go to any extent in making their team win even if it is asking a member of their family to go out of the room whenever the game is on if they believe that they bring bad omens. One such worldwide superstition that sports lovers fixated on is the 'Drake Curse'.
Rapper Aubrey Drake Graham is an American Rapper, who got popular not only for his songs but also for his notorious curse. Drake Curse has been content for memes on social media as early as 2013.
It is believed that whenever he makes comments about a game, makes predictions about a team's win, takes a picture of having an athlete beside or even makes any sort of communication with the team players, according to sports lovers, is a definite loss for the player or the team.
Sports lovers around the world keep track of events and the game about Drake's interaction which lead to the loss and the list is surprisingly long.
2013: Toronto Raptors make Drake their global ambassador and earn a reputation for choking in big games
2014: Kentucky loses college basketball decider versus Wisconsin
2014: Miami Heat smashed by 4-1 in NBA Finals by San Antonio
2015: Serena Williams shocked by Roberta Vinci in US Open semi-final
2016: Quarterback Johnny Manziel drops out of NFL having previously been a first-round draft pick
2018: Conor McGregor loses to Khabib Nurmagomedov
2019: Alabama suffers big loss to college football rivals Clemson
2019: Jadon Sancho's Borussia Dortmund hammered by Bayern Munich
2019: Pierre-Emerick Aubameyang benched as Arsenal loses at Everton
2019: Sergio Aguero misses penalty as Man City loses to Tottenham in Champions League
2019: PSG suffers heaviest league defeat in 19 years, losing 5-1 at Lille
2019: Anthony Joshua suffers shock defeat to Andy Ruiz Jr
Source: https://talksport.com/
Drake's Prediction On FIFA 2022 Worldcup
Drake created a storm on Twitter, on Friday, when he posted a video, sharing his predictions for Team Argentina to beat France in the Finals. This video of him sparked a flood of responses from Argentina supporters who were visibly disappointed whereas fans from Team France called it a celebration.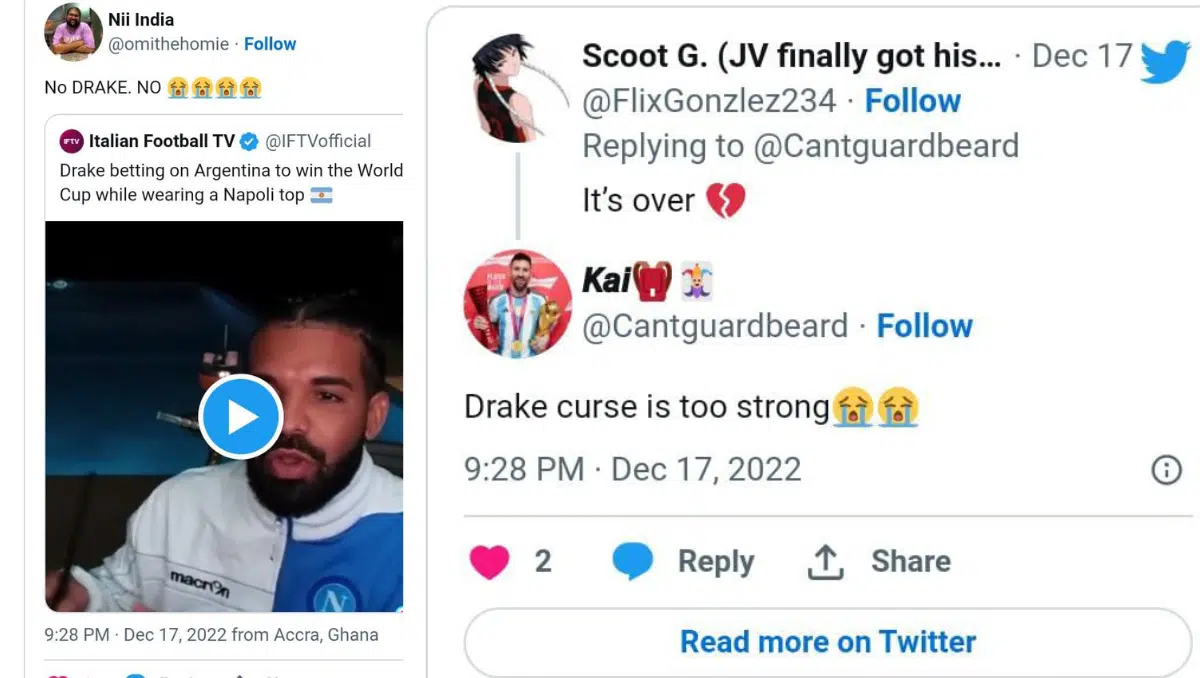 Drake's name was making rounds on Twitter again when he made a bet worth of US Dollars 1 million on Messi, predicting Team Argentina would win the trophy.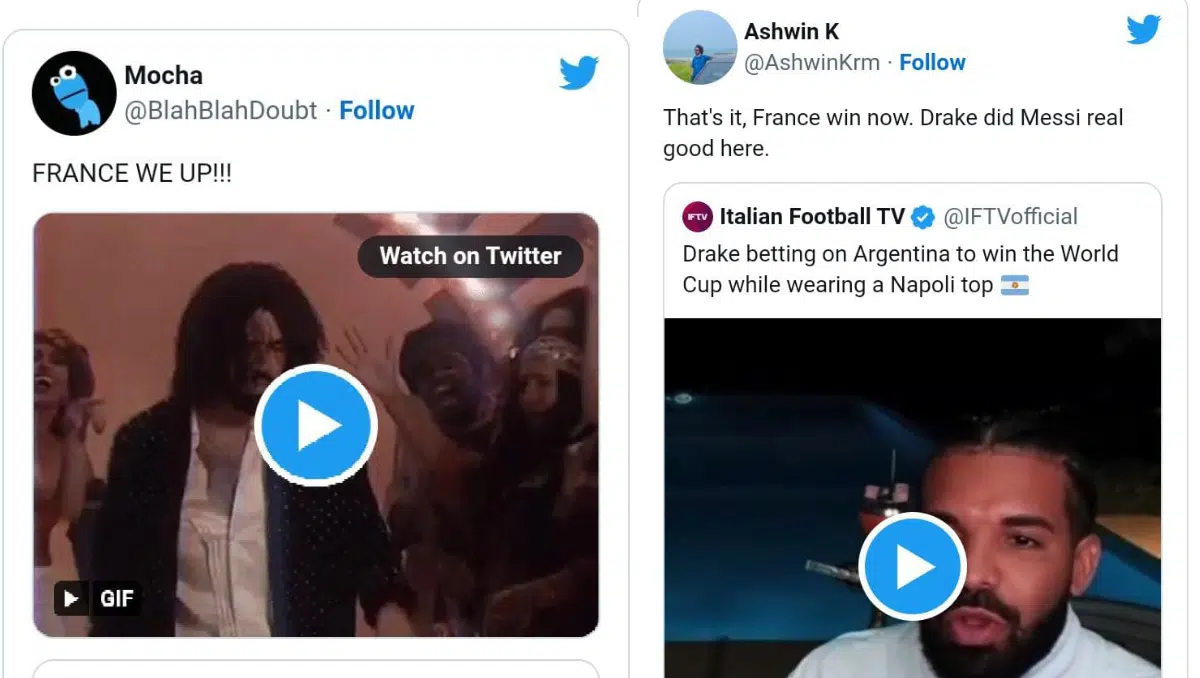 But, then, the team Argentina, against all the odds, won the match and lifted the trophy, the fans all over the world commemorated saying that the curse had been lifted after all and tweeted on a high note saying Messi and team Argentina are strong enough to break the decade-old 'Drake Curse'.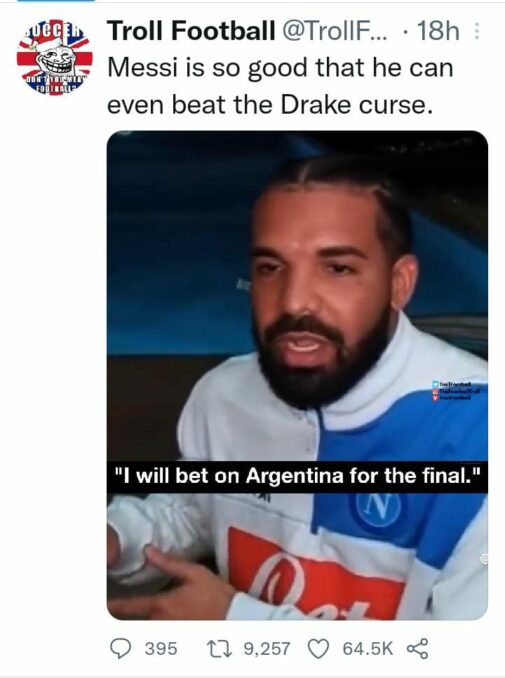 Irrespective of his predictions and his support for Team Argentina, Drake lost the bet as the match was extended beyond 90 minutes. Drake's prediction of Argentina winning the game 90 mins went wrong and thus he lost his 1 million USD amidst all the buzz created around him.