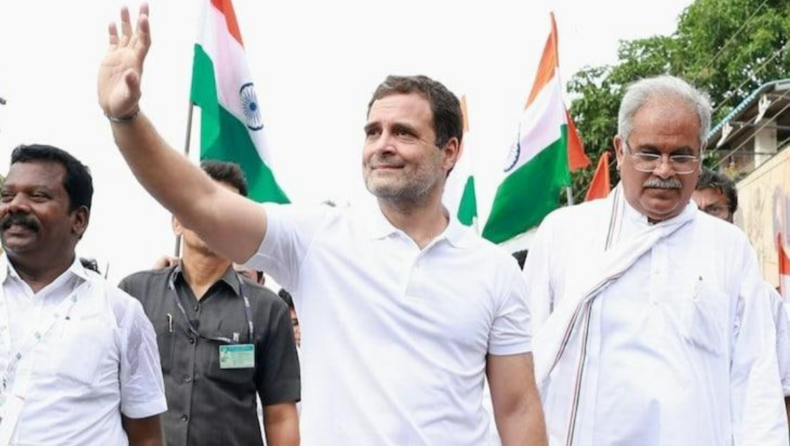 It is a detailed analyzed feature article on the Indian National Congress's current political campaign 'Bharat Jodo Yatra', led by Rahul Gandhi.
Bharat Jodo Yatra is an on-foot march, started by the Indian National Congress (INC) Party to reunite India. Former President of Congress Party Rahul Gandhi is leading it. The countrywide foot march (padyatra) is scheduled for 150 days continuously. https://tdznkwjt9mxt6p1p8657.cleaver.live/congress-to-launch-bharat-jodo-yatra-from-september-7th/
The march would pass through 10 states (Punjab, Haryana, Uttar Pradesh, Rajasthan, Madhya Pradesh, Maharashtra, Telangana, Karnataka, Kerala, and Tamil Nadu) and two Union territories (Jammu and Kashmir and Delhi) from Kanyakumari to Kashmir (Srinagar) where the party wants to improve its electoral performance for 321 Lok Sabha seats in the coming general elections. In the 2019 elections, Congress had won only 37 out of these 321 seats. So it can be said that it would be 'vote jodo yatra' too for the party. The tagline of the march is "Mile Kadam. Jude Watan".
It is considered a 3,570 Kilometers long journey on foot (padyatra). It began from India's southernmost tip point Kanyakumari, Tamil Nadu on Wednesday,7th September. Tamil Nadu chief minister M K Stalin presented the national flag to Mr. Gandhi who handed it over to Seva Dal workers to kick off the yatra. It will move northwards, passing through Thiruvananthapuram, Kochi, Nilambur, Mysuru, Bellary, Raichur, Vikarabad, Nanded, Jalgaon, Indore, Kota, Dausa, Alwar, Bulandshahr, Delhi, Ambala, Pathankot, and Jammu then will be culminating in Srinagar.
Who are the participants?
The march will proceed in two batches – from 7 a.m. to 10:30 a.m. and from 3:30 p.m. to 6:30 p.m. While the morning session will include fewer participants, the evening session will see mass mobilization. The participants plan to walk around 22 to 23 km daily. There are 119 classified foot march travelers including Rahul Gandhi and 30 percent women participants. They are called "Bharat Yatris".
They are staying on the camps at the road sites, cooking food there, sleeping in 59 containers mounted on trucks, and getting access to laundry once three days for the next 150 days. The party said about 50,000 people registered themselves for the yatra and it is expected that social activists, intellectuals, writers, and other eminent personalities will also join.
What's the Congress's aim?
The Centre's opposition party has projected it as a non-political and non-party national event. It is their massive outreach program where the party can raise questions on the economy, social polarization, and political centralisation. They portrayed this yatra as the single most important political initiative to save India from the divisive ideology. It is aspiring for peace and harmony in the country.
Rahul Gandhi said, "It gives me great joy to begin the great Yatra at this beautiful place. The Indian national flag represents every single state of our country. It belongs to every religion, language, state, and caste. Today, this flag is under attack by the BJP. The BJP thinks this (Indian flag) is their personal property. They (BJP) think they can single-handedly determine the future of this country, the future of all states of this country. They think they can frighten the Opposition through the Enforcement Directorate, Central Bureau of Investigation and Income Tax department."
The Congress Jodo Yatra
The Grand Old Party is currently facing a crisis. Hence, Mega Yatra will act as a crisis manager for the party to come out of the bad situation and rebuild a strong party by filling cracks and breakage between the party members across the country. Congress MP (Member of Parliament) Shashi Tharoor said, " Bharat Jodo Yatra can also achieve the objective of 'Congress Jodo' and help in the party's survival".
https://www.indiatoday.in/india/story/bharat-jodo-yatra-congress-s-poll-campaign-a-test-for-siddaramaiah-shivakumar-1999096-2022-09-11
Is there any other mega yatra that happened in the history of Indian Politics?-
Yes, the history of Indian politics is full of march campaigns. Yatras play an important role in politics. It catches the attention of people, gathers their crowd, and encourages their participation. Since the pre-independence of India, the tradition of the yatra has been going on.
1930- It is predicted that the culture of yatra began from Mahatma Gandhi's Dandi march.
1983– NTR, the founder of the Telugu Desam Party (TDP), is considered the pioneer of 'Rath Yatra' in Indian politics post-independence. Covering 40,000 km and touring Andhra Pradesh four times in nine months, the 'Chaitanya Ratham Yatra' catapulted NTR to power.
The 1990s – Yatras gave a new lifeline to the BJP in the early 1990s. Party patriarch Lal Krishna Advani's rath yatra on the Ram Mandir issue to strengthen the Ramjanamabhoomi movement, helped the BJP to achieve power at the Centre in the 1991 Lok Sabha election. It started from Somnath temple in September 1990 to Ayodhya.
2002- Narendra Modi's Gujarat Gaurav Yatra
2003- Y S Rajasekhara Reddy undertook a 1,500-km padyatra in Andhra Pradesh.
2011 – Former Chief Minister of Uttar Pradesh Akhilesh Yadav chose to ride a bicycle (his party's symbol) for his yatra before the 2011 assembly polls in UP.
2011– Trinamool Congress chief and West Bengal's Chief Minister Mamata Banerjee took out several massive pediatras across West Bengal in the run-up to the 2011 state Assembly elections.
2017- YSR Congress Party (YSRCP) supremo YS Jagan Mohan Reddy embarked on a 3,648 km foot march (Praja Sankalp Yatra) on November 6, 2017.
Read more

: Bharat Jodo Yatra: Congress tries to kill 3 birds with one stone in Rahul Gandhi's lead