V now has the fastest 40 million Instagram followers in history, according to some of his followers.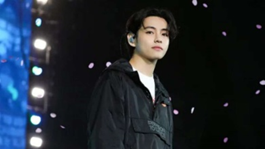 Another record has been broken by BTS member Kim Taehyung, aka V, who did it with the help of his Instagram account. Not even a year after making his Instagram debut, with BTS members RM, Jīn, Suga, J-Hope, Jimin, and Jungkook in December, the Winter Bear singer now has more than 40 million followers after just 135 days on the platform.
Several followers pointed out that with this accomplishment, he has become the person with the quickest Instagram following to reach 40 million followers. The success has sparked excitement from the audience. They expressed their delight at the singer's success by using the hashtag, "# TLV40MILLION."
"I am proud of you, Taehyung. Worldwide, you are loved, appreciated, and recognized for who you are! So many people among the 40 million consider you to be an inspiration and a role model! Those 40 million are evidence that your genuineness and love have triumphed against hatred! All that is left is who selected you and love," one follower commented.
V had already broken a world record by being the first person to get 30 million Instagram followers in the shortest amount of time possible. V set the record for the quickest person to get one million followers on Instagram which he did in a span of 43 minutes after opening an Instagram account, and he went on to reach 10 million followers four hours later on the very same day.
Using the Instagram name @thv, Taehyung exclusively follows other members and has 46 posts on his Instagram, which he keeps updated with new content. While TaeTae is not a frequent user of Instagram, he is a highly active user. V often publishes and deletes photographs and videos on his Instagram Stories, which are visible to all followers. Even while the band was on a vacation, the vocalist teased fans with hints about his impending departure.
Also on social media, the Christmas Tree singer regularly answers Park Seo-Joon, Park Hyung-Sik, and Choi Woo-sik's posts. Peak Boy is one of the actors and singers that make up the Wooga Squad, a group of buddies that includes other actors and singers.
The BTS members just returned to South Korea after finishing their four-day concert, "Permission to Dance on Stage in Las Vegas," which they performed for the first time in the United States last month. Every night, the group performed in front of a sold-out audience. They were also in Vegas for the Grammy Awards, which was held on the same night.
---
Published by – Mohit Maurya
Edited by – Aakash khuman