BTS' Jimin & V aka Kim Taehyung received death threats on the social media app Weverse. The death threat was sent from an anonymous account with graphic images of self-harm and stock image of weapons with a malicious message, but the seriousness of the criminal intent is still unknown.
BTS fans from all over the world have been calling Hybe entertainment company to take action against the looming threat.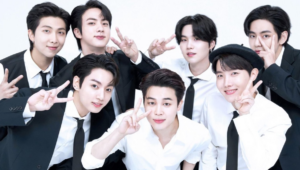 Celebrities receiving death threats is not a new phenomenon. It has been happening for centuries. Either their art infuriates people or people tend to be so emotionally invested that even slight deviation and disturbance can cause public outrage. But in this hyper-connected world, the nature of public outrage has changed radically. While the internet successfully brings people together, it is also a cesspool of anonymous activities. While to the public eye, it may seem like an anonymous activity, in the eyes of trained cyber security personnel, it is rarely anonymous. 
Analysis of the Death Threat.

BTS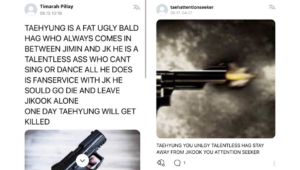 Looking at these two threats above, it looks quite rudimentary. There is a possibility that these two accounts belong to the same person. The writing style is very similar to one another especially while using repetitive words like Hag, Talentless, and Ugly. Both of the profiles also use stock images of weapons. The first image of the gun looks like a revolver with a small muzzle flash, indicating that either this is a screenshot captured from a video displaying the weapon or it is a stock image. As for the second one, that is either a Sig Sauser or an H&K 9mm pistol, hold in a very dangerous angle if loaded. The speculation is that it is a stock image and most probably the person is holding an empty weapon and showing off the firing mechanism. 
What can Hybe Corporation do about it? 
Every high-profile celebrity who is tied with an entertainment company has an insurance contract. The company treats the client as an asset as long as the company is responsible for the client. While this threat is quite rudimentary, it is going to trigger an emergency response and it will increase private security presence around the BTS group. But that's the most they can do. As a private company, Hybe does not possess the legal jurisdiction to backtrack the post or to demand a prosecution charge for the person behind the threats. In serious circumstances, they can avail of police protection. If they come under police protection, the police will have the jurisdiction to track the perpetrator – if the perpetrators are South Korean Citizens, else it will be out of their jurisdiction and the case will have to be passed on to Interpol.