India has been grappling with the issue of caste-based discrimination for centuries. Despite various constitutional safeguards and laws, it continues to persist in various forms, including educational institutions. The Indian Institutes of Technology (IITs) and National Institutes of Technology (NITs) are renowned for their academic excellence and have produced some of the brightest minds in the country. However, in recent years, these institutions have come under scrutiny for the rising number of student suicides that are being attributed to caste-based discrimination.
In recent light, a public post was made by the head counsellor of the Student Wellness Centre at IIT Bombay, Ms. Hima Anaredy, on Twitter sparking controversy, as the post was critical of reservations made in educational institutions and suggested that admissions should be based on merit alone.These students who already come from vulnerable social and economic backgrounds tend to be naturally hesitant to approach a mental health wellness expert who they think might be inconsiderate to the problems they face. If the head counsellor of a premier institute expresses anti-reservation sentiments, what kind of detrimental effect will it have on a Dalit Adivasi student?
Mounting Incidents of Student Suicides
In 2019, Fathima Latheef, a 19-year-old student at IIT Madras, committed suicide, allegedly due to facing caste-based discrimination and harassment from her faculty members. Her death led to widespread protests, which raised concerns about suicides in National Universities. Fathima's case is not an isolated incident. There have been several instances of students from lower castes facing discrimination and harassment in IITs and NITs.
Many of them have reported being subjected to casteist slurs, social exclusion, and discrimination in academic and extracurricular activities. On Sunday, 18-year-old Darshan Solanki died allegedly after jumping off the seventh floor of a hostel building on the Powai campus of IIT Bombay. His family raised doubts over his suicide, claiming that he faced discrimination at the premier institute for belonging to a Scheduled Caste community. Stefan Sunny of IIT Madras and Nidhin Sharma of NIT Calicut also died by suicide on Monday and Wednesday, respectively.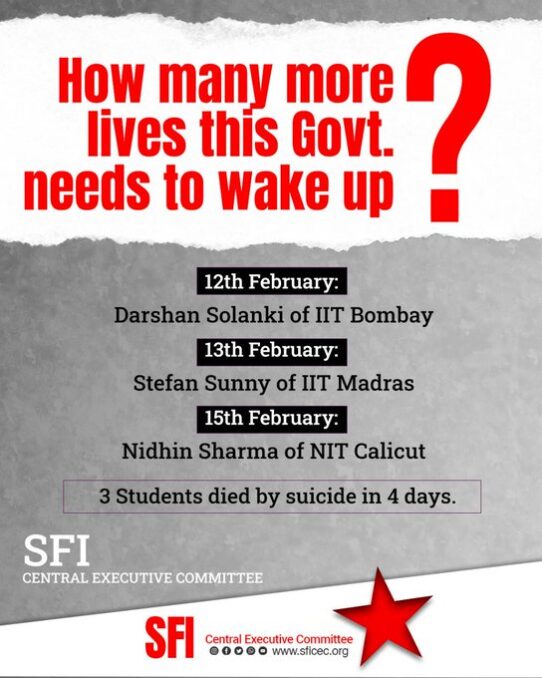 Role of Educational Institutions in Addressing Caste-based Discrimination
Educational institutions have a responsibility to ensure that their campuses are safe and inclusive for all students, regardless of their caste or background. They need to take proactive measures to address caste-based discrimination, including sensitisation programs, counselling services, and creating a supportive environment for students from marginalised backgrounds.
Educational institutions must also ensure that there are effective grievance redressal mechanisms in place for students to report incidents of discrimination. The Ministry of Education's data reveals that 34 suicides were recorded in the IITs, out of which 18 were students from SC and OBC communities. These institutions have repeatedly faced criticism for their treatment of students based on their caste, with several incidents coming to light in recent months.
The Need For Systemic Change
IITs and NITs are among the most prestigious educational institutions in India, attracting students from all over the country. However, these institutions have also been criticised for the lack of diversity in their student bodies, with a majority of students coming from urban, upper-caste backgrounds. This has led to accusations of caste-based discrimination, with students from lower castes alleging that they are treated unfairly and discriminated against on the basis of their caste.
Caste-based discrimination is a systemic problem that requires a concerted effort from all stakeholders to address. Educational institutions must take a leading role in addressing this issue and create a more inclusive and diverse environment for their students. The government also needs to take proactive measures to address caste-based discrimination and ensure that there are strict penalties for those found guilty of such acts. It is also important to ensure that mental health services are provided by professionals who are sensitive to the unique challenges faced by marginalised communities.