Navi Mumbai Police seized heroin possibly shipped over from an international racket, weighing 72kgs worth Rs 362 crores. The contraband was discovered in an abandoned container, as tipped off by Punjab Police.
The Navi Mumbai Crime branch seized approximately Rs362 crores worth heroin in Panvel. The police carried out the search after receiving a tip from Punjab Police.
The Crime branch received specific information from Punjab Police regarding this unclaimed container shipping container. The police spotted spotted the container on the old Mumbai-Pune Highway. This highway is situated in the jurisdiction of Panvel Taluka Police Station. It was lying in a yard of Navkar Logistics, a private logistics company.
Drugs concealed within the door.
The police found heroin divided into at least 168 small packages. These packets were concealed in the door of the container. The police seized contraband weighing up to 72.518 kg. According to officials the container remained unclaimed for almost 6 months. This was until the tip notified the officials of the possibility of the container carrying contraband.
Officials also mentioned that the contents of the container may have been kept out of sight in order to steer clear of law enforcement agencies.
Commissioner of Police Navi Mumbai Bipin Kumar Singh, set up a team of officers from the crime branch. DCP Crime Shri Suresh Mengade headed this team and additional CP Shri Mahesh Gurye supervised.
Subsequently, Navi Mumbai Police further investigated that the shipment had arrived at the Nhava Sheva Port in Raigad district which is the second largest container port in India. The port is on the Arabian Sea and accessed via the Thane Creek. As per officials, the origin of the shipment was traced down as coming in from Dubai.
Initially, in the first sweep of the container, it seemed to contain only marble tiles. Nonetheless, after having acquired the concealed contraband, the initial hunch of the officers was that the drug was morphine. However, post an examination of the substance, it was confirmed to be heroin.
Discovery of international networks.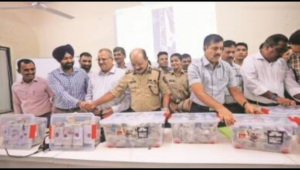 What is believed to be by a major international drug racket, the Navi Mumbai Police procured the shipping container in Navkar Logistics, Ajivali, Panvel.
Heroin is one of the most common substances being seized by Mumbai Police. Earlier, in the later half of May, the Narcotics Control Bureau seized heroin and made arrests breaking down a large network of heroin traffickers pan-India. Due to the recent up and active nature of the narcotics law enforcers, new international networks are being unearthed.