Elon Musk, the owner of X (previously Twitter), responded to former US President Donald J. Trump's return post on the website. Trump had sent his first tweet on the social media site earlier that day after being restored in November of the previous year.
Trump released a photo of himself from his booking at the Fulton County Jail in Georgia in a post on the social media platform X. Elon Musk replied to Trump's remark with the phrase "Next level."
When Donald Trump was arrested at the Fulton County jail on Thursday night, he made history by becoming the first former president to have a mugshot.
In connection with his attempts to overturn Georgia's 2020 election results, Trump was arrested on 13 counts, including racketeering, conspiracy, and encouraging a public official to break their oath of office. The former president has been charged with a crime four times this year.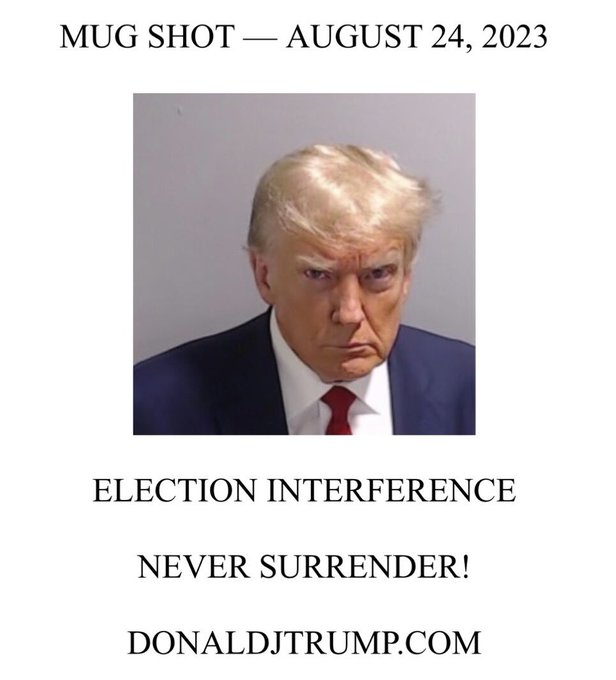 It was Trump's first post since Twitter suspended his account indefinitely on January 8, 2021 due to concerns that he would promote more violence in the days following the deadly storming of the US Capitol building. Shortly after Elon Musk took over the firm in November of last year, Trump's account was reopened; but, Trump chose not to use it because he said he was happier on his own Trump Social site, which he built during the account's suspension.
Trump's Arrest
Around 7:30 p.m. ET, the former president appeared at the Fulton County jail wearing a dark blue suit and a crimson tie. He was arrested and jailed on more than a dozen crimes after he turned himself in. According to inmate records, he was 6 feet 3 inches tall, 215 pounds, and had blue eyes and blond or strawberry hair. His reservation ID was P01135809. Additionally, a mug shot was taken.
The former president and his lawyers negotiated his consent bond arrangement before the surrender, which allowed the booking process to be finished in a little more than 20 minutes. Trump consented to a $200,000 bond as well as additional terms for his release, such as refraining from slandering his co-defendants and case witnesses on social media. According to people who spoke to CNN, Trump paid for the bond by contributing 10% of the total amount and dealing with an Atlanta-area bonding company.
Before boarding the plane to head back to New Jersey, the former president spoke to media for a brief period of time. "I did nothing wrong," he insisted, calling the prosecution's case against him "a travesty of justice." He called his time in the Fulton County jail "a terrible experience" in an interview conducted by right-wing network Newsmax.
Prior to the former president's arrival in the Fulton County jail, Trump's staff had discussed the mug shot, according to two sources familiar with the discussions who spoke to CNN. According to the sources, Trump ultimately made the decision that he wanted to seem "defiant" in the photo and purposely avoided smiling.
Trump's mug shot was released on Truth Social and X, now known as Twitter, after he left Atlanta as the campaign tried to generate money off of the arrest. President Joe Biden's campaign also issued a fundraising email with the subject line, "I think today's a great day to give to my campaign," but it made no mention of the events in Georgia.
Trump pleads innocent
After turning himself in on Thursday at the Fulton County Jail in Atlanta in connection with allegations of conspiracy and election fraud, Trump insisted he was "innocent" and had done nothing wrong.
Before leaving in a limousine for the airport after less than 30 minutes at the jail, Trump declared, "We have every single right to challenge an election that we think is dishonest."