Kanishtha Agarwal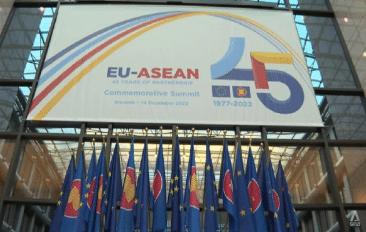 December 14: First Geopolitical summit happened between European union and ASEAN countries, which recently marked 45 years of diplomatic relations between EU and ASEAN in Brussels, today. Both the leaderships met for their first summit to deepen economic ties, with EU (European Union) leaders pressing for firm and shared stance which is critical of Russia. The main agenda behind the joint summit was trade and sustainable development between the two powers. The 27 leaders of EU and 9/10 countries of ASEAN have been invited to this summit except military ruled Myanmar.
European Union and ASEAN trade relations
The leaders are set to implement policies related to trade, health, digital transition and expansion of airlines, which the two blocs have already signed. The European Commission President is set to invest 10 billion Euros of public funds in 2027 for investment in projects in ASEAN region, such as renewable energy and sustainable agriculture.EU wants to expand its ties with Singapore, Vietnam and clear out negotiations with Indonesia; beyond its free trade agreement. The main trade between EU and ASEAN is Chemical products, machinery and transport equipment while imports include machinery and transport equipment, agricultural products, textiles and clothing. The European Union began trade negotiations with ASEAN countries like Singapore and Malaysia, Vietnam, Thailand and Indonesia. The Commission President is expected to put an EU investment package to develop renewable energy and transportation.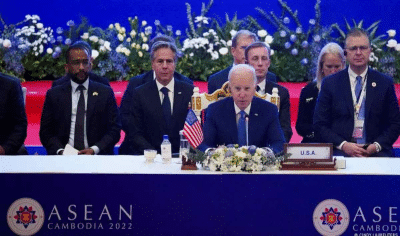 European Union and ASEAN countries joint thoughts on Russia invasion to Ukraine
Irish Foreign Minister Simon Conveney said: "The best way to approach differences on Russia is to talk and to deal in facts and international law. "And if we allow a powerful country like Russia, (a) military superpower, to invade their neighbors, to try to change international borders by military force, then that has a consequence, because it creates a precedent for other parts of the world as well." Brussels is also hoping that all ASEAN members will join its scathing criticism of Russia's invasion in Ukraine but this task could be politically delicate to carry out. The summit observers have said that the responses of the south-east Asian countries have varied so far regarding the Russia Ukraine war. Singapore is imposing sanctions on Russia, while other ASEAN nations like Laos, Thailand and Vietnam abstained in a United Nations vote to criticize Russia's annexation over Ukraine's regions. Leaders of G20 nations have agreed at a meeting chaired by ASEAN nation Indonesia last month that "most members" condemned the war.
European Union says China is influential on ASEAN countries
"We see a lot of demand in the region to diversify their sources of investment and work with reliable partners," said by EU's official, of the region where links with China have grown. The summit also plans to call for calm in the South China Sea, addressing the February 2021 military coup in Myanmar and instability in the Korean peninsula. This plan is widely viewed as a way to China's belt and road initiative. The chairman of the ASEAN Parliamentarians for Human Rights says, "That countries in Asia need a counterweight against China's influence in the region, particularly in the South China Sea and EU is looking to lure ASEAN away from forging stronger ties with Russia. At the moment, any trade talks will focus on containing China and Russia's overwhelming influence."