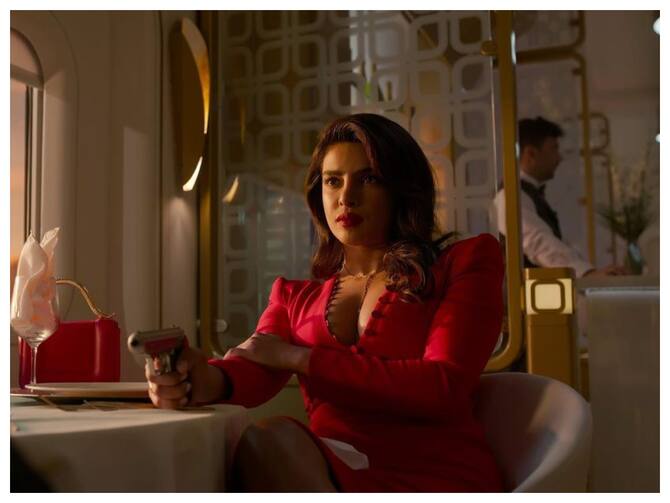 Priyanka Chopra Looks Amazed Fans
Priyanka Chopra amazed her fans on Monday by dropping the first look of her upcoming series Citadel which is produced by the Russo brothers' production house AGBO. But her fans had no clue that there was another surprise in store for them. A QR Code was Hidden in one of the photos that Priyanka shared on social media which unlocked the teaser of Citadel.
Though the teaser does not reveal any major details about the show, it does inform that the trailer for the series will be unveiled soon on March 1. The first two episodes of Citadel, which also stars Richard Madden, Lesley Manville and Stanley Tucci, will be available for streaming on April 28. A new episode will be released every week on Friday till May 26. The show reportedly suffered delays due to behind-the-scenes trouble, and reshoots led to the budget ballooning to $250 million.
In a blend of science fiction, spy drama, and thriller series, Priyanka Chopra is playing the character of Nadia Sinh, an agent who is dead according to the files.Priyanka and Richard are Citadel colleagues with a complicated history. All the characters showcase a duality in their characteristics given by their recent memory loss. The lead actors have moved on with their respective lives after independent global spy agency Citadel's fall.
The story of Citadel follows them staying hidden after, building new lives under new identities being unaware of their pasts. Until one night, Mason gets tracked by his former Citadel colleague, Bernard Orlick (Stanley Tucci), who urgently needs his help to stop Manticore from establishing a new world order.
Mason looks out for his former partner, Nadia, and the two spies embark on a mission around the world in an effort to stop Manticore while contending with a relationship made up of secrets, lies, and a dangerous-yet-undying love.
Priyanka Chopra about Citadel
According to Priyanka Citadel is 'innovative' and an 'interesting experiment'. During a panel discussion on Inside TV's Best Big Bet, she said that one does not have to watch the American show to understand the local language series stands alone. All the other shows are connected and that's never been done on television. She called it an interesting experiment for a streamer like Amazon that caters to audiences all around the world.
Priyanka said her character in Citadel is nothing like her in real life. She added that she is a goofball, so the biggest challenge for her was to be really cool. The show has been physically and emotionally demanding for her yet it was a fun show to be a part of.
Citadel is being designed as a 'mothership' series which will have spinoffs set in India, Italy and Mexico.The series has also been adapted into Hindi which is being developed by The Family Man fame Raj Nidimoru and Krishna DK and has Varun Dhawan and Samantha Ruth Prabhu in the lead roles.The Italian version of the series is headlined by Matilda De Angelis.
Table of Contents