Priyanka Chopra recently shared the first glimpse of her look in her upcoming spy thriller, Citadel. Nick Jonas, Sonali Bendre, Dia Mirza, Rajkumar Rao, and more went gaga! Read on to learn more!
Priyanka Chopra is known for her impressive acting chops, and she has time and again played intensely diverse roles. The Quantico actress has been in her whole mojo lately, first releasing the trailer of her upcoming romantic comedy, " Love Again," on Valentine's Day.
And now she is again surprising everyone with her powerful and dashing avatar in her upcoming spy thriller, "Citadel," with actors like Richard Madden, Lesley Manville, and Stanley Tucci.
View this post on Instagram
Nice Jonas Is Extremely Proud Of Her Wife, Priyanka Chopra-
The powerful duo, Priyanka Chopra and Nick Jonas, are known to consistently support and motivate each other. The power couple never missed an opportunity to be there for each other and support each other with their new creative ventures.
As an amazing husband, Nick never shies away from supporting his wife, Priyanka Chopra, whenever she is doing something new or venturing into any new project.
Recently, when Priyanka posted some stills of her upcoming brand new Prime Video series, Citadel, Nick commented and dropped some fire emojis under the Instagram post.
Later, he also took to his Instagram story and shared the same stills that Priyanka had posted, and captioned them as follows: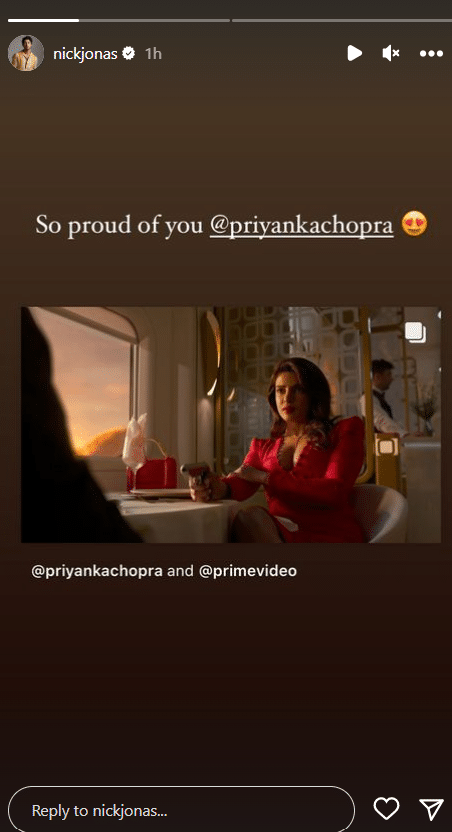 "So proud of Priyanka Chopra."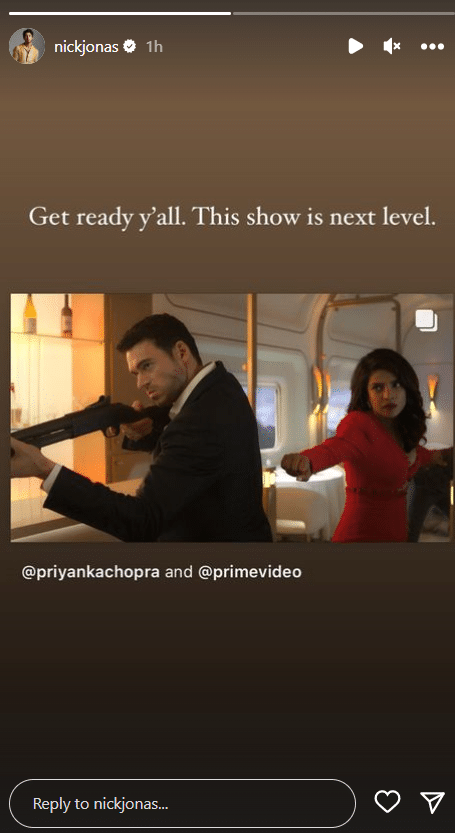 "Get ready you'll. This show is next level."
Priyanka is looking hot and sassy in her new avatar, playing the role of an elite spy Nadia Sinh. You can see her holding a gun in dark red attire, looking completely bombshell.
Other Celebrities Also Wished The Quantico Actress On Instagram-
Besides Nick Jonas, Priyanka's incredible co-start, Rajkumar Rao also commented on the post, and wrote, "Awesomeeeee."
Samantha Ruth Prabhu wrote, "Yassss," and Dia Mirza also commented, "Mamma mia," with a fire emoji. Esha Gupta and Sonali Bendre also later dropped fire emojis in reaction to the still photos.
What's More About Citadel:
The AGBO label of the Russo Brothers executive produces the action-spy thriller. The plotline of the show goes like that in the aftermath of the autonomous international spy agency Citadel's collapse, elite spies Mason Kane (Richard Madden) and Nadia Sinh (Priyanka) almost escaped with their lives but had their memories erased.
The first two episodes of the series will be released on April 28, 2023. While speaking about Priyanka's role in Citadel, Priyanka told Vanity Fair magazine:
"I'm a goofball, so what was the biggest challenge for me was to be really cool." "This was physically and emotionally demanding, but it's such a fun show to be a part of."
Lesley Manville, Osy Ikhile, Ashleigh Cummings, Roland Moller, and Caoilinn Springall are also featured in the program.
Beginning on April 28, two episodes will be available for viewing on Amazon Prime Video. Thereafter, fresh episodes will be released every Friday through May 26.
So, all of Priyanka Chopra's fans, be ready… There's a lot of fun coming your way! As Nick Jonas said, "This show is next level." The new episodes of Citadel will be released on April 28. Till then, wait and watch! You never know what new and brilliant piece of work Priyanka Chopra can release in the near future.
You Can Also Read: