The present-day work scenario has ushered in an era of choices for salaried workers where professionals can choose from a variety of flexible working choices whether looking for a job or trying to adjust to their current position. The four-day of work in a week is one such idea.

In India this four-day workweek is a novel idea, the center s been developing four new labor laws related to these which will primarily impact the working hours, pay, and PF payments of the employees also.

In this system, a benchmark of the minimal requirement of 48 hours of work in a week or 12 hours per day must be met by the employees. Considering the different sectors of employment, this might be feasible in the IT sector, but a bit challenging for construction, manufacturing, FMCG, health, etc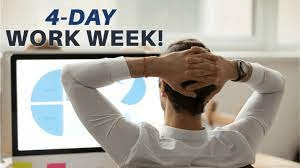 A Four-day workweek

Ideally, employees are supposed to work five to six days a week shall be working for 4 days in most companies across the world this Monday to Thursday-schedule has become normal. The timetable is different from the normal compressed schedule in which the workers put the same number of hours across fewer days instead they will be working 10 hours shift each day of the week with 4 working days.

The benefits of the four-day work system
This kind of work module can be a boon to businesses and professionals with benefits like increased productivity as workers shall work with more enthusiasm.
It will also lead to workplace diversity as some people who can not join regular offices due to disability or other commitments may be able to work in this system. Moreover, it will provide employee satisfaction which will support talent acquisition and increase productivity due to shortened workweek.

In fact, this may provide a positive work environment creating a better work-life attitude and employer and employee engaged positively to perform the daily tasks.


Provided the benefits it may be difficult to implement and manage and may delay customer and retail service which could then be managed by artificial intelligence. It can be successfully implemented with proper orientation of tasks and division of work in proper planning and timed limits and automating the vernacular tasks with efficiency.

We are yet to see how this experiment about four day work week shall be implemented in India. This sounds good and we have had an inkling of the same in a pandemic but the reality will be realised only after its application has been done.

---
Read more:India's – education, health and employment.