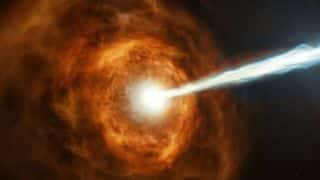 Gamma Ray burst: an astronomical phenomena
Several astronomical phenomena, including novae, supernovae, and black hole mergers, are known to 'explode' in spectacular fashion. They either undergo a fundamental alteration or self-destruct, expelling matter and energy into space.
Unlike most Earthly explosions, which, in addition to being quite weak, often need oxygen or an additional oxidant in order to "burn," they do not. But if the explosion doesn't need oxygen, it should function the same in space as it does on Earth.
And only lately, on October 9th, scientists saw an exceptionally gigantic bang. One of the most intense gamma ray bursts ever discovered was picked up by NASA's Swift Observatory, which was built to detect the most explosive explosions currently known to the cosmos. Supernovae are the result of the collapse and explosion of massive stars and are thought to be the source of the interstellar energy jets.
A star has to be very massive, at least eight times the size of the sun, in order to go supernova. Yet a star needs be around 30 to 40 times the size of the sun for a supernova to create the greatest form of gamma-ray burst. The source of this new, very powerful detection is a star so massive that we may see something of this magnitude once per decade.
Astronomer and postdoctoral scholar at the Harvard-Smithsonian Center for Astrophysics Yvette Cendes told Mashable, "It's a pretty rare occurrence."
You should not worry, and that is a really important point. The galaxy in which this tremendous explosion occurred is around 2 billion light-years distant. Its energy has been bouncing around the universe for ages, so we are safe from it at this distance. On the other hand, we can quickly and readily identify it using satellites.
Cendes compared it like being "in the front row" during a fireworks display.
(Gamma rays are the most energetic members of the radiation spectrum, which also includes radio waves (AM and FM), visible light, and x-rays.
To put it simply: "This is quite unusual."
No gamma-ray burst has ever been detected by astronomers in the nearby galaxy (meaning the local galaxies around us). Why? Because star explosions are rather rare occurrences. Once every hundred years or so, a star in our Milky Way galaxy will explode in a supernova. However, as Cendes pointed out, in a medium-sized galaxy like our own, the explosion of a massive star—the kind required to generate an exceptionally brilliant and protracted (on the scale of several minutes) gamma-ray burst—only occurs approximately once per million years.
Cendes said, "This is really, extremely unusual."
The vast number of galaxies in the universe allows for distant gamma-ray bursts to be observed. When compared to the rest of the universe, the chances of such an occurrence occurring in our neighbourhood are low. (What's more, you need to be facing the "funnel" of energy emitted into space by the explosion if you want to pick it up.)
Read More: https://asianatimes.com/nasa-mission-juno-gets-a-scan-at-jupiters-europa/