Gareth Bale, the former Welsh football captain, made known his intentions to retire from football. On Twitter, he wrote that on thoughtful consideration he has decided to retire from both club and international football.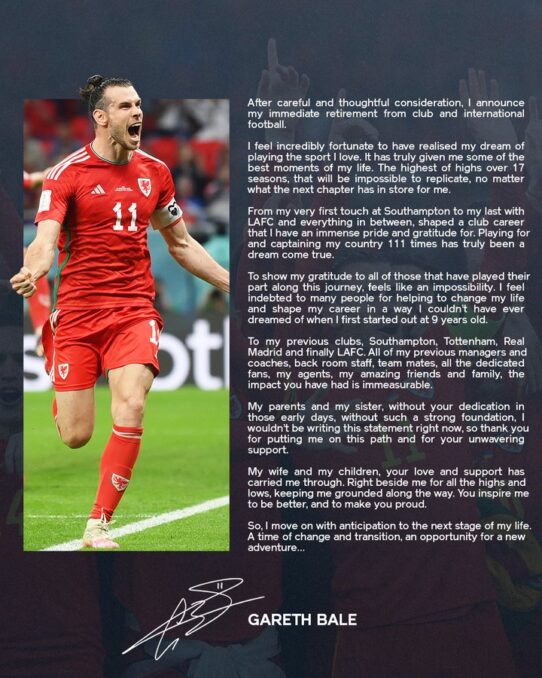 Table of Contents
Who is Gareth Bale? 
Gareth Bale is a Welsh origin footballer who has played at various clubs. He began at Southampton as a left back, who showed great pace and attacking abilities as a fullback. In 2007, Bale joined Tottenham, the North London club, where he played as a winger from then on. We know Gareth Bale, for his pace and strength, and abilities to dribble the ball; while being an expert in the free kicks.
We often pictured him as a threat along the left flanks, creating problems for the defenders. He was like lightning on the field, gushing through the field with the ball and making the fans' heart beat faster. Whenever he had an opportunity to run with the ball, he would blast off like a cheetah, and watching him do it was a pleasure for fans.
At Tottenham, he became a legend.
From there, he signed for Real Madrid in 2013 for a record fee at that time for 85 million pounds. Gareth Bale was at the pinnacle of his career and giant footballing clubs were desperate to sign him. They connected him with a move to Manchester United, however; he chose Real Madrid.
Gareth Bale became a legend at Real Madrid too, alongside Cristiano Ronaldo. He won five Champions League and three La-Liga titles at his spell in Real Madrid. He is famous for his acrobatic goal which he scored while playing in a champion's league final against Liverpool.
For Wales, Gareth Bale became the youngest player to play for his country in 2006. However, Harry Wilson broke his record later. He appeared for the Welsh national team 111 times and scored 41 goals. He holds the highest caps for a Welsh player and is the highest scorer for his country.
Gareth Bale: The Cannon
At Real Madrid, they often praised Gareth Bale as the Cannon. He is one of the best wingers of his generation and also one of the fastest players to play the beautiful game.
At Real Madrid, Gareth Bale won every piece of silverware possible. He became a crucial member in the Real Madrid squad. The Welshman scored 81 goals and made 40 assists for the Spanish giants.
Gareth Bale, however, suffered from injuries which later affected his career. Despite all of this, he was a player of big moments, and he never failed to deliver. One of the most memorable instances is his goal against arch-rival Barcelona in the 2014 Copa Del Rey Finals. Both teams hammered to break the shackles of the goal to win, but none were successful. Gareth Bale probably scored the best goal of his career at this moment. At the left flank he received the ball, and he zoomed past the field destroying the Barcelona defender Marc Bartra, and then coolly he netted the ball, beating the goalkeeper.
Barcelona's manager, at that time, Gerardo Martino said, "It is difficult to see a player sprint like that at that stage of the game."
Bale's Spanish teammate, Xabi Alonso, exclaimed that his run was incredible, and he had seen nothing like that.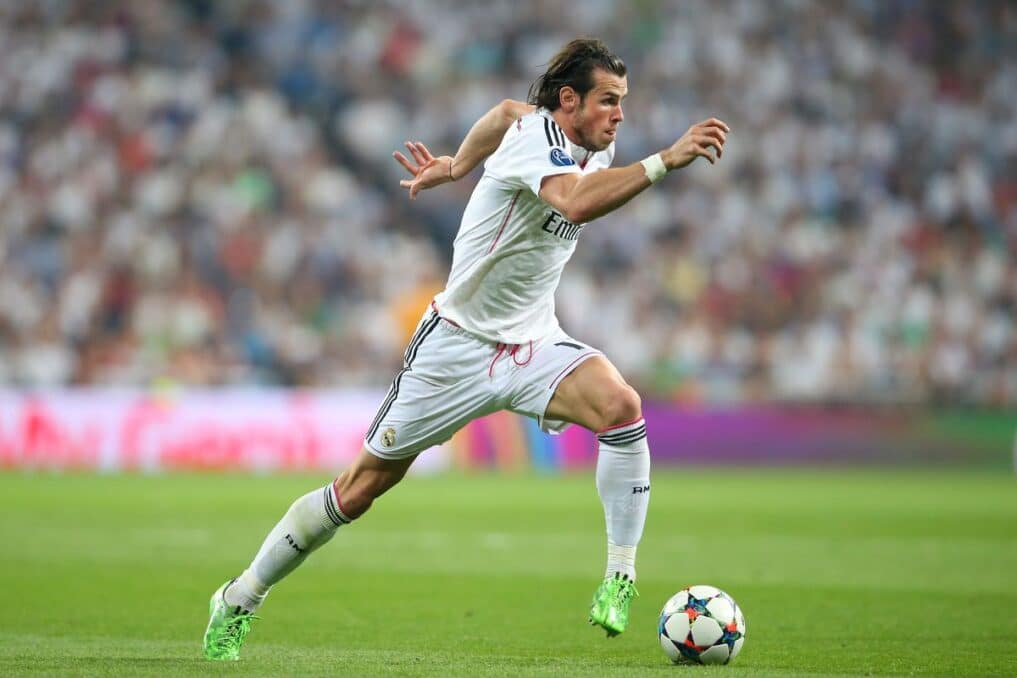 Tributes on Retirement
Gareth Bale received praise and honor for his successful career from the fans and clubs where he played. Football's governing body, FIFA, too expressed their opinion. On Twitter, they posted a picture of him and made known that he is 'The Welsh GOAT' and Football's history books will always remember Gareth Bale.
Real Madrid also took to twitter to thank and wish the Welsh legend. The club made a statement saying that Bale was a part of the Real Madrid team in their most successful eras in history. They will remember him in the history of Madrid and as a legend of the game.
Tottenham Hotspur also congratulated the winger on his successful career and congratulated him.