On Sunday, Haryana CM gave away 22 good governance awards to various departments and facilitated 118 officers and employees for simplifying work through a digital medium.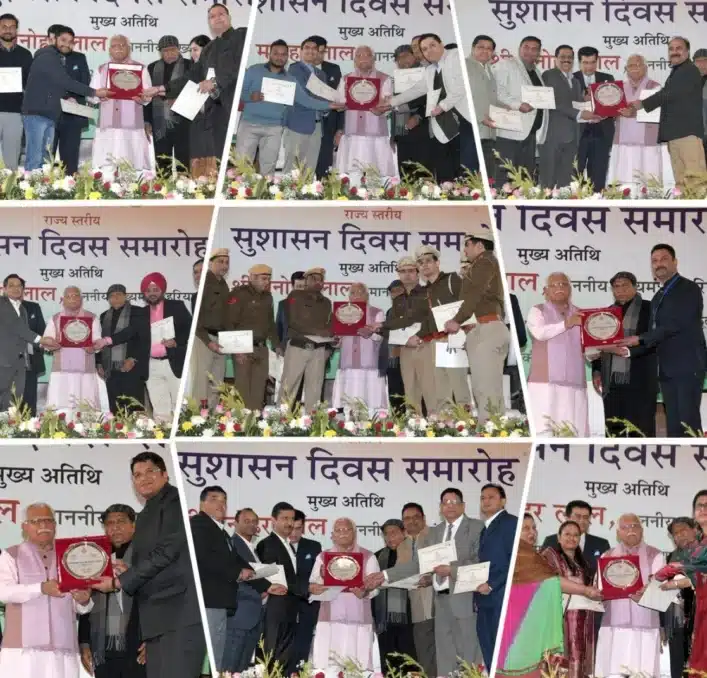 25th December is celebrated as the birth anniversary of former Prime Minister Atal Bihari Vajpayee and free fighter Pandit Madan Mohan Malviya. On this occasion, CM Manohar Lal Khattar decided to acknowledge the crucial role of various departments and government initiatives in turning the dream of 'Digital Haryana' into reality through good governance. A state-level program was held in the Panchkula district of Haryana, where 118 officials were honored for bringing digital reforms to their respective departments.
The CM highlighted the need to carry out office work in a paperless manner, and expected officials to ensure the faceless delivery of citizen-centric service to the public. He said he didn't want to limit 'good governance' to just words and slogans rather he would like to define good governance as a year-long journey aimed towards the upliftment of those at the bottom of the pyramid.
Schemes awarded
The list of flagship schemes of the state government includes- Parivar Pehchan Patra; E-Fasal Kshatipurti; Haryana Kaushal Rozgar Nigam (HKRNL); Auto Appeal System; E-Adhigam; CHIRAYU Haryana; Mobile Medical Units; Dismantling of Pan-India Cybercrime gangs; NIPUN Haryana Mission; Prudent Financial Management (E-auction); Crop Cluster Development Programme; Crop Residue Management; Amrit Sarovar Mission and Restoration of Ponds; Ranney Well Scheme; Work Integrated Dual Education Model; Preventive detention of hard-core drug smugglers in Haryana under PITNDPS act; Digital Media Information; Disseminating information on Government Schemes and curbing fake news; Anaemia elimination week; Primary Agriculture Cooperative Societies (PACS) model; Decongestion of HUDA City Centre, Gurugram
He announced that the year 2023 would be marked Antyodaya Aarogya Varsh. He added that in the past eight years, the state made efforts to realize the Prime Minister's 'health for all' vision. Moving ahead in this direction in 2023 the focus will be on increasing the number of doctors along with strengthening the health infrastructure further, also focusing on promoting yoga and Ayurveda.
Another big announcement
It was announced that 177 irregular colonies in eight districts will be regularized. Also, a new police commissionerate for Sonipat was announced which will be the fourth such establishment after Gurugram, Faridabad, and Panchkula.
The chief minister added that in the Annual Confidential Report (ACR) of the officers and employees, the opinion of the public should be included as to whether officers and employees are executing their work correctly or not. He said for the government and development work to be done properly and seamlessly there should be public participation through a social audit. If the public monitors the development works then definitely the quality of work will become better.
It should be highlighted that after assuming power on October 26, 2014, Chief Minister, Shri Manohar Lal started the ritual of celebrating good governance on the birth anniversary of the former Prime Minister. Since then every year on the occasion of good governance day the Chief Minister makes a new year's resolution and throughout the year he and his administrative wing are working dedicatedly to fulfill the resolution. Notably, in recent years, Haryana has seen major developments in laws related to social and agricultural reforms, infrastructure, and the healthcare sector.