In an astonishing yet intriguing move to boost sales, Gucci introduces merchandise worth $3 million in its new ultra-high-end private 'salons', targeted mainly at the rich customer faction. This step can be described as a move to help narrow down the widening gap between the fashion giant and their rival Louis Vuitton, as it awaits the arrival of its new creative director, Pharrell Williams.
Ultra-Rich Segment to Bank On
Gucci aims to stock its new private boutiques with the latest collection of high-end clothing, furniture and jewellery for the ultra-rich target audience that is largely immune to the economic turbulence of the present. Led by Gucci, luxury brand Kering has produced groundbreaking second-quarter results, while the former's revenue has hiked by just 86%. "Nothing will cost less than $40,000, and it will go up to as much as $3 million for high jewellery," Kering Chairman and CEO Francois-Henri Pinault says.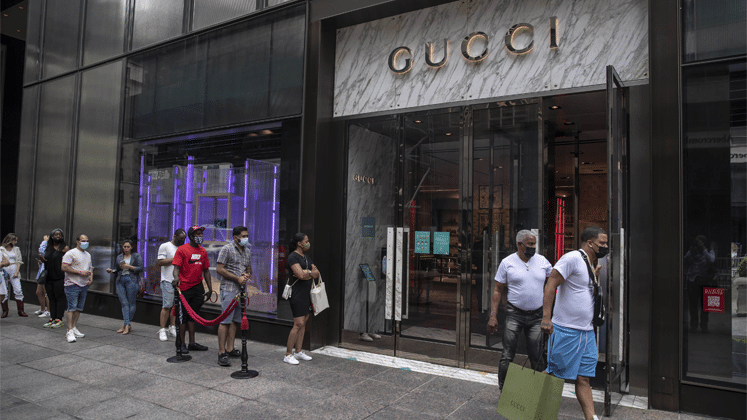 Owing to a crash of sales in China post-pandemic and reduced demand for apparel among the lower-spending category in the United States, Gucci's sales fell by 14% in the last quarter of 2022. In order to reinstate past proportions of sales, the brand turned to its wealthiest customers as the key focus element for growth.
New Director – New Horizons?
Although Gucci is all set to welcome its new creative director Sabato De Sarno in the second quarter of 2023, and also for his first fashion in Milan in September, the brand is under pressure to keep its momentum consistent. The main reason being that De Sarno's line won't hit the commercial markets until next year and it is imperative to maintain sales and margins. In this regard, Pinault has put forward Gucci's upcoming archive exhibit on its world tour, the first being at Shanghai and subsequently a ramp show in Milan next month and a cruise collection in Seoul in May.
Gucci's profits had increased almost four times from 2015-2019, enhanced by the gender-fluid designs of Alessandro Michele, who departed from Gucci in November owing to internal undercurrents. However, the brand has lagged behind rivals like Vuitton and Hermes, who managed to keep sales margins intact, irrespective of inflation and economic uncertainty. Gucci with its Horsebit Loafers, GG belts and crossbody bags has struggled to regain its previous glory.
Rivals Surge Forward – Gucci's Competence on the Line
According to Bernstein estimates, LV had spent 890 million Euros on marketing investments in 2021, compared to a measly 487 million by Gucci. Last Christmas, Dior took over Harrod's department store in London in addition to hosting an iconic fashion show against the pyramids in Egypt. Vuitton's January catwalk starred Latin Grammy awardee Rosalia.
Vuitton has scored over double of Gucci's revenue in 2022, with a sum of almost 20 billion Euros. "Investor sentiment is turning less negative and rightly looking ahead to potential improvements at Gucci underpinned by new creative direction," said RBC Capital Markets analyst Piral Dadhania.
Louis Vuitton has also scored big in terms of celebrity points by appointing Pharrell Williams as its new menswear creative director, compared to Gucci's De Sarno, who is relatively unknown to the world outside fashion. William's debut runway show has been scheduled for June and the rapper is expected to boost LV's popularity by a huge margin.
The newly proposed private salons of Gucci will mostly be in their existing stores across countries, while some will be located in new boutiques, including one on Los Angeles' Melrose Avenue, set to open in April.