BJP had won 3 out of 4 seats in Bilaspur last time. Even attempts by BJP national president, J P Nadda to make rebels step down failed
Even though BJP national president J P Nadda personally took charge of appeasing rebels in his home district of Bilaspur, in Himachal Pradesh, many are still involved in the conflict. They also include individuals regarded as Nadda's supporters.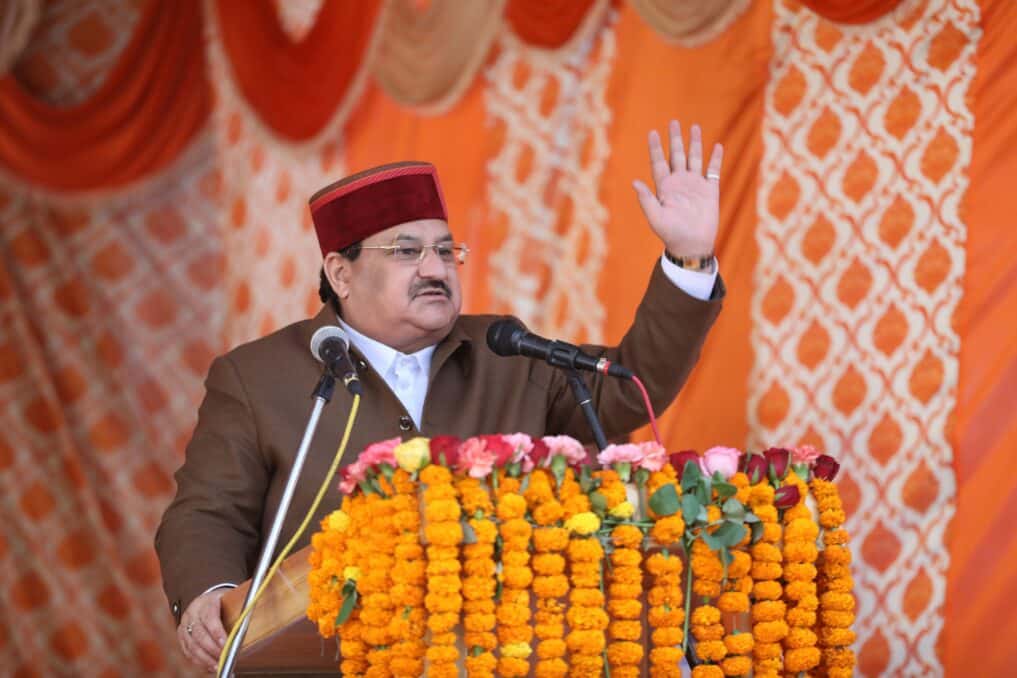 Four constituencies make up the Bilaspur district, three of which the BJP won while one was won by the Congress. The BJP won the seats of Bilaspur Sadar and Jhandutta (SC), where rebel candidates are running, by just 6,862 and 5,060 votes, respectively. The BJP won the third seat, Ghumarawin, by a margin of 10,435 votes.
The Shree Naina Deviji seat was won by the Congress, but only by the slimmest of margins of 1,142 votes.
Subhash Sharma, a BJP rebel
Subhash Sharma, a supporter of Nadda who was denied the seat's ticket, is one of the BJP rebels. He is now running as an independent. Trilok Jamwal, another Nadda supporter and Chief Minister Jai Ram Thakur's political advisor, has been nominated by the BJP in his place.
Jamwal should not have been offered a ticket, according to Sharma's camp, because he is an organisation man and a member of the BJP core committee. Jamwal's opponents further claim that because he is a native of the Jhandutta constituency, he is an "outsider".
Subhash Thakur, another Nadda man and the BJP's incumbent MLA for Bilaspur Sadar, was also denied a ticket this time.
The leader of the BJP in Bilaspur, Hans Raj Thakur, claims that the party, including Nadda, made every effort to persuade Sharma, a BJP executive member, to resign. Furthermore, Sharma hasn't bothered to go to Bilaspur Sadar in the previous four years, according to Thakur.
In Bilaspur Sadar, the former MLA Tilak Raj was a potential dissident candidate for the Congress, but he ultimately consented to step aside for Bumber Thakur. Bumber, a supporter of the late Congressman Virbhadra Singh, had dropped out of the race in 2017.
Another BJP rebel, Raj Kumar Kaundal
Raj Kumar Kaundal, the son of former BJP MLA Rikhi Ram Kaundal, is another rebel who is still fighting. He runs from the Jhandutta constituency, as an Independent cndidate. Kaundal's son Utkarsh claims BJP leaders asked him to withdraw the nomination, but his father's supporters "forced" him to run.
Jeet Ram Katwal, a sitting MLA, is running for the BJP in the Jhandutta district.
Once more, the Congress was successful in persuading the dissident from the seat, former MLA Beeru Ram Kishore, to resign, greatly easing the way for its nominee, Vivek Kumar. Last time, Katwal from Jhandutta defeated Kishore.
Former trade union leader Shankar Thakur, Kuldeep Thakur, and Daulat Ram Sharma were among the candidates who lost out to BJP candidate Randhir Sharma for the Shree Naina Deviji seat, in the Bilaspur district. Sharma is a supporter of the late former chief minister Prem Kumar Dhumal. The Congress has once again fielded Ram Lal Thakur, a former minister who had previously defeated Randhir Sharma.
Given that Randhir Sharma will also be up against the BJP government's anti-incumbency, BJP sources question the reasoning behind running him once more.
Nadda will hold a number of rallies, until November 10
Nadda has been actively involved in the electoral process in Himachal, including ticket allocation and campaigning. While Prime Minister Narendra Modi and Home Minister Amit Shah have been preoccupied with events in their native Gujarat. The November 2021 byelection defeat, in which the BJP had delegated all decision-making to Chief Minister Jai Ram Thakur and state BJP president Suresh Kashyap and ultimately lost all four seats (one of which was a Lok Sabha seat) to the Congress, also served as motivation for Nadda's involvement. Even, Dhumal had been prevented from running at the time.
Nadda will hold a number of rallies in Himachal during the coming days, up until November 10, when the first phase of the election's campaign comes to a close. He will be present in Bilaspur, on November 2.
Himachal polls: Rebel trouble for BJP chief J P Nadda in home district Bilaspur