Thane: Dr. Kashmira Sankhe, a 27-year-old dentist hailing from Thane, has emerged as the topper from Maharashtra in the prestigious Union Public Service Commission (UPSC) examination, securing an impressive all-India rank of 25 in her third attempt. Driven by her passion for public service, Kashmira is now elated as she can finally pursue her dream of joining the Indian Administrative Service (IAS).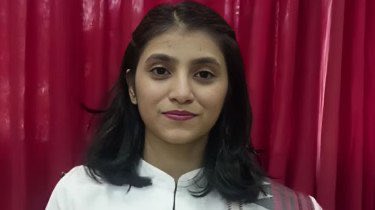 Image Source:- Twitter ( Dr Vinay Sahasrabuddhe)
The UPSC results, which were declared on Tuesday, brought joy and fulfillment to Kashmira's relentless efforts and dedication, she has also been working as an assistant dentist while eagerly awaiting her UPSC result.
Pursuing Passion: Thane girl's Journey to UPSC Success
Having completed her BDS from St. George Government Dental College and Hospital in Mumbai in 2019, Kashmira embarked on her UPSC preparation journey. This year marked her third attempt at the highly competitive examination. Despite her optimism, Kashmira had mentally prepared herself to continue practicing as an assistant dentist if the outcome turned out differently. However, she made it clear that another attempt at the UPSC would have been her plan B, as anything other than securing a position in the IAS was not her preferred path.
Throughout her preparation, Kashmira primarily relied on self-study and diligently followed the Pomodoro technique for effective time management. "I would study for 50 minutes and then take a break for 10 minutes" shared Kashmira, highlighting her commitment to maintaining a balanced study routine.
While in Delhi for her preparation, Kashmira sought coaching only for the Anthropology subject. However, her plans were disrupted by the outbreak of the Covid-19 pandemic. She promptly returned home as soon as train services resumed. Undeterred by the challenges, Kashmira adapted to the circumstances and continued her preparations.
Image Source :- Twitter (AbdulKadir)
UPSC Glory: Thane Dentist Achieves All-India Rank 25
To stay abreast of current affairs, Kashmira heavily relied on newspapers such as The Hindu and The Indian Express. For her interview preparation, she found reading The Indian Express particularly effective in gaining a neutral perspective. Kashmira emphasized the importance of adhering to the UPSC curriculum and avoiding distractions by studying unrelated topics.
Born into a family of achievers, Kashmira is the second child of the Sankhe couple. Her father is employed in a private company, and her mother is a naturopathy practitioner. Interestingly, her elder sister also pursued dentistry, while her younger brother is currently pursuing engineering.
With her remarkable achievement, Dr. Kashmira Sankhe serves as an inspiration to aspiring civil servants and demonstrates that unwavering dedication and a clear vision can lead to extraordinary accomplishments. As she eagerly awaits the opportunity to serve her country as an IAS officer, Kashmira stands as a testament to the power of perseverance and passion in achieving one's dreams.