Hush Hush Trailer Out On Amazon Prime Video 
The teaser for the new murder mystery produced by Amazon Prime Video and titled Hush Hush has been released. It is quite reminiscent of the show Big Little Lies in that it chronicles the lives of four very wealthy women who become embroiled in a plan to kill someone. The first episode of the series will be available on September 22.
The series, which was produced by Abundantia Entertainment and is led by Vikram Malhotra, features Soha Ali Khan Pataudi, Kritika Kamra, Shahana Goswami, and Karishma Tanna in the leading roles. Juhi Chawla and Ayesha Jhulka are making their debut in the medium of digital television with this project.
In Hush Hush, a series of unforeseen events brings to light secrets from the past and threatens all that is precious to a group of women whose seemingly flawless lives have begun to unravel. The novel delves into the raging tempest that simmers below the placid surface of these women's privileged existence, which is knitted together with lies, treachery, and the battle against patriarchy.
Abundantia Entertainment and award-winning filmmaker Tanuja Chandra collaborated on the creation of Hush Hush (Qarib Qarib Single, Sangharsh, Dushman).
Hush Hush is even more distinctive since it has a cast and staff that is predominately made up of women, including the production designer, costume designer, associate producer, co-producer, and teams in the art, costume, production, and even security roles.
The lines were written by celebrated author Juhi Chaturvedi (Gulabo Sitabo, Piku, Sardar Uddham Singh), Kopal Naithani helmed two episodes this season, and Tanuja Chandra serves as both director and executive producer. Shikhaa Sharma (Jalsa, Shakuntala Devi, Sherni), who is also one of the series Executive Producers, also wrote the story.
Description of Hush Hush series
A powerful lobbyist Ishi Sangamitra (Juhi Chawla), an ex-investigative journalist Saiba Tyagi (Soha Ali Khan), a self-made fashion designer Zaira Shaikh (Shahana Goswami), and a trapped-in-society Dolly Dalal (Kritika Kamra) get entangled in something sinister one night. Ishi seems to know more than she is letting on but nothing will make her speak the truth.
She turns to her friend Meera, played by Ayesha Jhulka, for assistance, but Meera appears to be keeping certain things to herself as well. Geeta, a young police officer portrayed by Karishma Tanna, has been given the mission of unraveling all of the riddles. People are smacked, floating corpses make an appearance, falsehoods piled on top of lies are uttered, and hands holding lip gloss tremble violently.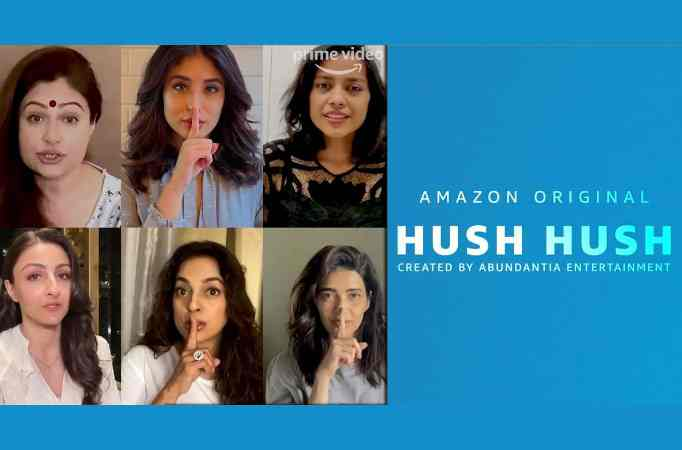 Reviews by Actors working on the Hush Hush series
Juhi Chawla, when asked about her first foray into the world of streaming media with Amazon Prime Video's 'Hush Hush,' responded by saying, "I look forward to going onto a new adventure in the fast-rising digital sector with Prime Video." The distribution platform has brought about a sea change in the art of storytelling with its ground-breaking originals, which have enthralled viewers all across the country.
The storyline of Hush Hush captivated me, and I realized in an instant that this is a unique endeavor and one that I would be honored to contribute to if given the opportunity. The great work that Abundantia Entertainment does is something that I have long admired, and it was a privilege to work with Vikram and the wonderful team that he has together.
I am overjoyed to be working with such extraordinary actresses as Soha, Shahana Kritika, Karishma, and Ayesha, and I am certain that people will connect with the show and continue to shower their affection upon the show and me as I embark on this new chapter.
Soha Ali Khan, when asked about the new television series, stated, "Hush Hush deals with a stark set of characteristics that women experience in today's day and age, and I am happy to join with Amazon Prime Video and Abundantia Entertainment to bring alive this fantastic project." I had a great experience filming with Juhi, Shahana, Kritika, and Karishma, and Ayesha was a pleasure to work with.
A sense of excitement and pleasure was brought in, which will be reflected for viewers to see on screen as a result of the presence of a female-dominated workplace. I do not doubt that viewers will remain interested over the entirety of the series and will find a way to connect with it.