Sidharth Malhotra and Kiara Advani are now married. They got married in Rajasthan on Tuesday. 
Highlights
The actors Kiara Advani and Sidharth Malhotra were married in Rajasthan's Suryagarh Palace. They were romantically involved for a while and acted together in the hit film Shershaah. One hour after Sidharth's royal baraat was observed arriving at the location, according to their Wikipedia profiles, they were married.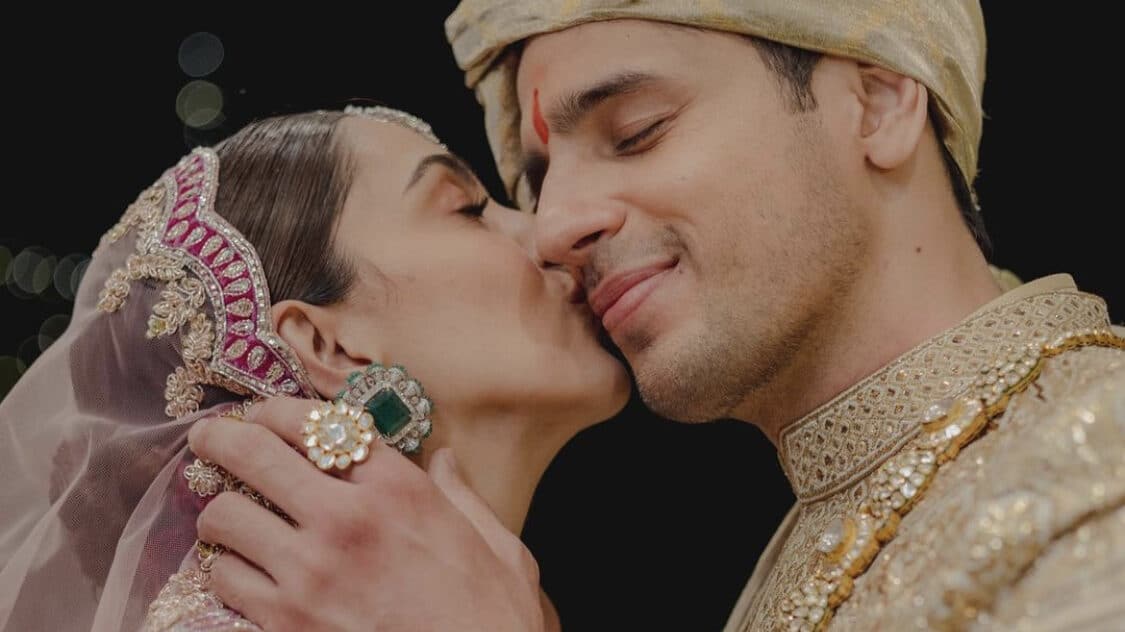 The first picture of Kiara Advani and Sidharth Malhotra as husband and wife 
Kiara Advani wore a pink lehenga to the wedding that was allegedly designed by Manish Malhotra. Sidharth dressed to match her, wearing an ivory sherwani. Along with a line from their movie, they uploaded the first images from their wedding. Shershaah said, "Ab humari permanent booking hogayi hai," and we pray for your love and blessings as we continue on our adventure. 
For the photographers waiting outside the Jaisalmer wedding venue, the couple has not yet struck a pose.
Sidharth Malhotra and Kiara Advani had a mehendi and sangeet on Monday. An extravagant sangeet night on Monday followed the couple's pre-wedding celebrations, which reportedly started with a welcoming brunch. They had a lot of songs in their repertoire, including Mehendi Lagake Rakhna, Tera Ban Jaunga, and Ranjha. Despite the tight security, a number of photos from the event were posted online by paparazzi.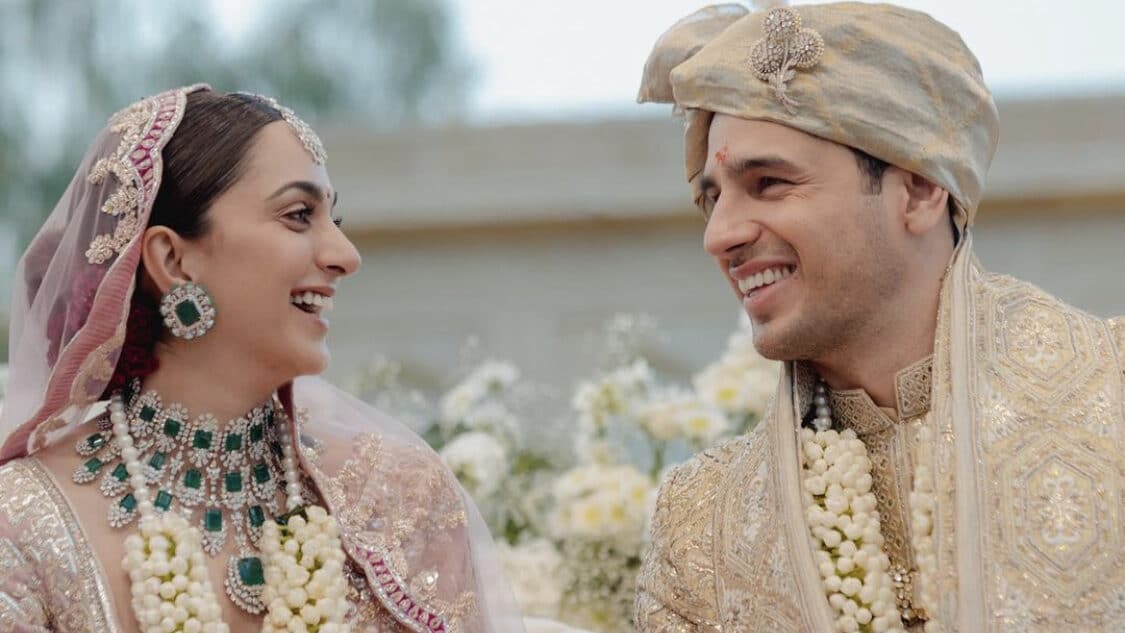 For the intimate ceremony, they only extended invitations to their closest friends, relatives, and professional contacts. Manish Malhotra, Shahid Kapoor, Juhi Chawla, Mira Rajput, and Karan Johar were just a few of the famous people who arrived at the airport to attend the wedding.
The first time Karan Johar saw Sidharth Malhotra and Kiara Advani 
After attending the wedding of Sidharth Malhotra and Kiara Advani in Jaisalmer, Karan Johar expressed his joy in a statement.
Sidharth Malhotra, Alia Bhatt, and Varun Dhawan all gained notoriety after the release of Karan Johar's Student of the Year in 2012. He is "happy" and "elated" that his three former students are now married. Following his attendance at Sidharth and Kiara Advani's wedding in Jaisalmer Suryagarh Palace, the filmmaker posted a statement on Instagram to express his feelings.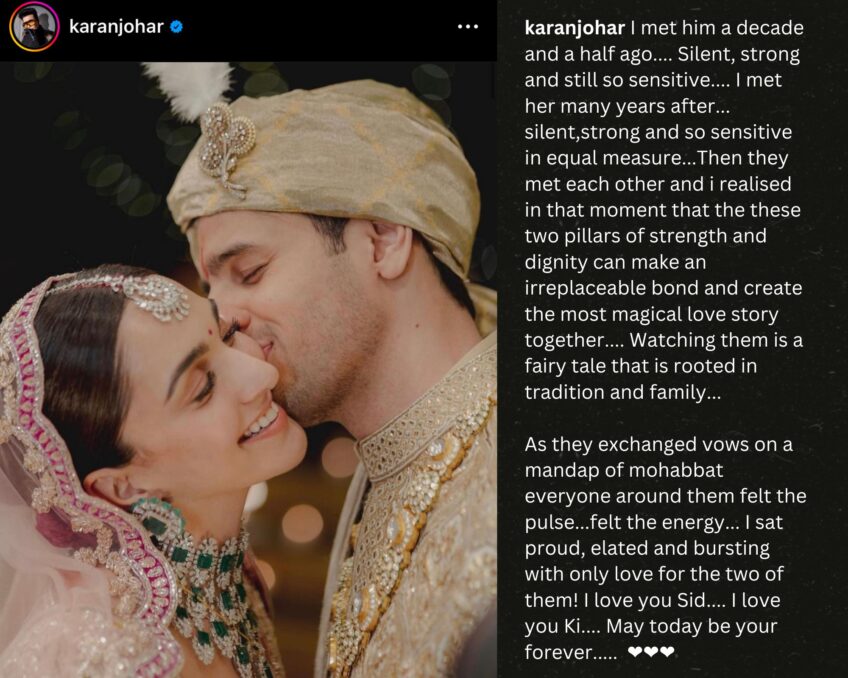 Including a cute wedding picture with Sidharth kissing Kiara on the cheek. When Karan Johar recalled his first encounters with Sidharth and Kiara, he noticed a startling resemblance between the two. He wrote, "I met him for the first time fifteen years ago." solid, silent, and yet still so frightfully vulnerable. I met her for the first time many years later, and she was silent, strong, and immensely sensitive. They ultimately crossed paths, and it was then that I realized they could develop an enduring friendship and pen the most romantic love story. They are built on custom and family, like something from a fairy tale.
Everyone in the vicinity could feel the intensity as they exchanged vows on the mandap of mohabbat, he added. I sat there, full of excitement and pride, and nothing but love for the two of them. I love you, Sid. I adore you, Ki. I hope you have a day like this forever.
Karan was caught dancing during Sidharth's baraat, a band member from the baraat acknowledged it on Tuesday. Shahid Kapoor and he will dance to "Dola Re Dola" at Sidharth's wedding, according to a statement made by Karan on Koffee With Karan. The filmmaker's fans replied to his note in the comments area.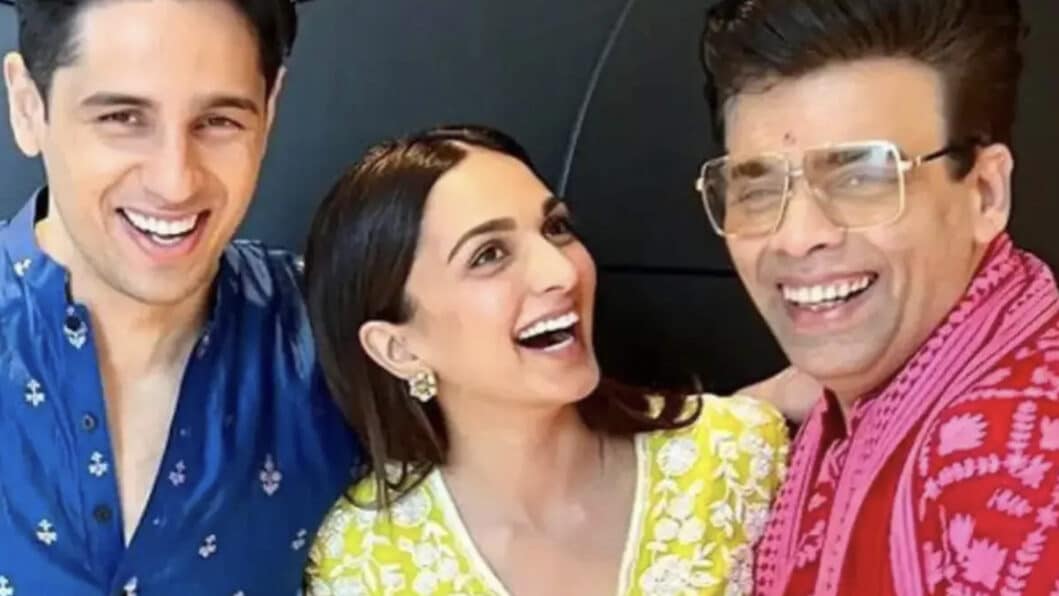 "Your three students are now graduates," one supporter commented. An additional comment read, "@karanjohar waiting for you to upload the "Dola Re" dance with @shahidkapoor as promised on the show." "You manifested it, K," a different supporter exclaimed. You are the matchmaker! The "colors of love" diploma is finally given to your last student! The way you appreciate your students, Sid, Varun, and Alia, according to another comment, was also mentioned. Very well written! "We meet the right people when it's the correct moment," read another reply. 
Kiara Advani and Sidharth Malhotra's love story 
Sidharth and Kiara dated covertly while keeping their relationship a secret from the public. While making their 2021 film, Shershaah, they fell in love. It's their first movie together and the only one they've ever made. In the role of Vikram Batra, a martyr, Kiara played his future wife, Dimple. The actors' brilliant chemistry was a major factor in the movie's popularity.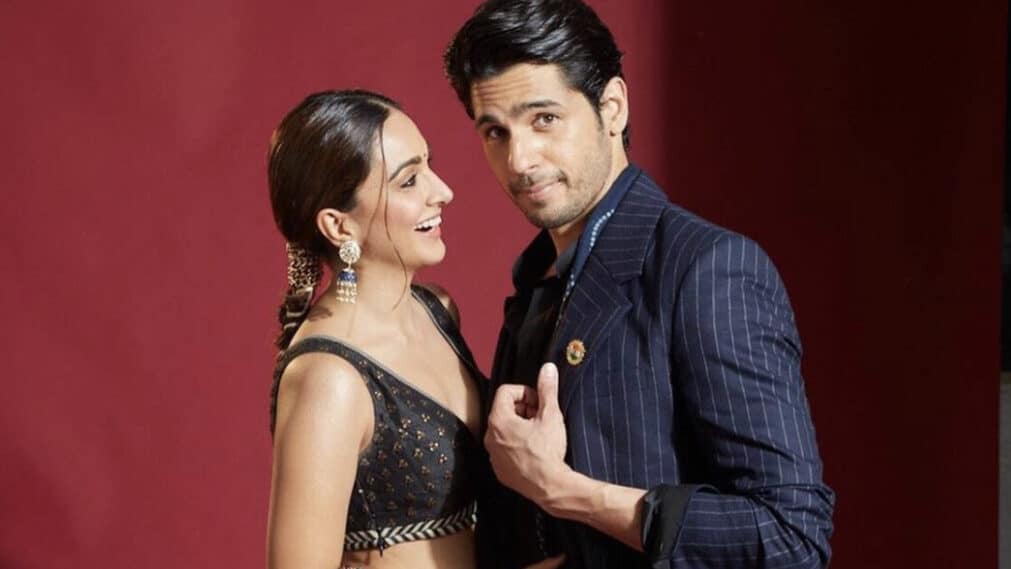 The next time we'll see Kiara is in the upcoming Satyaprem Ki Katha, starring Kartik Aaryan, following her role in Govinda Naam Mera. The movie is scheduled to release on June 29. The next installment of Rohit Shetty's Indian Police Force, on the other hand, will see Sidharth make his web series debut. Yodha is another of his intended projects in addition to this. His most recent release was Mission Majnu alongside Rashmika Mandanna.
---
Read More: A look back on all the Looks Athiya Shetty adorned for her Wedding
---