India's coal inventories have fallen to dangerously low levels, raising concerns in the country's power sector.
India is experiencing a severe coal deficit because of increased demand following the second wave of the COVID-19 outbreak. The union power minister, Raj Kumar Singh, has warned that the country could be dealing with a supply shortage for up to six months. While Coal India has stated that it will increase production to satisfy current demand, rising import coal costs have made it harder for Indian companies to operate smoothly.
According to government data from the power ministry, the difference between available electrical supply and peak demand expanded to more than 4 gigawatts on Monday. Between August and September, India's average power demand climbed by 23 GW yearly to 186 GW.
According to S&P Global Platts Analytics, the average power demand will be 167 GW from October to December, with coal-powered generation at 126 GW, up roughly 12 GW year on year.
Faced with the hottest coal market on record, Indian consumers avoided importing it and instead relied heavily on domestic inventories, which have now plunged to their lowest levels in almost three years.
Current stock level:
According to the Central Electricity Authority (CEA), 16 of India's 135 coal-fired power facilities had no coal supplies as of September 29. India's total coal storage, which was 37.41 million metric tonnes at the start of 2021, has decreased to 8.317 million metric tonnes as of September 27—enough for only five days of coal burning.
Over half of the plants had supplies that would last less than three days, and over 80% had supplies that would survive less than a week. Coal contributes to more than 70% of India's energy production, and utilities consume around 75% of the country's coal.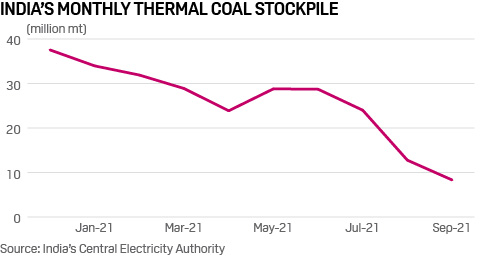 Cause for the shortage:
Following the second coronavirus pandemic wave, India's industrial electricity demand has increased. Furthermore, purchasers avoid imports due to a widening price differential between lower domestic prices and record global coal prices. Coal India said that rising global coal prices and freight costs had caused power plants using imported coal to reduce output, adding to the pressure on utilities using domestically mined coal to ramp up output.
Reason for the price difference:
Coal India sets the majority of domestic coal pricing in India. Coal price hikes typically have a cascading effect on power prices and inflation, making them a politically tricky decision. Despite a sharp rise in global coal prices over the last year, Coal India's prices have remained stable. While the company's chairman has stated that the miner will raise prices, it is unclear when. Meanwhile, Asian coal price benchmarks have reached new highs, boosted by increased demand for power production fuels worldwide as countries open up. The latest event increasing global energy demand is a significant power outage in China.
Utilities unable to pass on higher costs:
According to the website globalpetrolprices.com, India's electricity tariffs are among the lowest globally, as state-run distribution corporations have absorbed higher input costs to keep rates stable. Consequently, many of these businesses are severely in debt, with liabilities totaling billions of dollars. The companies' tight balance sheets have regularly delayed payments to power producers, impacting cash flows and discouraging further investment in the sector. The local power producers locked in long-term contracts with distribution utilities often cannot pass on higher input costs.
Impact on the global coal market:
India is the world's second-largest coal importer, consumer, and producer, with the fourth-largest reserves. Indonesia, Australia, and South Africa are the primary sources of imports. Due to supply constraints and increasing demand from China and abroad, CRISIL, a unit of rating agency S&P, anticipates Australian and Indonesian thermal coal prices to rise during the balance of this fiscal year.
According to data collated by Kplr, India's average weekly coal imports decreased by more than 30% from the norm for the initial seven months of the year to just under 3 million tonnes from August to late September, when global coal prices rose over 40% to all-time highs.
The most recent week's import total was less than 1.5 million tonnes, the lowest in at least two years, and there was no fresh bidding for new cargoes on the websites of major coal-importing state utilities this month.
Advantages & disadvantages:
Rising power demand has boosted the stock prices of Indian power companies NTPC Ltd (NTPC.NS), Tata Power (TTPW.NS), and Torrent Power (TOPO.NS), as well as Coal India. According to a representative from a large utility, many traders who acquired coal in domestic spot auctions sold it at substantial premiums.
Due to high overseas prices, several non-power coal customers and import-based power plants have reduced production. Officials believe that while large-scale outages like those in China are unlikely shortly, some areas may experience power disruptions.
Avoidable crisis:
The Power Ministry has formed a Core Management Team to control coal stocks and guarantee equitable distribution. The team closely monitors and manages the fuel daily and ensures follow-up action with Coal India and the Railways to increase deliveries to power plants.
The catastrophe could have been avoided, according to industry sources. Several factories did not stockpile coal before the monsoon. States such as Maharashtra, Rajasthan, Tamil Nadu, Uttar Pradesh, and Madhya Pradesh failed to pay their coal dues, resulting in insufficient supplies. 
Coal India claims that it has increased thermal power plant deliveries by about 12% each year. Instead of restricting intake, the state-owned miner requested Gencos since October 2020 to shore up supplies.
Maintaining the CEA-mandated 22-day normative stock guideline might have also prevented the crisis. Preparation and guaranteeing sufficient inventories ahead of the monsoons, according to Ashok Kumar Khurana, Director-General, Association of Power Producers, is a "well-known method." He said, "The situation that we've been experiencing since August raises clear concerns. As you can see, thermal plants did not generate much electricity or produce a lot of PLF in the previous months. When required, there is a let down by fuel supplier necessitating costly imports."