The Indian Space Research Organization (ISRO) has initiated multiple projects based on assessments of global advantages of India's needs for the next four-five decades.
Concepts like self-eating rockets, self-vanishing satellites, make-in-space and quantum communication are developed as a need for enhancement in technological equipment whose role would be significantly more focused on preparing India for the future.
while private enterprises indulge in day-to-day launches, ISRO has initiated 46 new projects on futuristic technologies.
ISRO's Directorate of Technology Development and Innovation (DTDI) proposed the launch of critical, futuristic and technologically advanced modules such as self-healing materials, humanoid robotics, space-based-solar-power, intelligent satellites and space vehicles, AI-based space applications, etc.
DTDI wing at ISRO headquarters is an agency that synergizes the technological capabilities of its centres and laboratories with a coordinated effort from national and international experts.
The Big News!
ISRO is all set to launch a distinctive rocket that eats itself in space. ISRO chairman K Sivan says, "all our rockets have metal casings that are dropped into the sea after launch or become space debris. We are working on a technology where rockets will eat themselves effectively without leaving any waste droppings into seas.
For this we are looking for special materials for casings that can burn up along with motors." To further mitigate space debris, self-destruction satellite technology enabling spacecraft to vanish after its lifetime – through a 'kill button' or a process that will burn it up in orbit is under the procedure.
The self-disruptive rocket would be one of its kind and will revolutionize the space sector marred by growing concerns of space debris. debris created by the recent anti-satellite test from Russia endangered not just the International Space Station (ISS) but also the astronauts onboard.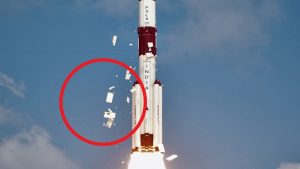 ISRO acts upon this by finding solutions to space debris primarily created by defunct satellites in orbit or rocket boosters and payload fairings that remain in orbit post-launch.
The conclave was inaugurated by Minister of State (Space) Dr Jitendra Singh, who released the proceedings compendium of the technology conclave, congratulated the space agency for its futuristic technological endeavour and mentioned that these technologies will take India's space capabilities to the next level.
What's next?
The Indian space agency has created the 'Vision 2030' document based on its scientist's ideas like – humanoid robots, in-situ propellant production for interplanetary exploration, spider rovers, artificial intelligence-based spacecraft and others.
The ISRO has also initiated Research and Development (R&D) on artificial intelligence-based space applications. In line with this, is the Gaganyaan project and space station programmes to deliver extensive use of humanoids and AI-based technologies.
The first attempt at a humanoid (VYOMITRA) is expected to fly on uncrewed missions looking at technologies to leverage in situ materials on some celestial bodies. To support this, ISRO is looking at enhanced robotic arms and other highly new-fangled and ultra-modern mechanisms which are capable of making things in space.
ISRO is also taking a step forward in building quantum satellite technology. Secure communication and hack-proof nature give an additional edge to the project. This new mechanism will be functional in a range of strategic sectors – defence to digital money transactions- while ISRO plans to extend this to satellites as well.
In the coming era of quantum computers, ISRO's research on quantum communication will make the relay faster and much more secure. ISRO tested this technology in an open space separated by 300 meters earlier this year.
China already has a satellite dedicated to quantum information science, Micius, and demonstrated quantum communication in a laboratory over a coiled optical fibre up to 404 kilometres long.
According to R. Uma Maheswaran, Scientific Secretary, ISRO, the organisation is working on low-temperature lithium-ion cells that can power satellite systems in sub-zero temperature, space-based solar power and quantum radars.
With all such latest innovations and many more missions aligned, ISRO stands as an avant-garde, trailblazing the field of science, research, mechanics and progressive advancements leaving a mark on the global space industry.