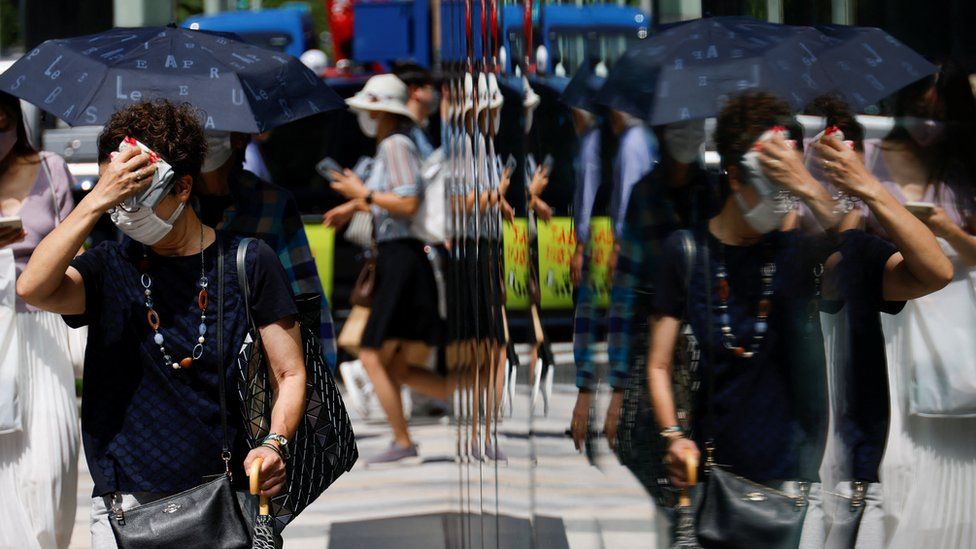 The biggest heatwave to hit Japan since records began in 1875 is currently making it the hottest day yet.
The intense heat has prompted government warnings of an impending power deficit and pleas for citizens to conserve electricity whenever feasible. Nevertheless, the government continues to urge citizens to use air conditioning to prevent heatstroke as hospital admissions climb with the heat.
In the upcoming days, the heat is set to persist, according to weather forecasters.
Because to climate change brought on by human activity, heatwaves are now more frequent, more powerful, and stay longer.
Since the start of the industrial period, the world has already warmed by around 1.1C, and unless governments drastically reduce emissions, temperatures will continue to rise.
The worst record of hot weather in June since records began in 1875 was broken on Wednesday when Tokyo recorded temperatures above 35C for a fifth straight day.
The hottest June temperature ever recorded in Japan was 40.2C, which was recorded in the city of Isesaki, northwest of the capital.
Social media users bemoaned the increasing heat on Twitter.
I've been outside since the morning and am on the verge of melting from the heat, another user posted.
A film of what looked to be water sprinklers activating at a plant nursery was posted alongside the comment "So hot that the fire alarm at our workplace got short-circuited" by a third user.
Japan's rainy season, which typically lasts from June through August, has officially ended for Tokyo and the surrounding territories, according to the Japan Meteorological Agency (JMA).
The statement, which was made 22 days earlier than usual, signals the beginning of the dry season for the first time since 1951.
Emergency services said on Wednesday that at least 76 people had been brought to hospitals as a result of an increase in heatstroke cases.
Local authorities called for a reduction in energy use on Tuesday as they warned of a power shortage.
To reduce the risk of heatstroke, particularly among the elderly in the nation, it was urged to do so in moderation.