The 'John Wick Chapter 4' teaser poster has been released
John Wick will be released in theatres, on March 24, 2023. The next chapter is a direct sequel to the film John Wick: Chapter 3 – Parabellum.
John Wick Chapter 4 starring Keanu Reeves and whose opponent calls him Baba Yaga, is one of the biggest action film franchises in recent memory. 
Watch the Trailer of John Wick Chapter 4
A trailer for John Wick Chapter 4 was released by Lionsgate earlier in November, showing Keanu Reeves battling his most deadly adversaries and looking deadly and dangerous while seeking out the most powerful players in the underworld against High Table global. 
The makers of John Wick Chapter 4 released a new poster on social media of the upcoming action movie. According to the producers, the movie will be released on March 24, next year.
The movie will be released in India on the same day as well. Production of the film was originally scheduled to begin in 2021, but the COVID-19 pandemic delayed it. Now, He faces off against a new enemy as he tries to earn his freedom in John Wick: Chapter 4.
The intense poster
In the poster, John Wick aka Keanu stares intensely at the camera. He looks every bit like the deadly assassin.
Keanu is shown with a sandglass filled with bullets instead of a tie. Bullets are trickling down from the sandglass, indicating John Wick is about to run out of time. A poster was shared with the caption, "His time is up." John Wick 4 – in theatres & @IMAX March 24."
---
Also Read Oscar 2022: Hollywood gears up for the biggest night.
---
In recent years, Chad Stahelski's John Wick franchise has been one of the biggest success stories. It is expected that John Wick will attempt to remove the High Table, a group of crime lords, from power in order to earn his freedom. But, the stakes this time may exceed even his imagination.
Other casts and Keanu's expression
The deadly stunts and intense one-liners of Keanu Reeves continue to amaze his fans. In addition to Ian McShane, Donnie Yen, Bill Skarsgard, Laurence Fishburne, and Rina Sawayama, the film features an impressive cast.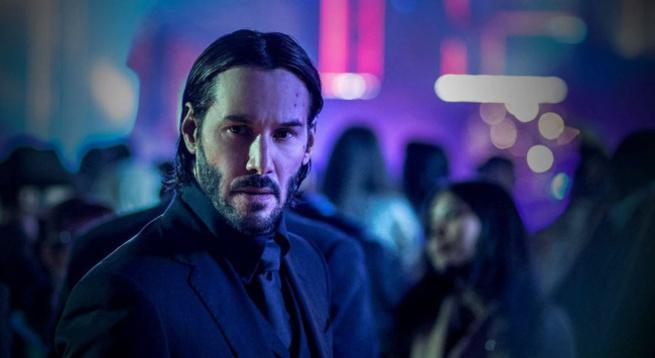 John Wick is incredibly difficult to kill but even more difficult to make. "John Wick Chapter 4  is the hardest movie I've ever worked on,"
Reeves told Brazil's Omelete during a post-panel discussion at CCXP 2022. "In terms of action, it's the longest film I've ever made. But that's what makes it worthwhile," he added.
During a panel at Brazil's CCXP convention over the weekend, Reeves revealed a new poster and gave a preview of JW4.