Table of Contents
The online war between Kangana Ranaut and Diljit Dosanjh that began during the farmer's protest is back in the news. This time, Kangana warns Diljit about his arrest. After the Punjab police's major crackdown against 'Waris Punjab De' preacher Amritpal Singh, Kangana Ranaut started poking him on her social media handles. She shared a meme with the caption 'pulse aagyi pulse' and tagged Dosanjh and wrote 'just saying'. She also added a Khalistani sticker to one of her Instagram stories.
Kangana's Warning To Khalistani Supporters
In another post, she wrote a warning to the people supporting the Khalistan movement that the police are here, and next is their turn. She also stated that no one can do whatever they want. Betraying the country will cost you big time.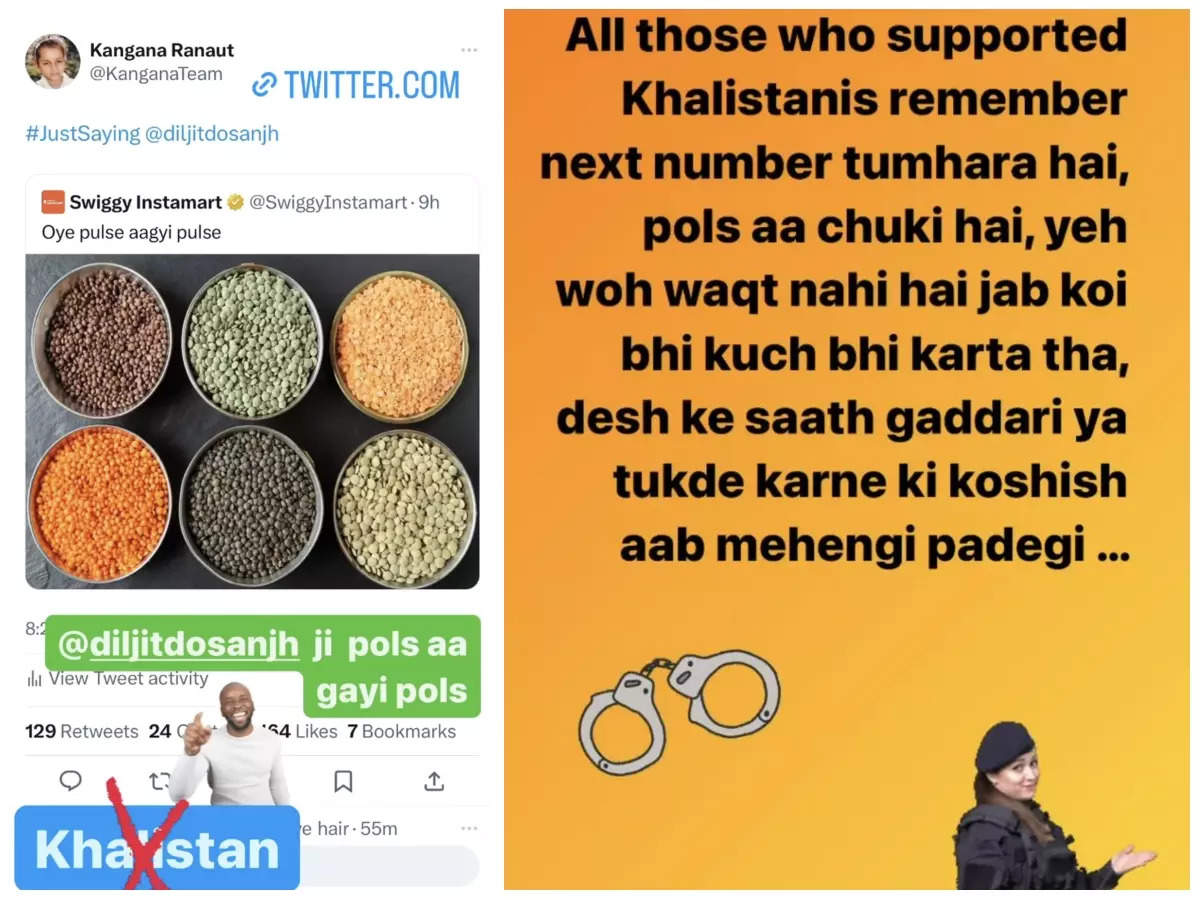 This series of Kangana's posts came after the Punjab police arrested four people who helped Amrit Pal Singh to escape. During interrogation, they confessed that Singh went to a gurudwara in Nangal Ambian village, near Jalandhar.
According To Punjab Police Inspector
As per the statement of the Punjab inspector general of police, Singh changed his clothes in the gurdwara and wore pants and a shirt, then escaped along with 3 others on 2 bikes. Amritpal Singh successfully escaped on Saturday.
Earlier, Kangana Ranaut and Diljit Dosanjh had a spat on social media during the infamous farmer's protest in 2020. Kangana had accused him of provoking the farmers with his opinion and statements on the controversial farm bills. Diljit hit back at Kangana and wrote to her on Twitter. He questioned Kangana about who gave her the right to decide if one is a patriot During this exchange of arguments on Twitter, Kangana also addressed him as the pet of Karan Johar, to which Dosanjh he if she also become the pet of everyone with whom she works.
Later, during a TV interview, Kangana openly challenged him to say once that he is not a Khalistani supporter. She also accused him of misleading the youth with a dream of Khalistan. Diljit dismissed Kangana's challenge by referring to it as a 'drama'. He stated that Kangana is taking this debate from a different angle and projecting him to be whatever she wants.
He also asked her to have some shame over calling the farmers anti-national.
Diljit Dosanjh And His Support For ISI-Backed Separatists SJF
A demand for an FIR against Diljit Dosanjh arose on June 20, 2020, after he supported Gurpatwant Pannu, Sikhs for Justice, and their demand for Khalistan. Ludhiana MP Ravneet Singh Bittu had asked Chief Minister Captain Amarinder Singh to initiate an FIR and file it in every police station in Punjab against the singer and two others. He also criticized Dosanjh for showing his support to the UK-based separatist group "Sikhs for Justice," backed by ISI.
In addition, Dosanjh voiced his "sadness" about the alleged torture of Jagtar Singh Johal, a British Sikh accused of taking part in the murders of numerous RSS officials. Numerous Twitter accounts that have been defending Rihanna and disparaging those who challenge her locus standi are also supporters of Johal.
The fact that Diljit Dosanjh has been an outspoken supporter of the recent farmer demonstrations and has contributed Rs 1 million to their cause is equally important to note.
Read More: Khalistani pull down tricolor at Indian High Commission in UK
Breaking: India's staunch reply to Khalistan supporters
Read More: Pro-Khalistani Groups Vandalize Indian High Commission in London