By Namrata Sarkar |Wed 17th Aug , 2022
A Bollywood conversation show is called Koffee with Karan. The prominent names in the field attend and engage with the emcee Karan Johar. The programme has returned for a seventh season after six successful ones.
That is correct! The Koffee Couch has been bringing Btown couples together for a number of seasons. Consider the time Alia Bhatt manifested her marriage to Ranbir Kapoor while sitting on the couch. Or when Vicky Kaushal and Katrina Kaif's lavish wedding was caused by scandalous revelations? With these examples of successful manifestation, we definitely don't take the extraordinary couch powers by granted.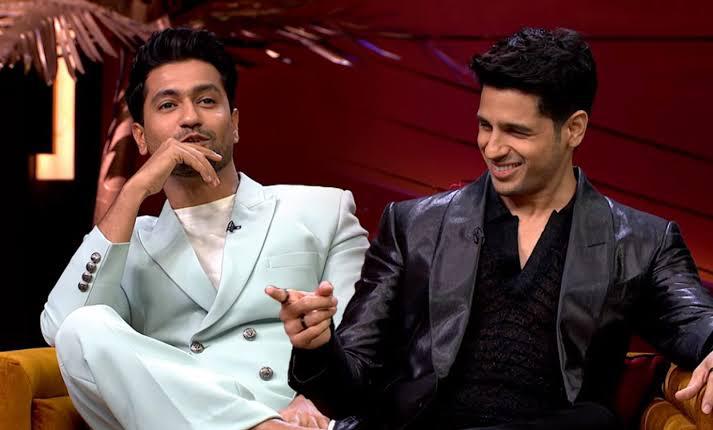 Vicky Kaushal and Sidharth Malhotra will both be featured on the upcoming episode of "Koffee with Karan 7." According to the preview, the episode could be entertaining because Sidharth might divulge more about his alleged connection (truly, Karan will make him reveal some juicy particulars).
In the makers' promotional video, host Karan Johar can be seen almost confirming that actor Sidharth is seeing actress Kiara Advani. He even asks him about their upcoming wedding. Has Karan Johar just made it official that Kiara Advani and Sidharth Malhotra are dating? 
The developing romance between Sid and Kiara has been the topic of discussion for a while. Everyone is engrossed in their alleged on-again, off-again connection. This season, Ananya Panday also dropped some huge hints on the Koffee couch when she gently made a punfilled remark during the rapid fire round about Sid and Kiara's alleged connection. And to be honest, it just reaffirmed everyone's long-held scepticism.
Sidharth and Vicky Kaushal are the new guests on the forthcoming episode of Koffee With Karan, which was just teased by KJo. According to the trailer, the episode looks entertaining since Sidharth will share some information about his alleged romance (actually, Karan will make him reveal some juicy details).
So now that you're seeing Kiara Advani, do you have any future plans?, KJo asks in the video. The actor responds, "I am manifesting it today," without confirming.
That you are marring Kiara Advani, Karan Johar interrupts and asks.
When Sidharth learns about this, he is shocked and responds, "Sorry," sending everyone into fits of laughter.
Karan continues, "Yeh bada biba munda (innocent boy)" afterwards.
It all begins when Karan reminds Vicky that on his previous appearance on the "Koffee" couch, he had manifested Katrina Kaif, who is now his wife.
The host then turns to Sidharth and inquires about his future plans now that he is dating Kiara Advani.The actor from "Shershaah" replies, "I am expressing it today." The actor responds with an innocent "Sorry?" when KJo presses him to clarify whether he was implying that he marries Kiara. Since their collaboration in the film Shershaah, Sidharth Malhotra and Kiara Advani have been linked romantically. They frequently appear at events together.
Sidharth recently went to see Kiara's Bhool Bhuliayaa 2, which also stars Kartik Aaryan. In addition, they flew to Dubai to honour Kiara's 30th birthday.
Recently, after the actress published a message on her Instagram account, Sidharth Malhotra and Kiara Advani got into a playful exchange.
Kiara posted a video of herself holding a flag in honour of the 75th Independence Day.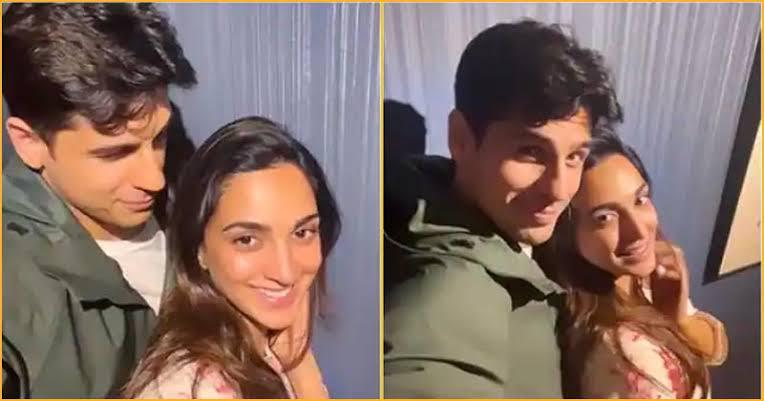 Prior to that, on August 12, 2022, Shershaah, starring Sidharth and Kiara, celebrated its first anniversary. To celebrate, the actors hosted a live Instagram session for their fans. The two discussed how she had met him at a party five years before the film during the session.Kiara responded, "Your hand is still there," when her Shershaah costar said, "Thanks for cutting me out," shortly after she deleted the post.
The episode appears to be nothing less than a giggle riot, as evidenced by the preview, which also featured Karan reading out some thirsty comments under the actors' social media posts. Sidharth and Kiara, meanwhile, have so far been able to keep their romance under wraps. But the two are frequently seen travelling to faroff places, going to each other's homes, and spending time with each other's families.
We don't know about you, coffee addicts, but we're already getting ready for the #SidKiara shaadi! Head over to Disney+ hotstar RN to satisfy your coffee craving https://youtu.be/RXp7BnbZElY