Former Karnataka Chief Minister HD Kumaraswamy and DMK ally Thol Thirumavalavan were among the notable visitors at the major event on Dussehra: KCR of Telangana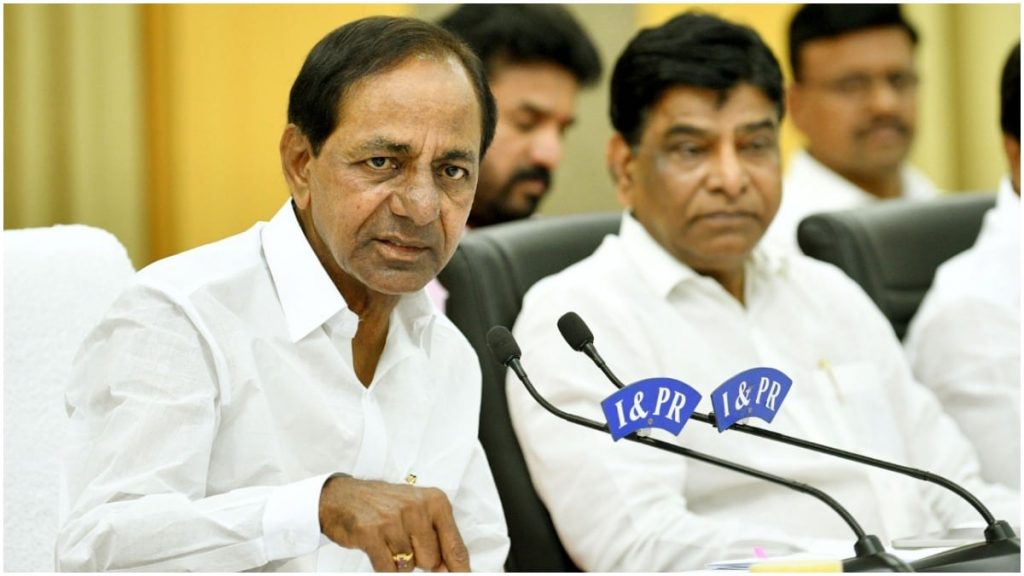 ---
Hyderabad, 10th October: At the declared "auspicious moment" of 1.19 pm today, Telangana Chief Minister K Chandrashekar Rao unveiled the Bharat Rashtra Samithi (BRS), a new iteration of his party, in preparation for the 2024 elections.
Following a meeting of his party, Telangana Rashtra Samithi (TRS), according to Mr. Rao, has taken over as the BRS. Workers rejoiced by lighting fireworks and dousing Hyderabad in the pink hue of the festival. The Election Commission, which has guidelines for recognizing any party as national, was informed of the "name change."
To be considered a national entity, the new party must be recognized as a state party in at least four states or win 6% of the vote in any four states and four Lok Sabha seats. Alternatively, the party must obtain 2% of Lok Sabha seats (11 seats) in at least three states. For the time being, the TRS has a strong presence only in Telangana, which it dominates.
Mr. Rao has stated his intention to oppose Prime Minister Narendra Modi in 2024. In the last year, he has increased his vitriol against the BJP, boycotting PM Modi's events and not even greeting him at the airport on his travels.

Mr. Rao, also known as KCR, met with various political leaders, including his equivalents from other states, including Mamata Banerjee (Bengal), Nitish Kumar (Bihar), Arvind Kejriwal (Delhi), MK Stalin (Tamil Nadu), Pinarayi Vijayan (Kerala), and Naveen Patnaik (Odisha). Former Karnataka Chief Minister HD Kumaraswamy and DMK ally Thol Thirumavalavan were present at the inaugural celebration today.
But KCR claims that, in contrast to 2018, he is not attempting to unite regional parties on a federal front. Instead, he says he wants to offer the public alternative welfare, development, and political agenda. To form an alliance that would represent the goals of all societal segments, KCR has sought out trade unions, civil society organizations, and organizations representing farmers.
"KCR will act as the bridge to unite the various parties. His strategy is to introduce a different development model rather than run for prime minister," stated KR Suresh Reddy, a TRS member. He refuted claims that KCR's party may ultimately aid the BJP by splitting support from the opposition.
"Saying that BRS will obliquely support the BJP is a mistake. KCR appeals to people nationwide," Mr. Reddy said.
According to KCR's party officials, he wants to display what he calls the Telangana model to the rest of the nation and guarantee them that his government's welfare programs, development initiatives, and policies will be adopted nationwide. On December 9, the day the then-Congress administration at the central declared the creation of a separate Telangana state in 2009, KCR planned to attend a rally in Delhi.
The Munugode byelection in Telangana, which is scheduled for November 4, may be the renamed party's maiden election. However, since the Election Commission's support isn't expected for a while, that election will still need to be fought under the TRS moniker.
Aside from Delhi, Gujarat, Maharashtra, and Karnataka, the party is also set to run in the state's assembly elections. Although the BRS is still a long way from becoming a recognized national party, it intends to keep its electoral symbol—a car—and its pink hue.
To increase the party's political clout, KCR has instructed party leaders to travel to several states to discuss Telangana's welfare programs over the last eight years. He purchased a 12-seater plane for his long tour and expects to travel widely.
---
Read more: ST quota increased to 10% in Telangana, and orders issued