When Mahatma Gandhi urged its usage as a symbol of nationalism, equality, and self-reliance, "Khadi Utsav Fashion," organized on the first day of London Fashion Week, demonstrated how the basic, home-spun fabric resonated with a message of empowerment.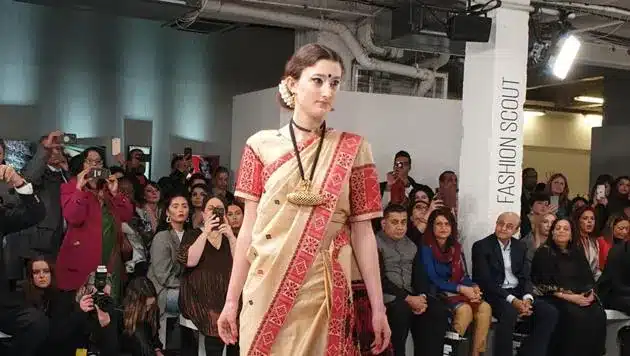 For India Day, a variety of outfits made entirely of Khadi took centre stage at the ongoing London Fashion Week. A few particular designs were created to honour the fabric's message of individuality and Swadeshi ethos.
 The collection was created by 12 young female designers from India's International Institute of Fashion Design (INIFD) and local weavers and artisans from various regions of the nation for an event called "Khadi Utsav Fashion" that was held on Friday and was sponsored by the Indian High Commission in London.  
 The show was produced in collaboration with the London School of Trends (LST), whose purpose is to introduce Indian handlooms, weaving, and arts and crafts to a global audience so they can be appreciated by people all over the world. 
The Origin 
Khadi, which is Hindi for "handspun and handwoven," is a type of cloth that has a very significant place in India's history of independence and liberation.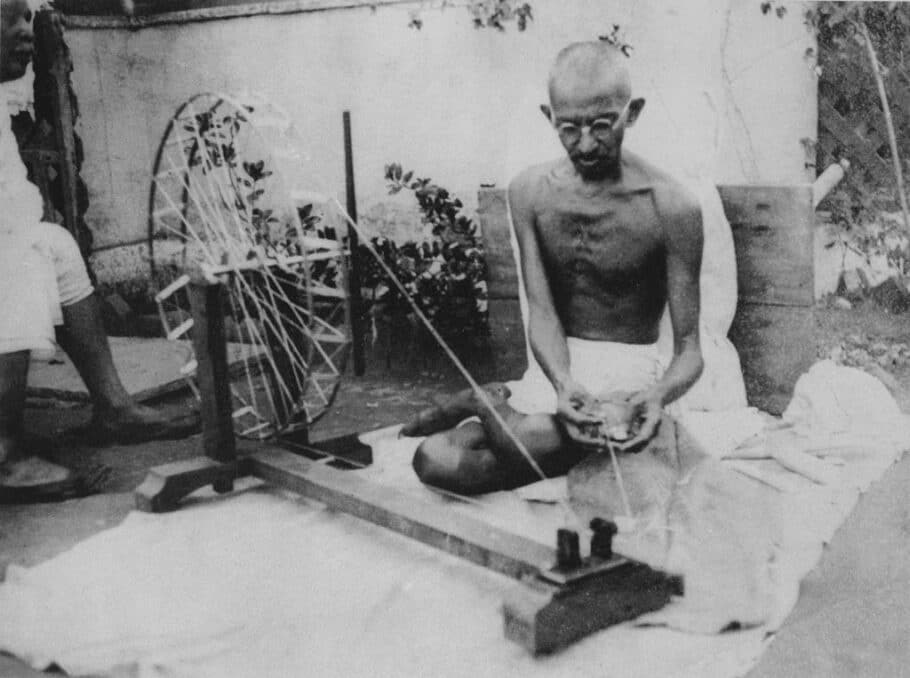 Mahatma Gandhi adopted Khadi cloth as a foundational element of the Swadeshi Campaign, a campaign to forbid the use of imported goods and materials, in 1918. By fostering indigenous industry and employment, would assist in bringing India out of poverty. Additionally, it would relieve India of its dependence on pricy imports that were coming from Britain even if the raw ingredients were Indian.
Gandhi saw the need of the Indian people reclaiming what was rightfully theirs and using their own labour and skills to build their own prosperity. Gandhi ordered every man and woman to produce and collect their own supplies for the yarn needed to create Khadi fabric, which became the centrepiece of this campaign. Also, he urged everyone—rich or poor—to spend some time each day spinning Khadi. Through pooling labour, this entire nation-wide endeavour aided in bringing about togetherness. Individuals from all social strata banded together to fulfil Gandhi's request, and their actions aided the nation in its drive towards economic independence. Whole communities joined the movement, using fashion as a means of achieving economic independence. 
Sustainability took Stage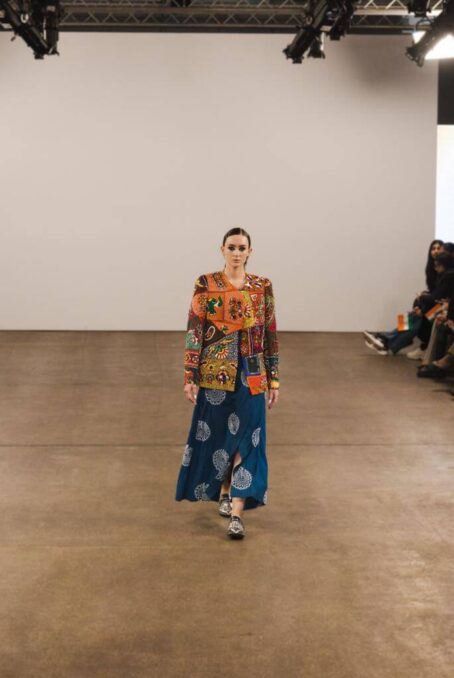 Gandhi's revolutionary vision, which assisted India and its people in achieving economic freedom, has earned him recognition as a symbol of sustainability, inclusion, and peace. Gandhi's philosophy and insight continue to have an impact on those of us who choose to pay attention to him and take his guidance.
"The presentation brings together both sustainability and fashion, to showcase how fashion can be sustainable utilising the traditional technique of khadi-made fabric," said Vikram Doraiswami, Indian High Commissioner to the UK, in his speech at the event.
The story of India's freedom and the cornerstone of sustainability are both found in khadi. It combines handcrafted methods, organic cotton, and organic colours and is a very specific relationship between the planet and humans. He went on to say that it is inventive, strong, environmentally friendly, and it fits all of our requirements for a more robust earth.
40 contemporary clothes created using the fundamentals of deconstruction were displayed at the beginning of the first half of the show. They came in a variety of colours and cuts and showed how embellishments and subtle details could be used creatively.
25 khadi-only clothes were displayed in the second half of the exhibition as both a statement of international fashion and a sign of national pride.
Several politicians, dignitaries, fashion connoisseurs, and foreign buyers and delegates attended the exhibition, which blended eastern and western concepts.
On Tuesday, London Fashion Week 2023 will come to an end.