On August 24, Letesenbet Gidey broke the women's half marathon world record, completing in one hour, two minutes, and 52 seconds. 
Breaking the record:
The 23-year-old Letesenbet Gidey, who also holds the world 5,000m (14:06.62) and 10,000m (29:01.03) records, shaved more than a minute off Kenya's Ruth Chepngetich previous half marathon record of 1:04:02.
"I'm thrilled to have broken the world record in my first half marathon, as well as my first race for the NN Running Team. Thank you, Valencia, "Gidey, the bronze medalist in the 10,000 metres at the Tokyo Olympics, stated. Her 10 km split was 29:45 minutes, about 35 seconds faster than Chepngetich's record time, and she steadily improved in sunny conditions to cruise to victory. 
Kenya's Abel Kipchumba's won the men's race in 58:07 minutes, moving him to sixth on the all-time world list.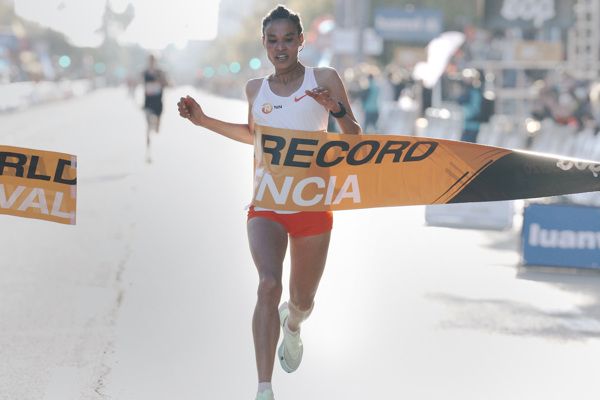 Gidey ran on the same track where Sifan Hassan made her world record before her:
Letesenbet Gidey smashed Sifan Hassan's two-day-old women's 10,000m world record set by Sifan Hassan on Sunday by more than five seconds on Tuesday, continuing the extraordinary run of athletics world records in the super spikes era. 
It was the latest in a long line of breathtaking performances in the game-changing technology, which is said to improve performance by half a second to a second per lap. Gidey, who was running on the same Hengelo track where Hassan set her world record, exuded confidence at all times.
For much of the race, which also served as the Ethiopian trials, she ran 72-second laps before sprinting home in 63 seconds, despite having to weave between other runners, to finish in 29 minutes and 01.03 seconds. 
The record:
"I expected to run a world record," said the 23-year-old, who is the first woman since Ingrid Kristiansen in 1986-1993 to hold both the 5,000m and 10,000m world records. "I'd like to break the world record again, this time in 29 minutes." 
To put Gidey's time in context, within 20 seconds, no one could run. The World record of 29:31 held by Chinese athlete Wang Junxia, a member of "Ma's Army", was exposed by Chinese state media in 2016 as part of a state-sponsored doping regime.
Some people were also surprised when Ethiopian Almaz Ayana finally broke Wang's record in Rio in 2016 by running 29:17.45 and declaring, "My doping is Jesus." 
Despite this, the 10,000m world record has dropped by 16 seconds in less than 48 hours due to the effect of the new spikes. Men's and women's 5,000m and 10,000m track records have all fallen in the last ten months, as have men's and women's 5km, 10km, and half-marathon road distances. 
Paco Borao and Mark Roig's take on this: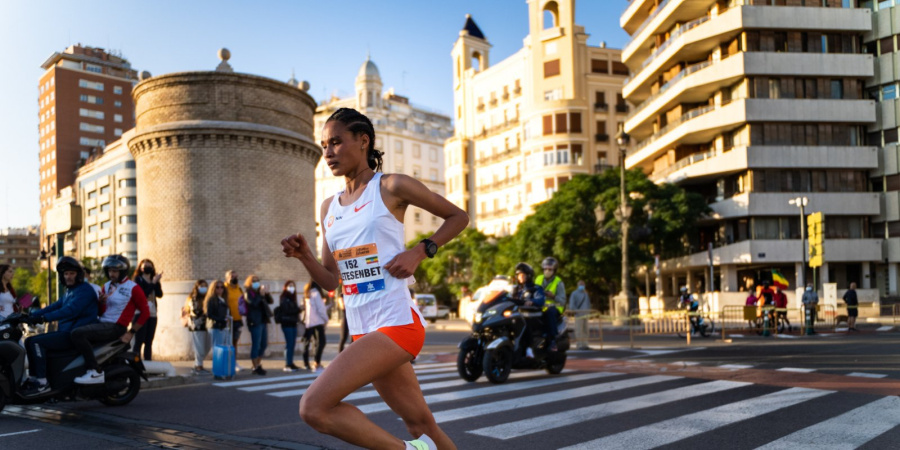 "What we saw today in Valencia is simply incredible, and we can't get over it." In his debut in the half marathon, Paco Borao said, "Gidey ran an extraordinary race, breaking the world record by 70 seconds." 
"We had two women this year who broke the previous world record; this is what makes Valencia great." It is complicated for top world athletes to compete against each other, but the two favourites had this race marked on their calendar," said Marc Roig. 
New Rule:
Following several world records broken on the road, World Athletics implemented new rules in 2019, including limiting the use of plates and limiting the sole thickness of track spikes to no more than 30mm. However, instead of stemming the tide, they have opened the floodgates.
---
Read More: Eliud Kipchoge Breaks down Marathon World Record in Berlin
---
Read More: Former #1 Simona Halep provisionally suspended for the doping offence