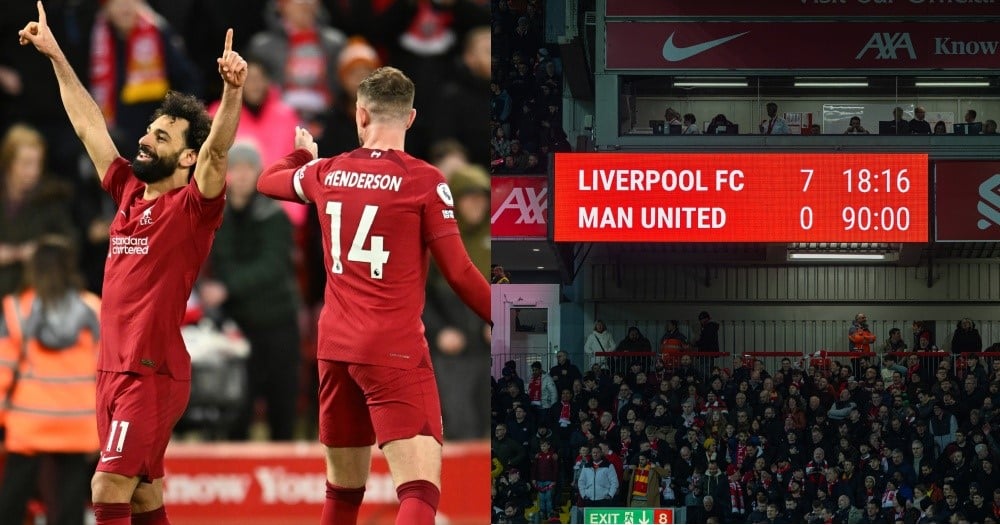 Image source: Mothership.SG
Liverpool walloped Manchester United in a thrashing defeat on Sunday
Liverpool toyed toyed Manchester United with a humiliating defeat which saw the game a 7-0 at Anfield on Sunday Night.  
Manchester United was bodied by Liverpool overshadowing their recent god-form run. Manchester United, who lifted the Carabao cup recently and surprised Barcelona in the Europa League, faced their worst defeat in the Premier League at the hands of Liverpool, 7-0.  
The match began with both teams displaying aggressive gameplay, but it was Liverpool who struck first with Cody Gakpo's stunning curling kick just before half-time. Liverpool stunned Manchester United with a dominant 7-0 victory at Anfield, putting an end to the Red Devils' impressive run of form across competitions.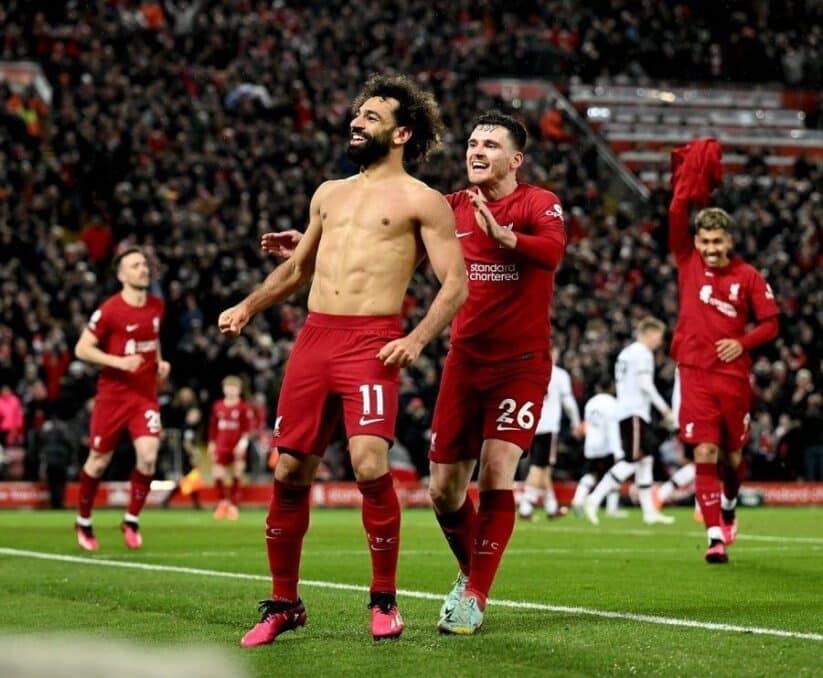 Image source: India Posts English
The game also saw Mohamed Salah become Liverpool's all-time leading Premier League scorer with 129 goals from 205 appearances. He surpassed Robbie Fowler with his second goal of the night. Steven Gerrard (120) and Michael Owen (118) follow in third and fourth place, respectively.
The result came as a shock as Manchester United had only suffered one defeat in their last 23 games across all competitions. The defeat also dealt a major blow to Erik ten Hag's pursuit of four trophies in his debut season, as a league title challenge now looks increasingly unlikely for the Red Devils. Meanwhile, Liverpool took advantage of losses for top-four rivals Newcastle United and Tottenham to strengthen their own bid to qualify for the Champions League.
At the end of the first half, the scoreline was 1-0 in favor of Liverpool. However, as soon as the second half began, the Red Devils faced a devastating blow as Liverpool's Darwin Nunez scored a tap-in goal, not allowing Manchester United to settle into the game. Minutes later, Cody Gakpo scored his second goal, taking Liverpool's led to a comfortable 3-0.
The situation continued to worsen for Manchester United as Mohammed Salah, who had been having an average season in terms of goals, scored two quick goals, increasing Liverpool's lead to 6-0. The situation seemed to be out of control for the Red Devils as Roberto Firmino, who had come in as a substitute, also scored a goal, making it 7-0, thereby handing Manchester United their biggest defeat in Premier League history. This result was Liverpool's worst in 92 years at Anfield.
Erik Ten Hag, the manager of Manchester United, was furious with his team's performance, and he stated that it was unprofessional. He further added that a team should stick together, which was not the case in this game. He expressed his disappointment in the team's performance, saying that he had not seen such a performance from his team before. According to him, Manchester United is not known for such poor play, and this defeat was a significant setback for the team.
The match began with both teams displaying excellent gameplay, but it was Liverpool who capitalized on their opportunities. Manchester United, on the other hand, was unable to convert their chances into goals. The team's defense also trembled which resulted in Liverpool scoring multiple goals in quick succession. Liverpool's attackers were tenacious, and their teamwork was firmly fixed, which proved to be too much for Manchester United to handle.
Manchester United's defeat at the hands of Liverpool was a significant blow to the team's morale, as well as their position in the Premier League standings. The loss was Manchester United's most horrendous defeat ever, having lost by the same margin to Blackburn Rovers in 1926 and Aston Villa in 1930. The last time they suffered a 7-0 defeat was against Wolverhampton Wanderers in 1931, 92 years ago.
Liverpool's previous biggest victory against Manchester United was a 7-1 win in 1895. This result also saw Manchester United fail to win at Anfield since 2016, and they were also thrashed 9-0 on aggregate across the two home-and-away fixtures last season.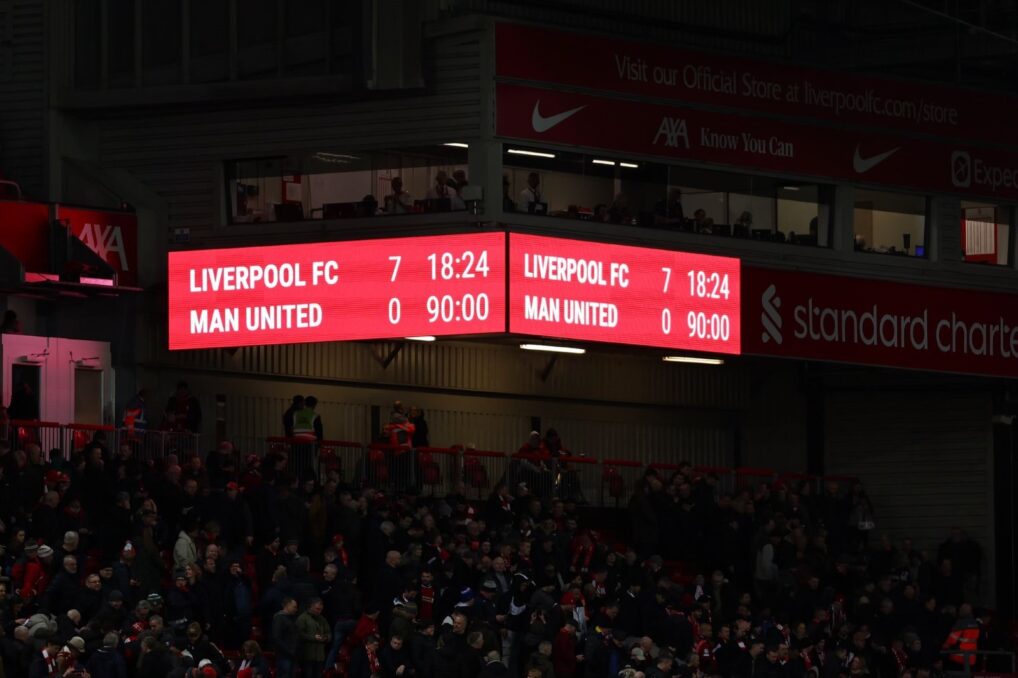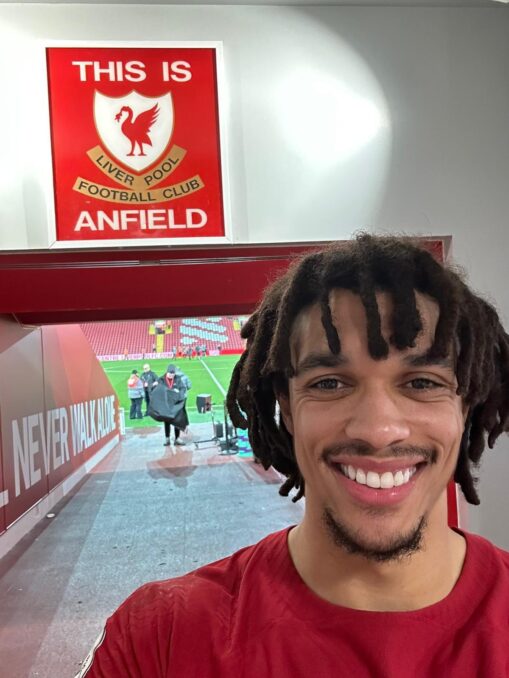 Image source: Trent Alexander Arnold Twitter